node_title | node_title
Tactical Support for Science
node:field_slogan | entity_field
Janelia's support teams and shared resources make it possible for small lab groups to make big progress.
node_body | node_body
Reed George sometimes feels as though he has a blueprint of Janelia Research Campus etched in his brain.
Since the research campus's inception more than a decade ago, George has overseen its support teams and shared resources, including the microscope facilities, the instrument design facility, the molecular biology laboratory, and others spread across the campus.
Janelia's shared resources were baked into its operational plan from the beginning. The purpose was to establish support teams with subject-matter expertise and state-of-the art equipment to work in partnership with research labs, freeing up group leaders and their teams to get more done, and accelerating discovery.
"The idea of 'small labs, big science' has been on my mind since the beginning," says George, now senior director of scientific operations and projects. "I think it's a good way to sum up our model."
Most of the teams and resources established early on have proven successful in moving Janelia science forward and are still in place. George attributes the support teams' longevity to their commitment to adapting to the research labs' needs over time. And the resources continue to evolve alongside the science at Janelia.
In 2017, Janelia leadership decided to change gears and moved to a 15-year research model. The plan is to develop a given research area for roughly 15 years and then cycle to a new area of focus. This approach will enable Janelia to stay at the frontier of science, advancing up to three research areas at any point in time.
The first new research area – mechanistic cognitive neuroscience (MCN) – leverages and transforms Janelia's program on neural circuits and behavior. MCN researchers are focused on how the brain enables cognition.
And currently, there's an open competition for Janelia's next research area. This is an international search for a scientist, or team of scientists, with a vision to develop a research program that addresses major scientific problems not easily pursued in academic settings.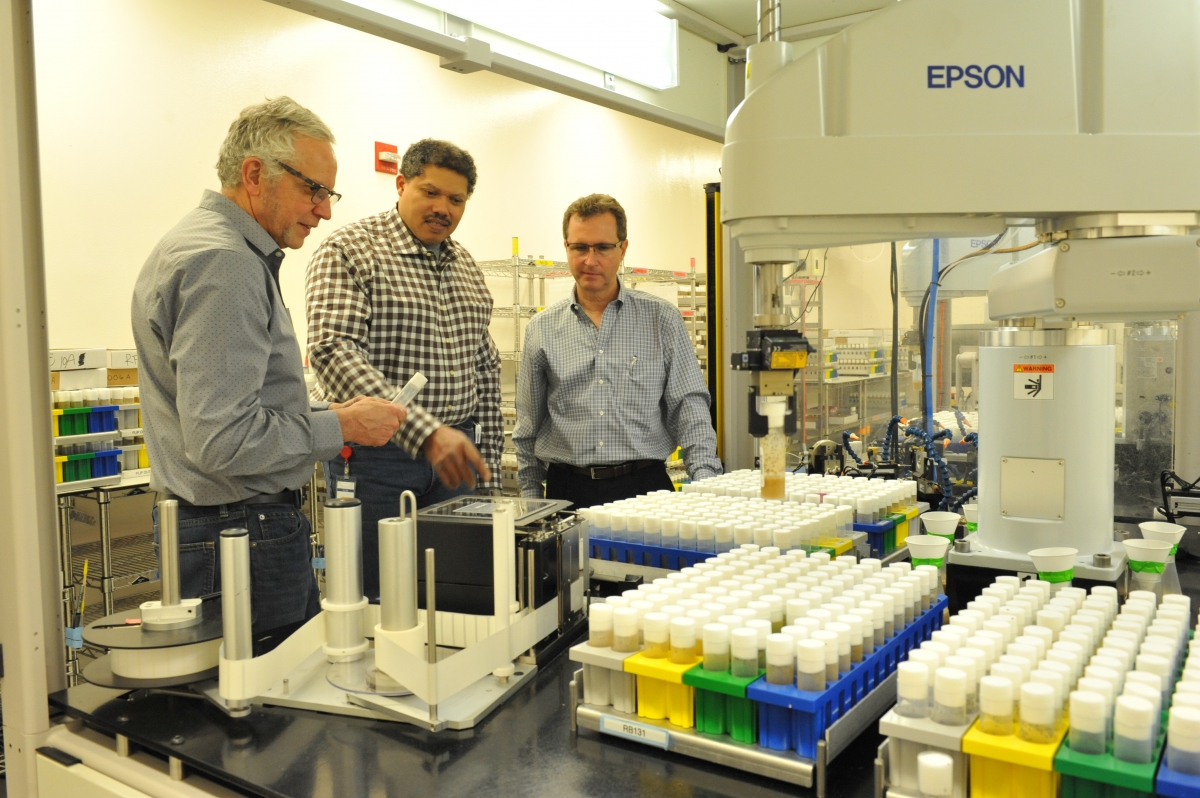 George believes that Janelia's facilities are well positioned to support MCN and other future efforts, and the teams will likely be energized by potential challenges ahead.
"I hope that any new research area will demand that we create some new resources," he says. "And I expect to have to shift emphasis in some of our existing resources. But our support teams have always been an adaptable part of Janelia, and they will accommodate any new type of science we pursue."
Data Puzzle Masters
In the spring of 2016 on her first day of work as the manager of a specialized support team called the Connectome Annotation Team (CAT), Ruchi Parekh knew the task before her was big. What she couldn't have known was how much – and how fast – it would expand in the days ahead.
Parekh was hired to build and manage CAT, whose aim would be to expedite the annotation of massive electron microscopy (EM) data sets generated by Janelia scientists studying the fly brain. The initial goal: hire and train a dozen annotators. But over time that number crept steadily up, due to the team's success and the ever-increasing productivity of the fly researchers. Today, CAT has 42 members – and is still growing.
Before Parekh got CAT up and running, analysis of EM data was done manually – a tedious and time-consuming task. And many lab group leaders wanted to access the data, which was coming out in large volumes. To have all of them learn to annotate and parse the data would bog down progress in the lab. Building on his prior experience of creating teams to tackle specialized tasks, George welcomed the chance to assemble a team of crack annotators that all the labs could call on.
The basic task of the CAT annotators is to get information out of the EM fly data, says Parekh. But how they go about doing it is different for each project they work on. Some scientists are interested in finding specific neural pathways in the fly brain, or they may want to trace all the neuronal connections in a lesser known brain region. In many cases, the annotators must backtrack to find answers. "The strategies are kind of like a puzzle," she says.
Until recently, CAT annotators traced the extent of a neuron in an EM image using a mouse and computer in the same way you might use a pencil and paper. The result was a stick figure-like drawing of the neuron of interest. This process would be repeated with numerous neurons until a single good candidate was identified; more work would be required to render a detailed picture of that candidate.
Dramatic improvements in imaging technology and automated computer-based annotation have revolutionized this process. Today, thanks to work led at Janelia by Stephen Plaza and his FlyEM team and in collaboration with outside groups, CAT can provide a more dimensional view of a neuron. Now, with one click of the mouse, the entire volume of the neuron is drawn. "A good analogy is a tree trunk," says Parekh. "Instead of a stick-figure tree, with this automated annotation, you'd get an image of the entire volume of the tree across its diameter and see the bumps and texture of the bark, and how the tree branches. That's the more realistic view we now get of a neuron, in the context of the brain region in which it's found."
Parekh says the technical advancements have made a world of difference. "The process is incredibly fast and is providing the scientists with a wealth of information."
Visualization with CryoEM
In the deep recesses of Janelia's main research building stand two highly configured versions of the most sophisticated cryo-electron microscope in the world – the Titan Krios. The instruments are the workhorses of Janelia's cryo-electron microscopy (cryoEM) support team, and standing next to them, Zhiheng Yu seems completely at ease. He should be – Yu became an expert with the Titan Krios as a research scientist at the company that designed the microscope. Before that, Yu honed his high-resolution electron microscopy skills as a physics PhD student at Cornell University and his cryoEM skills as a postdoc in HHMI Investigator Grant Jensen's lab at Caltech.
Yu brings his background in physics and biology to his role as director of Janelia's CryoEM Facility, an HHMI-wide shared resource dedicated to structural biology.
"This team supports scientists who are interested in visualizing small biological specimens ranging from a few nanometers to a micron, such as protein complexes, viruses, and small bacteria," says Yu. "Seeing a finely detailed structure in three dimensions helps scientists understand how the machineries work."
Using cryoEM requires many steps, including purifying the sample. Some of the facility's users are experts in the sample prep and data processing; they call on the cryoEM team for their expertise in capturing images using the state-of-the-art microscopes. Others are new to the technology and collaborate with the team to do everything: sample prep, imaging, data processing, and delivery of 3-D high-resolution maps. "In either case, it's up to the customer to go on to interpret the structure," says Yu. "We just help them better visualize the specimen."
With all the advances in cryoEM in recent years, Yu thinks it's an exciting time for the field – and for Janelia. The facility will be adding a third Titan Krios microscope this year. They'll also add a new technology: a cryo-focused ion beam system (cryo-FIB), which will enable the team to peek inside larger cells that are typically too thick to image directly in an electron microscope. "This should be very helpful to researchers who are interested in seeing cellular machineries in fine detail under near native condition." he says.
"Skunkworks" Engineering
The mandate of Janelia Experimental Technology (jET) is to push the boundaries of technology and instrumentation, allowing scientists to do experiments they couldn't ordinarily do, says the team's director, Anthony Leonardo.
"The work spans the gamut from things you'd see at an ordinary machine shop, like a screw or an attachment, all the way to inventing a new kind of microscope or a brain-tracking system – and everything in-between," he says.
jET was formed a little over a year ago when the Instrument Design & Fabrication group merged with the Applied Physics group. "The idea was to leverage the skills of both groups into a kind of technical SWAT team, to take on even more ambitious projects," says Leonardo.
The group currently has about 20 members, including optical engineers, electrical engineers, mechanical engineers, machinists, and physicists. They work individually and in teams to solve different sorts of problems for scientists working in the labs.
jET is an amplified version of what you might find in a university shop, says Leonardo, doing the same kinds of things, but with more precision and accuracy, and with a broader scope. "Our machinists, for example, operate lathes and mills, but also very sophisticated robotic five-axis machines that you might find at NASA," he says. "Similarly, our electrical engineers don't just build simple circuits; they also build full-blown instrumentation and program field-programmable gate array semiconductor devices."
Leonardo refers to jET as a "skunkworks" team – a term for a loosely structured group of people focused on an unconventional and innovative undertaking, named after a WWII Lockheed Martin Corporation project. He says they relish the opportunity to expand in new directions. "We like to build cool technology to enable new experimental approaches," he says. "So, we're looking forward to hearing about the new and crazy measurements people want to make. Then we can start dreaming up ways to do it."
A Road-Tested Model
Shared resources such as CAT and the CryoEM Facility show the extent to which Janelia is willing to go to advance a single research area – if there's a good reason to do it. "I don't want to come in saying no to anything," says George. "If we buy into what you're doing and what you need, we'll put the investment into it."
More common, though, are the support teams that serve many lab groups throughout the campus, such as jET or the Vivarium and the Fly Facility, which provide care, housing, and other services for study organisms such as zebrafish, rats, mice, and fruit flies.
Jim Cox, director of animal and biological services at Janelia, emphasizes that his team's support goes beyond the basics that many animal facilities provide. With genetically modified breeding colonies, for example, the team takes care of everything from mating and weaning to genotyping and lineage tracking. Cox says the benefits are significant – in dollars and in personnel time. "Typically, researchers would need to dedicate six full-time employees to manage the breeding colonies," he says. "Here, they get those lab staff back to do science."
Most of the shared resources are available on a fee-for-service basis – scientists choose and pay for what they want – but the collaboration goes much deeper than that, according to George. "With shared resources, we can develop new technologies, things that they need," he says. "They can say 'We learned about this great new thing at a conference – can you offer it here?' If it's reasonable, we can."
Though he has administrative oversight of the support teams, George says that doesn't mean he's the one making all the decisions. "These teams are centrally managed but are all meant to be autonomous. They are expected to make better decisions than I could ever make."
For Parekh, that autonomy was clear immediately, allowing her the freedom to hit the ground running and establish a team committed to quality and continuous improvement. And she's seen that same approach work out for others as well.
"When there is a need – and it doesn't have to be well defined – there are resources available at Janelia to make things happen," says Parekh. "The thing that amazed me, after coming here, is that a good idea can be heard and discussed and implemented so quickly."
janelia7_blocks-janelia7_block_right_hand_rail | block
New Research Area Competition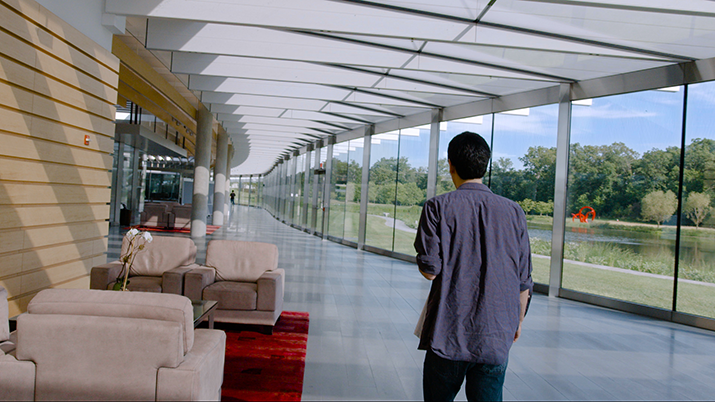 HHMI is hosting an open, international competition to decide Janelia's next research area. We are looking for a big idea that addresses a major unsolved problem in the life sciences, and a scientist to lead it.