node_title | node_title
node_body | node_body
If you're a junior scientist ready to launch an independent research program, whether you're a post-doctoral fellow or a finishing graduate student, consider the opportunities at Janelia.
Our new research aims to reveal the mechanistic underpinnings of the most sophisticated aspects of behavior — those requiring complex cognitive function. Focusing on the intricacies of flexible behavior in genetic model systems (flies, fish, and rodents), we seek to understand how animals thrive while confronting complex environments, scarce resources, competitors, predators, and other demanding situations. Importantly, we seek to reveal not only the computations that animals' brains must perform, but also the neural mechanisms responsible for their execution.
We are looking for experimentalists prepared to take risks in developing creative new behavioral paradigms amenable to rigorous physiological investigation. We are also recruiting tool-builders to meet the challenges of quantitatively measuring animal behavior and interrogating cellular and circuit function using new approaches in chemistry, protein engineering, microscopy, and electrophysiology. Finally, we are searching for computational scientists to develop theories of complex-system function, models that lead to testable predictions, and new algorithms for analyzing large, high-dimensional datasets. Across these areas, we are committed to developing a diverse team of scientists, representing different backgrounds and perspectives, who thrive in a highly collaborative research environment.
Looking ahead, we plan to identify future research areas with transformative potential. HHMI will announce a call for proposals in early 2018.
janelia7_blocks-janelia7_block_right_hand_rail | block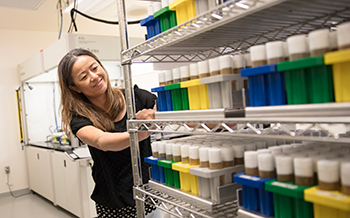 We accept continuous applications for group leaders.
We invite applications from biochemists, biologists, chemists, computer scientists, engineers, geneticists, mathematicians, neurobiologists, physicists and statisticians at an early career stages who are passionate in their pursuit of important problems in basic scientific and technical research.