custom | custom
facetapi-Q2b17qCsTdECvJIqZJgYMaGsr8vANl1n | block
facetapi-PV5lg7xuz68EAY8eakJzrcmwtdGEnxR0 | block
facetapi-021SKYQnqXW6ODq5W5dPAFEDBaEJubhN | block
general_search_page-panel_pane_1 | views_panes
3 Publications
Showing 1-3 of 3 results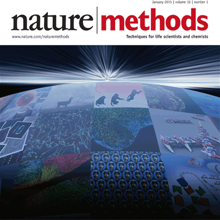 Developments in electrical and optical recording technology are scaling up the size of neuronal populations that can be monitored simultaneously. Light-sheet imaging is rapidly gaining traction as a method for optically interrogating activity in large networks and presents both opportunities and challenges for understanding circuit function.
View Publication Page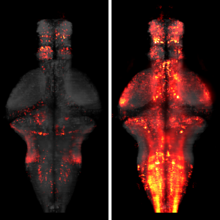 The processing of sensory input and the generation of behavior involves large networks of neurons, which necessitates new technology for recording from many neurons in behaving animals. In the larval zebrafish, light-sheet microscopy can be used to record the activity of almost all neurons in the brain simultaneously at single-cell resolution. Existing implementations, however, cannot be combined with visually driven behavior because the light sheet scans over the eye, interfering with presentation of controlled visual stimuli. Here we describe a system that overcomes the confounding eye stimulation through the use of two light sheets and combines whole-brain light-sheet imaging with virtual reality for fictively behaving larval zebrafish.
View Publication Page
Understanding brain function requires monitoring and interpreting the activity of large networks of neurons during behavior. Advances in recording technology are greatly increasing the size and complexity of neural data. Analyzing such data will pose a fundamental bottleneck for neuroscience. We present a library of analytical tools called Thunder built on the open-source Apache Spark platform for large-scale distributed computing. The library implements a variety of univariate and multivariate analyses with a modular, extendable structure well-suited to interactive exploration and analysis development. We demonstrate how these analyses find structure in large-scale neural data, including whole-brain light-sheet imaging data from fictively behaving larval zebrafish, and two-photon imaging data from behaving mouse. The analyses relate neuronal responses to sensory input and behavior, run in minutes or less and can be used on a private cluster or in the cloud. Our open-source framework thus holds promise for turning brain activity mapping efforts into biological insights.
View Publication Page