general_search_page-panel_pane_1 | views_panes
117 Publications
Showing 81-90 of 117 results
The rhodamine system is a flexible framework for building small-molecule fluorescent probes. Changing N-substitution patterns and replacing the xanthene oxygen with a dimethylsilicon moiety can shift the absorption and fluorescence emission maxima of rhodamine dyes to longer wavelengths. Acylation of the rhodamine nitrogen atoms forces the molecule to adopt a nonfluorescent lactone form, providing a convenient method to make fluorogenic compounds. Herein, we take advantage of all of these structural manipulations and describe a novel photoactivatable fluorophore based on a Si-containing analogue of Q-rhodamine. This probe is the first example of a "caged" Si-rhodamine, exhibits higher photon counts compared to established localization microscopy dyes, and is sufficiently red-shifted to allow multicolor imaging. The dye is a useful label for super-resolution imaging and constitutes a new scaffold for far-red fluorogenic molecules.
View Publication Page
07/17/15
|
Ketamine Inside Neurons?
American Journal of Psychiatry
. 2015 Jul 17;172(11):
1064-6
. doi: 10.1176/appi.ajp.2015.14121537
Observation of molecular processes inside living cells is fundamental to a quantitative understanding of how biological systems function. Specifically, decoding the complex behavior of single molecules enables us to measure kinetics, transport, and self-assembly at this fundamental level that is often veiled in ensemble experiments. In the past decade, rapid developments in fluorescence microscopy, fluorescence correlation spectroscopy, and fluorescent labeling techniques have enabled new experiments to investigate the robustness and stochasticity of diverse molecular mechanisms with high spatiotemporal resolution. This review discusses the concepts and strategies of structural and functional imaging in living cells at the single-molecule level with minimal perturbations to the specimen.
View Publication Page
Enzyme kinetics measurements are a standard component of undergraduate biochemistry laboratories. The combination of serine hydrolases and fluorogenic enzyme substrates provides a rapid, sensitive, and general method for measuring enzyme kinetics in an undergraduate biochemistry laboratory. In this method, the kinetic activity of multiple protein variants is determined in parallel using a microplate reader, multichannel pipets, serial dilutions, and fluorogenic ester substrates. The utility of this methodology is illustrated by the measurement of differential enzyme activity in microplate volumes in triplicate with small protein samples and low activity enzyme variants. Enzyme kinetic measurements using fluorogenic substrates are, thus, adaptable for use with student-purified enzyme variants and for comparative enzyme kinetics studies. The rapid setup and analysis of these kinetic experiments not only provides advanced undergraduates with experience in a fundamental biochemical technique, but also provides the adaptability for use in inquiry-based laboratories.
View Publication Page
Specific labeling of biomolecules with bright fluorophores is the keystone of fluorescence microscopy. Genetically encoded self-labeling tag proteins can be coupled to synthetic dyes inside living cells, resulting in brighter reporters than fluorescent proteins. Intracellular labeling using these techniques requires cell-permeable fluorescent ligands, however, limiting utility to a small number of classic fluorophores. Here we describe a simple structural modification that improves the brightness and photostability of dyes while preserving spectral properties and cell permeability. Inspired by molecular modeling, we replaced the N,N-dimethylamino substituents in tetramethylrhodamine with four-membered azetidine rings. This addition of two carbon atoms doubles the quantum efficiency and improves the photon yield of the dye in applications ranging from in vitro single-molecule measurements to super-resolution imaging. The novel substitution is generalizable, yielding a palette of chemical dyes with improved quantum efficiencies that spans the UV and visible range.
View Publication Page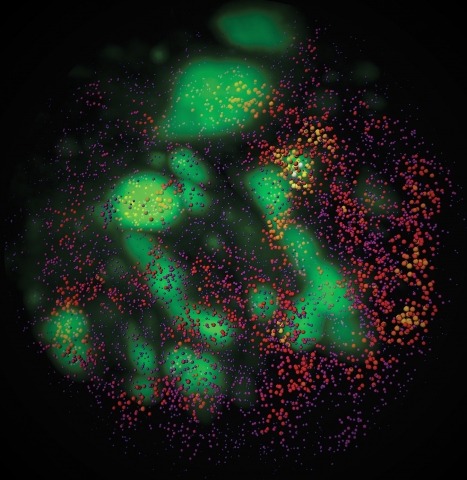 Combinatorial cis-regulatory networks encoded in animal genomes represent the foundational gene expression mechanism for directing cell-fate commitment and maintenance of cell identity by transcription factors (TFs). However, the 3D spatial organization of cis-elements and how such sub-nuclear structures influence TF activity remain poorly understood. Here, we combine lattice light-sheet imaging, single-molecule tracking, numerical simulations, and ChIP-exo mapping to localize and functionally probe Sox2 enhancer-organization in living embryonic stem cells. Sox2 enhancers form 3D-clusters that are segregated from heterochromatin but overlap with a subset of Pol II enriched regions. Sox2 searches for specific binding targets via a 3D-diffusion dominant mode when shuttling long-distances between clusters while chromatin-bound states predominate within individual clusters. Thus, enhancer clustering may reduce global search efficiency but enables rapid local fine-tuning of TF search parameters. Our results suggest an integrated model linking cis-element 3D spatial distribution to local-versus-global target search modalities essential for regulating eukaryotic gene transcription.
View Publication Page
Pheromones, chemical signals that convey social information, mediate many insect social behaviors, including navigation and aggregation. Several studies have suggested that behavior during the immature larval stages of Drosophila development is influenced by pheromones, but none of these compounds or the pheromone-receptor neurons that sense them have been identified. Here we report a larval pheromone-signaling pathway. We found that larvae produce two novel long-chain fatty acids that are attractive to other larvae. We identified a single larval chemosensory neuron that detects these molecules. Two members of the pickpocket family of DEG/ENaC channel subunits (ppk23 and ppk29) are required to respond to these pheromones. This pheromone system is evolving quickly, since the larval exudates of D. simulans, the sister species of D. melanogaster, are not attractive to other larvae. Our results define a new pheromone signaling system in Drosophila that shares characteristics with pheromone systems in a wide diversity of insects.
View Publication Page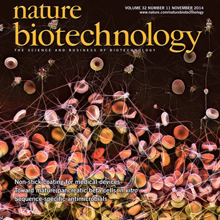 The molecular and cellular architecture of the organs in a whole mouse is revealed through optical clearing.
View Publication Page
The transition between dormant and active Mycobacterium tuberculosis infection requires reorganization of its lipid metabolism and activation of a battery of serine hydrolase enzymes. Among these serine hydrolases, Rv0045c is a mycobacterial-specific serine hydrolase with limited sequence homology outside mycobacteria but structural homology to divergent bacterial hydrolase families. Herein, we determined the global substrate specificity of Rv0045c against a library of fluorogenic hydrolase substrates, constructed a combined experimental and computational model for its binding pocket, and performed comprehensive substitutional analysis to develop a structural map of its binding pocket. Rv0045c showed strong substrate selectivity toward short, straight chain alkyl esters with the highest activity toward four atom chains. This strong substrate preference was maintained through the combined action of residues in a flexible loop connecting the cap and α/β hydrolase domains and in residues close to the catalytic triad. Two residues bracketing the substrate-binding pocket (Gly90 and His187) were essential to maintaining the narrow substrate selectivity of Rv0045c toward various acyl ester substituents, as independent conversion of these residues significantly increased its catalytic activity and broadened its substrate specificity. Focused saturation mutagenesis of position 187 implicated this residue, as the differentiation point between the substrate specificity of Rv0045c and the structurally homologous ybfF hydrolase family. Insertion of the analogous tyrosine residue from ybfF hydrolases into Rv0045c increased the catalytic activity of Rv0045 by over 20-fold toward diverse ester substrates. The unique binding pocket structure and selectivity of Rv0045c provide molecular indications of its biological role and evidence for expanded substrate diversity in serine hydrolases from M. tuberculosis.
View Publication Page
The mammalian vomeronasal organ encodes pheromone information about gender, reproductive status, genetic background and individual differences. It remains unknown how pheromone information interacts to trigger innate behaviors. In this study, we identify vomeronasal receptors responsible for detecting female pheromones. A sub-group of V1re clade members recognizes gender-identifying cues in female urine. Multiple members of the V1rj clade are cognate receptors for urinary estrus signals, as well as for sulfated estrogen (SE) compounds. In both cases, the same cue activates multiple homologous receptors, suggesting redundancy in encoding female pheromone cues. Neither gender-specific cues nor SEs alone are sufficient to promote courtship behavior in male mice, whereas robust courtship behavior can be induced when the two cues are applied together. Thus, integrated action of different female cues is required in pheromone-triggered mating behavior. These results suggest a gating mechanism in the vomeronasal circuit in promoting specific innate behavior.DOI: http://dx.doi.org/10.7554/eLife.03025.001.
View Publication Page