node_title | node_title
node:field_slogan | entity_field
Chemogenetics is a method for engineering selective pharmacological control over any cell population by installing an exogenous receptor that responds selectively to a small molecule agonist.
node_body | node_body
There are multiple chemogenetic platforms for manipulating neuron electrical activity. Most of these tools are built from either ligand gated ion channels (LGICs) or G-protein coupled receptors (GPCRs). Our lab has primarily focused on LGICs because they directly control ion flux, unlike GPCRs, which engage complex intracellular signaling pathways to couple to the endogenous ion channels that must be expressed in the cells-of-interest. Because we are also chemists, we have focused intensively on chemical optimization of chemogenetic agonists, which has been largely under-emphasized in the development of chemogenetic tools.
Our approach
Our approach uses chimeric ion channels where we engineer the ligand-binding domain (LBD) of the alpha 7 nicotinic acetylcholine receptor to have unique pharmacology, which we call pharmacologically selective actuator modules (PSAMs, pronounced 'sam'). The PSAMs are engaged by agonists called pharmacologically selective effector molecules (PSEMs). We splice these PSAMs to the ion pore domain (IPD) of other ion channels, to produce ion channels with the pharmacological selectivity of the PSAM/PSEM combinations and functional effects from the ion selectivity properties of the IPD with which it is combined.
Ultrapotent chemogenetics for research and therapeutic applications
Therapeutic applications
We have identified PSAMs that are extremely sensitive to the antismoking drug, varenicline. These ion channels are PSAM4-GlyR for neuronal silencing and PSAM4-5HT3 for neuron activation. Because these channels are activated at varenicline doses below its endogenous potencies, varenicline and these PSAM4 ion channels are good candidates from the clinical application of chemogenetics for hard-to-treat neurological disorders.
Research applications
We also synthesized analogs of varenicline, which greatly reduce its endogenous activity while enhancing potency for the PSAM4 chemogenetic ion channels. Most of these have sub-nanomolar potency, and we call these ultrapotent PSEMs, uPSEMs. We have found impressive effectiveness for modulating neuron activity for PSAM4 ion channels with uPSEMs in cells and animals.
Rotation response to unilateral SNr silencing after intraperitoneal administration of uPSEMs and varenicline. Comparison of the same mouse expressing PSAM4-GlyR—IRES—EGFP unilaterally in the left SNr at 60 min post-injection. A subthreshold dose of uPSEM793 is shown in the upper left panel.

The durability of PSAM4 ion channel action is also excellent, and we have observed sustained neuron inhibition for at least 18 days of constant exposure to varenicline. Neuron activation is similarly durable.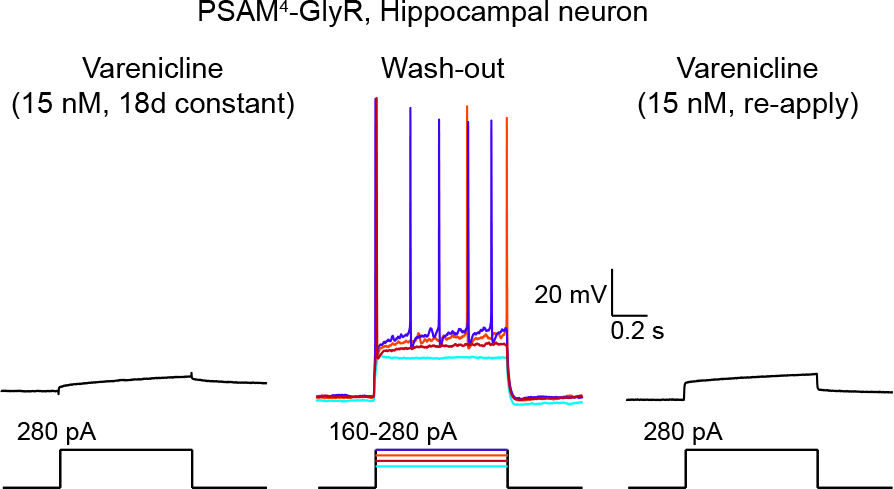 Reagent availability
DNA constructs for the PSAM4 ion channels are available at Addgene. AAV vectors for these channels are currently in production at addgene. If you register your specific interests with them, then they are more likely to make available specific promoter and serotype variants for your applications.
uPSEMs 792 and 817 are available from www.tocris.com and www.hellobio.com. These uPSEMs were selected because they have the best balance of potency and selectivity. Between these two molecules, there are slightly different selectivity properties, which are described in the paper. If there is interest in uPSEMs that are not available through Tocris, then contact us!
janelia7_blocks-janelia7_block_right_hand_rail | block