addthis-addthis_block | block
node:body | entity_field
Donations to Howard University and Morgan State University are part of a larger strategy of intentional, long-term engagement with local HBCUs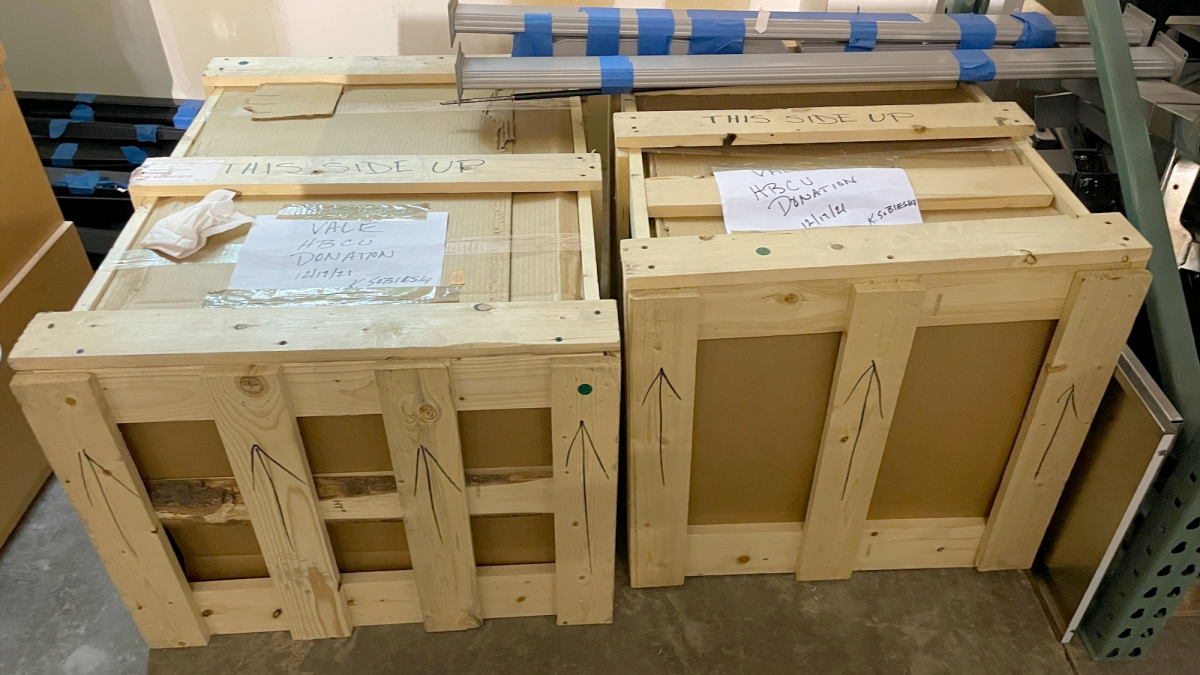 When Dominique Pritchett, an assistant professor of biology at Howard University, was an undergraduate student two decades ago, none of the Historically Black Colleges and Universities (HBCUs) in the US offered an undergraduate degree in neuroscience. Today, only one – Xavier University of Louisiana -- does.
Pritchett wants to change that.
"Students need experience doing some of this and some of that to find out that neuroscience is the answer for them, and there would potentially be a lot more interest in neuroscience if real opportunities were available to them," Pritchett says.
One of the first steps toward building a neuroscience program is creating new courses and labs, but it can be difficult to get the necessary equipment. A donation of scientific equipment from HHMI's Janelia Research Campus earlier this year helped fill some of that immediate need at Howard.
Last spring, a moving van carried 16 boxes of gently used equipment – everything from thermal cyclers and a DNA/RNA gel running apparatus to centrifuges, pipettes, and vortexes – from Janelia to Howard for use in research and teaching labs.
The donation was the first in a pilot program to donate used equipment from Janelia to local HBCUs -- an expansion of Janelia's BioCycle program that makes similar donations to Howard Hughes Medical Institute (HHMI) Investigator labs.
This fall, Janelia made a second donation to Morgan State University in Maryland. Janelia's long-term goal is to build a regular process for alerting HBCUs to available equipment, says Shelby Morris, the lab coordinator who oversees the program.
Isaac Agbeshie-Noye, HHMI's director of diversity, equity & inclusion, notes that HBCUs have historically been underfunded, and many of these institutions still lack resources for equipment. Janelia has the opportunity to make a difference.
"I think we have a role to play in making sure the opportunities to do discovery science are accessible to as many people as possible," Agbeshie-Noye says. "We are really trying to build a thoughtful relationship with HBCUs, and this is just one thing, but we hope it will fold into an overall strategy that we can deliver on consistently."
The idea to donate equipment to HBCUs emerged from discussions at Janelia about how best to start building long-term, mutually beneficial relationships with HBCUs, in keeping with HHMI's commitment to diversity, equity and inclusion. Janelians decided to start with local efforts like the equipment donation.
For Pritchett, the equipment is just the beginning. He aims to collaborate with Janelia scientists in his own research and has arranged opportunities for Howard students to work in Janelia labs.
"I think if you go to Janelia, you are in awe of what research is. Everything about it is kind of amazing – the facilities, the people, the community, the interaction," he says. "You can't help but think it is transformative for someone interested in the field."
addthis-addthis_block | block