node_title | node_title
node_body | node_body
The AIC is not currently accepting proposals. Join our mailing list to be notified of future Calls for Proposals.
Scientists who are interested in conducting experiments at the Advanced Imaging Center will be required to submit a brief application. Prior to proposal submission, applicants are strongly encouraged to contact the AIC for technical consultation.
Review Committee
A Tier 2 scientific review committee consisting of Janelia scientists as well as external scientists has been assembled to ensure that the scientific merits of the AIC proposals are peer-reviewed by experts in microscopy, cell biology, and instrumentation.
Publication Policy
Standard scientific community practice should apply, with AIC staff receiving the same consideration as would members of your lab. If AIC staff members contribute significant intellectual input or enabling customization of approaches, equipment, or troubleshooting to make the work possible, they should be offered authorship on the resulting papers. In all cases where data was produced in the AIC, the following acknowledgement should be included in resulting publications: "Imaging data used in this publication was produced in collaboration with the Advanced Imaging Center, a facility jointly supported by the Gordon and Betty Moore Foundation and HHMI at HHMI's Janelia Research Campus." Users must inform the Center Director of publications, awards, patents and/or other forms of scientific achievement resulting from work conducted fully or partially at the AIC.
janelia7_blocks-janelia7_block_right_hand_rail | block
The Advanced Imaging Center makes imaging technologies developed at Janelia available to scientists around the world before these instruments can be purchased commercially. Find out where our applicants come from.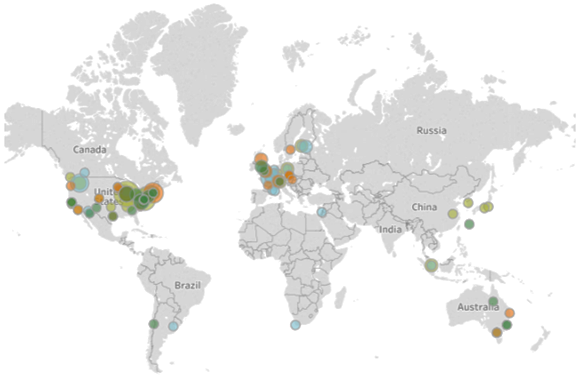 Sign up to be notified when calls for proposals open.