node_title | node_title
node_body | node_body
Timeline updated 3/29/2019
2019
Submit pre-proposal

Submit a two-page pre-proposal describing the proposed research area and the scientific problems you plan to tackle, the expected output and impact of the research area, and your leadership, mentoring and collaboration experiences and philosophy. We encourage applications even if the idea is not fully developed and a move to Janelia is not fully certain at this time. Due date: June 3, 2019.
Semifinalists are selected

An advisory panel (composed of scientists from universities, private institutions, and industries from around the world) will review pre-proposals and advise HHMI leadership in selecting semifinalists.
Think-tank phase (optional)

Semifinalists will have the opportunity to arrange "think tank" workshops at Janelia to further explore their ideas, refine their proposals, and identify potential partners and collaborators. These think tanks also will give semifinalists a chance to meet Janelia scientists and staff, learn about Janelia resources and technologies, and see how they might interface with their proposal.
2020
Submit full proposal

Semifinalists submit a 12-page full proposal that provides more details about the proposed research area, a timeline of the required personnel, equipment, and facilities, and a description of how the new research area will synergize with existing tool-building and shared infrastructure at Janelia. Full proposals will be due in January 2020.
Interview symposium

Semifinalists attend an interview symposium at Janelia on March 17-19, 2020 with the advisory board and leadership from HHMI and Janelia. Advisory board makes recommendations to HHMI leadership. If more than one finalist is recommended, a revisit to Janelia may be requested to meet with community members and HHMI leadership.
New research area is announced

HHMI leadership selects and announces the new research area at Janelia by the summer of 2020.
janelia7_blocks-janelia7_block_right_hand_rail | block
We are no longer accepting pre-proposals. The deadline for submission was June 3, 2019.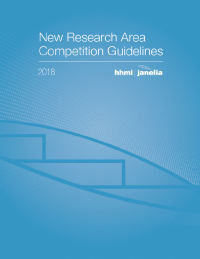 Download PDF (updated 3/29/2019)
Download FAQs (updated 3/29/2019)