node_title | node_title
Eligibility & Application
node_body | node_body
What are we looking for in a research area?
Benefits from iterative feedback between "tool-builders" – scientists who develop new technologies, instrumentation, and computational methods – and "tool-users" – scientists who apply those tools to solve biological problems.

Synergizes with one or more of the other current Janelia research efforts: Molecular Tools and Imaging, Computation and Theory, or Mechanistic Cognitive Neuroscience.

Prospers in an environment of small individual research groups, a defining feature of the philosophy and research culture at Janelia.

Provides a supportive environment for group leaders to develop their independent careers, with senior group leaders providing scientific advice and career guidance.

Develops and matures to provide opportunities for group leaders to move into more traditional settings of academia and biotechnology at the end of their tenure at Janelia.​
What are the eligibility criteria for the applicant/research area head?
PhD and/or MD (or equivalent)
Group leader from a major research institution (academic, private, or industry)
Willingness to become a full-time employee of HHMI at the Janelia Research Campus
What do you need to apply?
Components of pre-proposal application

vision statement
statement of intended research outputs and impacts
approach to leadership, mentoring, and collaboration
CV, bibliography, and five research articles

Components of full proposal

project timeline
required personnel, equipment and/or facilities
staffing strategy
how the new research area will synergize with existing research and shared infrastructure at Janelia
Applicants apply directly; there is no nomination process.
janelia7_blocks-janelia7_block_right_hand_rail | block
We are no longer accepting pre-proposals. The deadline for submission was June 3, 2019.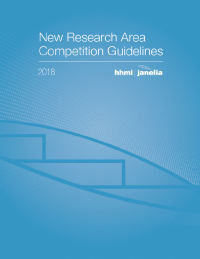 Download PDF (updated 3/29/2019)
Download FAQs (updated 3/29/2019)