Main Menu (Mobile)- Block
people_blocks-people_blocks_name_and_labs | block
people_blocks-people_blocks_action_picture | block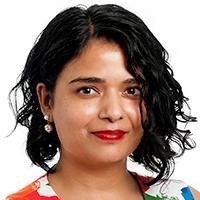 people_blocks-people_blocks_bio_summary | block
Director, Annotation & Analytics
people_blocks-people_blocks_biography | block
Biography

I came to the U.S. from India as an 18-year-old in the pursuit of higher education. My interest in neurobiology has guided my career from hands-on lab work to managing team science to help uncover foundational aspects of neuroanatomy and function.
I graduated with a B.A. in Psychology from Ohio Wesleyan University, and then received my Ph.D. in Neuroscience from Steven Schiff's lab at Penn State University studying interactions between inhibitory and excitatory neurons in the rat hippocampus during in vitro seizure activity.
As a postdoctoral researcher in Giorgio Ascoli's lab at George Mason University I was the project manager of Neuromorpho.org - an online database of neuronal reconstructions acquired from light microscopy data by scientists located around the world. In this role, I managed a team of 20 people, scaled up operations, and facilitated data sharing among scientists worldwide while promoting the benefits of open science within the field of computational neuroscience.
I joined Janelia in 2016 to start the Connectome Annotation Team (CAT). As the CAT manager I led a team of 50 annotators (peak size) collaborating with multiple Janelia scientists and project teams as they navigate the electron microscopy volumes of the fruit fly brain to find neurons of interest and their connections.
In August 2021, I completed an M.B.A. with a focus in Entrepreneurship from the University of Massachusetts Amherst.
Annotation & Analytics (A&A) launched in September 2021 as a new shared resource at Janelia. Our goal is to leverage our annotation expertise beyond the connectome to other research areas and to develop analytics as a new capability.
node:field_education | entity_field
Education
B.A., Psychology, Ohio Wesleyan University
Ph.D., Neuroscience, The Pennsylvania State University
M.B.A., Entrepreneurship, Isenberg School of Management - University of Massachusetts Amherst
janelia7_blocks-janelia7_featured_blocks | block