filters_region_cap | custom
facetapi-Q2b17qCsTdECvJIqZJgYMaGsr8vANl1n | block
facetapi-W9JlIB1X0bjs93n1Alu3wHJQTTgDCBGe | block
facetapi-PV5lg7xuz68EAY8eakJzrcmwtdGEnxR0 | block
general_search_page-panel_pane_1 | views_panes
2 Janelia Publications
Showing 1-2 of 2 results
The development of genetically encoded self-labeling protein tags such as the HaloTag and SNAP-tag has expanded the utility of chemical dyes in microscopy. Intracellular labeling using these systems requires small, cell-permeable dyes with high brightness and photostability. We recently discovered a general method to improve the properties of classic fluorophores by replacing N,N-dimethylamino groups with four-membered azetidine rings to create the "Janelia Fluor" dyes. Here, we describe the synthesis of the HaloTag and SNAP-tag ligands of Janelia Fluor 549 and Janelia Fluor 646 as well as standard labeling protocols for use in ensemble and single-molecule cellular imaging.
View Publication Page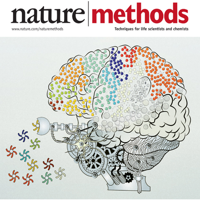 Pushing the frontier of fluorescence microscopy requires the design of enhanced fluorophores with finely tuned properties. We recently discovered that incorporation of four-membered azetidine rings into classic fluorophore structures elicits substantial increases in brightness and photostability, resulting in the Janelia Fluor (JF) series of dyes. We refined and extended this strategy, finding that incorporation of 3-substituted azetidine groups allows rational tuning of the spectral and chemical properties of rhodamine dyes with unprecedented precision. This strategy allowed us to establish principles for fine-tuning the properties of fluorophores and to develop a palette of new fluorescent and fluorogenic labels with excitation ranging from blue to the far-red. Our results demonstrate the versatility of these new dyes in cells, tissues and animals.
View Publication Page