filters_region_cap | custom
facetapi-Q2b17qCsTdECvJIqZJgYMaGsr8vANl1n | block
facetapi-W9JlIB1X0bjs93n1Alu3wHJQTTgDCBGe | block
facetapi-61yz1V0li8B1bixrCWxdAe2aYiEXdhd0 | block
facetapi-PV5lg7xuz68EAY8eakJzrcmwtdGEnxR0 | block
general_search_page-panel_pane_1 | views_panes
2 Janelia Publications
Showing 1-2 of 2 results
An approaching predator and self-motion toward an object can generate similar looming patterns on the retina, but these situations demand different rapid responses. How central circuits flexibly process visual cues to activate appropriate, fast motor pathways remains unclear. Here we identify two descending neuron (DN) types that control landing and contribute to visuomotor flexibility in Drosophila. For each, silencing impairs visually evoked landing, activation drives landing, and spike rate determines leg extension amplitude. Critically, visual responses of both DNs are severely attenuated during non-flight periods, effectively decoupling visual stimuli from the landing motor pathway when landing is inappropriate. The flight-dependence mechanism differs between DN types. Octopamine exposure mimics flight effects in one, whereas the other probably receives neuronal feedback from flight motor circuits. Thus, this sensorimotor flexibility arises from distinct mechanisms for gating action-specific descending pathways, such that sensory and motor networks are coupled or decoupled according to the behavioral state.
View Publication Page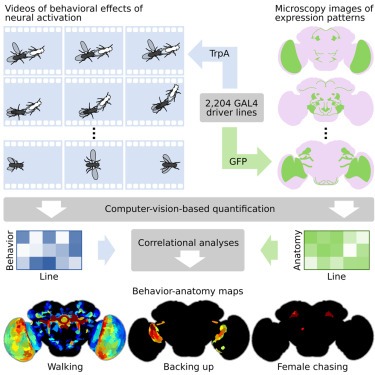 Assigning behavioral functions to neural structures has long been a central goal in neuroscience and is a necessary first step toward a circuit-level understanding of how the brain generates behavior. Here, we map the neural substrates of locomotion and social behaviors for Drosophila melanogaster using automated machine-vision and machine-learning techniques. From videos of 400,000 flies, we quantified the behavioral effects of activating 2,204 genetically targeted populations of neurons. We combined a novel quantification of anatomy with our behavioral analysis to create brain-behavior correlation maps, which are shared as browsable web pages and interactive software. Based on these maps, we generated hypotheses of regions of the brain causally related to sensory processing, locomotor control, courtship, aggression, and sleep. Our maps directly specify genetic tools to target these regions, which we used to identify a small population of neurons with a role in the control of walking.
•We developed machine-vision methods to broadly and precisely quantify fly behavior•We measured effects of activating 2,204 genetically targeted neuronal populations•We created whole-brain maps of neural substrates of locomotor and social behaviors•We created resources for exploring our results and enabling further investigation
Machine-vision analyses of large behavior and neuroanatomy data reveal whole-brain maps of regions associated with numerous complex behaviors.
View Publication Page