filters_region_cap | custom
facetapi-Q2b17qCsTdECvJIqZJgYMaGsr8vANl1n | block
facetapi-W9JlIB1X0bjs93n1Alu3wHJQTTgDCBGe | block
facetapi-61yz1V0li8B1bixrCWxdAe2aYiEXdhd0 | block
facetapi-PV5lg7xuz68EAY8eakJzrcmwtdGEnxR0 | block
general_search_page-panel_pane_1 | views_panes
2 Janelia Publications
Showing 1-2 of 2 results
The fruit fly Drosophila melanogaster is an important model organism for neuroscience with a wide array of genetic tools that enable the mapping of individuals neurons and neural subtypes. Brain templates are essential for comparative biological studies because they enable analyzing many individuals in a common reference space. Several central brain templates exist for Drosophila, but every one is either biased, uses sub-optimal tissue preparation, is imaged at low resolution, or does not account for artifacts. No publicly available Drosophila ventral nerve cord template currently exists. In this work, we created high-resolution templates of the Drosophila brain and ventral nerve cord using the best-available technologies for imaging, artifact correction, stitching, and template construction using groupwise registration. We evaluated our central brain template against the four most competitive, publicly available brain templates and demonstrate that ours enables more accurate registration with fewer local deformations in shorter time.
View Publication Page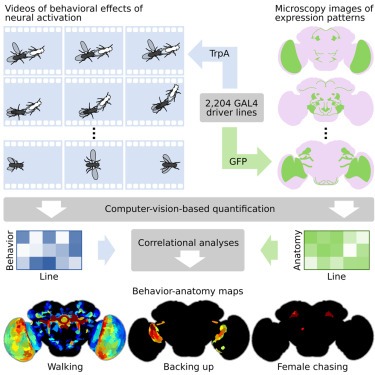 Assigning behavioral functions to neural structures has long been a central goal in neuroscience and is a necessary first step toward a circuit-level understanding of how the brain generates behavior. Here, we map the neural substrates of locomotion and social behaviors for Drosophila melanogaster using automated machine-vision and machine-learning techniques. From videos of 400,000 flies, we quantified the behavioral effects of activating 2,204 genetically targeted populations of neurons. We combined a novel quantification of anatomy with our behavioral analysis to create brain-behavior correlation maps, which are shared as browsable web pages and interactive software. Based on these maps, we generated hypotheses of regions of the brain causally related to sensory processing, locomotor control, courtship, aggression, and sleep. Our maps directly specify genetic tools to target these regions, which we used to identify a small population of neurons with a role in the control of walking.
•We developed machine-vision methods to broadly and precisely quantify fly behavior•We measured effects of activating 2,204 genetically targeted neuronal populations•We created whole-brain maps of neural substrates of locomotor and social behaviors•We created resources for exploring our results and enabling further investigation
Machine-vision analyses of large behavior and neuroanatomy data reveal whole-brain maps of regions associated with numerous complex behaviors.
View Publication Page