node_title | node_title
Leading Edge Symposium (POSTPONED)
addthis-addthis_block | block
custom_misc-custom_misc_format_date | block
node:field_content_summary | entity_field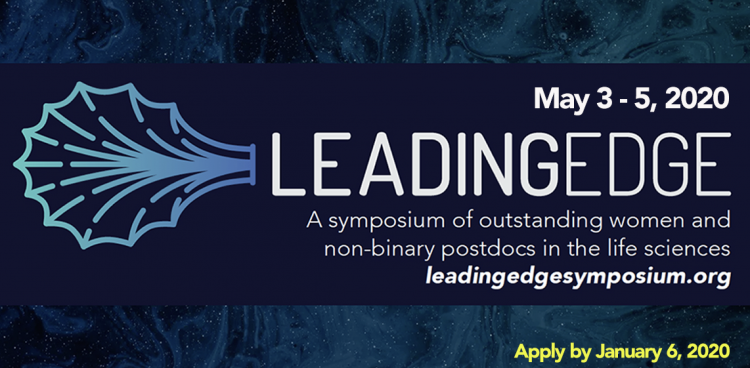 With the goal of improving gender diversity of life science faculty, the Leading Edge Symposium provides outstanding women and non-binary postdocs in biomedical research a platform to share their work and connect with one another, both professionally and personally. Attendees will give short research talks, participate in lively discussions and network with both junior and senior investigators. A panel of carefully selected world leaders in biomedical research will provide mentorship and career development training, and representatives from institutions interested in recruiting and supporting a diverse faculty will be invited. Successful postdoctoral applicants will have their travel expenses, meals and accommodations fully covered.
See leadingedgesymposium.org for more details and Frequently Asked Questions about this exciting conference!
We welcome both postdoctoral researchers and institutional representatives to apply.
Application deadline: January 6, 2020 (11:59 p.m. ET)
node_body | node_body
Keynote Speakers
Carol Greider, Johns Hopkins School of Medicine
Sue Biggins, Fred Hutchinson Cancer Research Center
Panelists
Kristin Branson, Janelia Research Campus/HHMI
Sangeeta Bhatia, Massachusetts Institute of Technology
Seemay Chou, University of California, San Francisco
Boyana Konforti, Howard Hughes Medical Institute
Jon Lorsch, National Institutes of Health
Mohamed Noor, Duke University
Ron Vale, Janelia Research Campus/HHMI
Rebecca Voorhees, California Institute of Technology
publications_landing_pages | views
Sign up to receive periodic updates and announcements about Janelia's programs and events, including conferences and workshops, public lectures, educational and career opportunities, and more.
janelia7_blocks-janelia7_featured_blocks | block
Conference Childcare
Janelia offers safe and reliable onsite daycare for the children of our conference attendees in our Children's Learning Laboratory, with personalized care and extended hours to accommodate the conference schedule. Read more about our childcare options.
addthis-addthis_block | block