node_title | node_title
Leading Edge Symposium (Virtual)
addthis-addthis_block | block
custom_misc-custom_misc_format_date | block
node:field_application_link | entity_field
node:field_content_summary | entity_field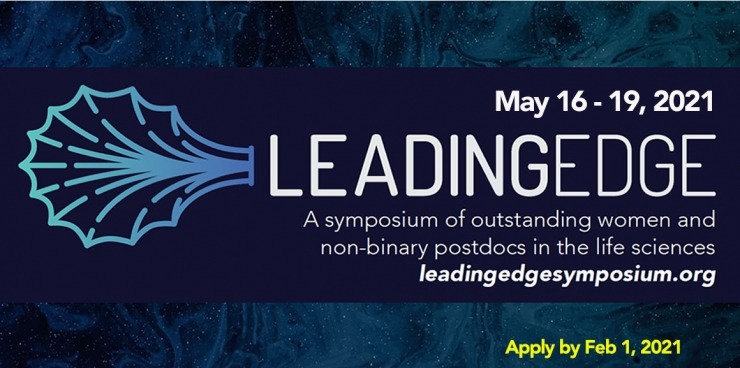 With the goal of improving gender diversity of life science faculty, the Leading Edge Symposium provides outstanding women and non-binary postdocs in biomedical research a platform to share their work and connect with one another, both professionally and personally. Attendees will give short research talks, participate in lively discussions and network with both junior and senior investigators. A panel of carefully selected world leaders in biomedical research will provide mentorship and career development training, and representatives from institutions interested in recruiting and supporting a diverse faculty will be invited.
We welcome both postdoctoral researchers and institutional representatives to apply.
Application deadline: Feb 1, 2021 (11:59 p.m. ET)
node_body | node_body
Panelists
Cassandra Extavour, Harvard University
Andrea Gomez, University of California, Berkeley
Ellie Heckscher, University of Chicago
David Julius, University of California, San Francisco
Samira Musah, Duke University
Piali Sengupta, Brandeis University
Cynthia Wolberger, Johns Hopkins
Huda Zoghbi, Baylor College of Medicine/HHMI
Yukiko Yamashita, Whitehead Institute/MIT
publications_landing_pages | views
Sign up to receive periodic updates and announcements about Janelia's programs and events, including conferences and workshops, public lectures, educational and career opportunities, and more.
janelia7_blocks-janelia7_featured_blocks | block
Please visit leadingedgesymposium.org for more details and Frequently Asked Questions about this exciting conference! Applications are being accepted through February 1, 2021 (11:59 pm ET).
A directory of women and gender-minority postdocs and early Assistant Professors. View it HERE.
addthis-addthis_block | block