node_title | node_title
Graduate Research Fellowship
node:field_slogan | entity_field
This program allows exceptional graduate students from the United States and abroad and medical and veterinary students in United States schools to spend time at Janelia working on all or part of their thesis research.
node_body | node_body
The Janelia Graduate Research Fellowship is a fully-funded, collaborative program for independent, committed PhD graduate students enrolled in accredited doctoral programs in the United States or abroad, and MD and DVM students enrolled at accredited United States medical and veterinary schools.* Required course work at the student's home institution must be completed before joining Janelia. Degrees are granted by the home institution.
Graduate Research Fellows conduct research in the following fields:
Behavioral & Systems Neuroscience
Cellular & Molecular Neuroscience
Evolution & Genetics
Instrumentation & Computational Tool Development
Neuronal Cell Biology
Optical Physics & Imaging
Structural Biology & Biochemistry
Theory & Computational Neuroscience
Students will conduct research at Janelia for a minimum of one year and a maximum of three years and will work with one or more research mentors at Janelia who will provide scientific and career guidance.
Janelia's laboratories are intentionally small, giving graduate students individualized attention from a variety of senior scientists. Each visiting student will be paired with a research mentor.
*MD and DVM students of all nationalities are eligible to apply, if currently enrolled in an MD or DVM program at an accredited U.S. medical or veterinary school.
janelia7_blocks-janelia7_tertiary_menu | block
janelia7_blocks-janelia7_block_right_hand_rail | block
Manuel A. Mohr, Graduate Research Fellow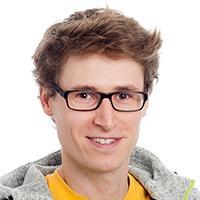 1.

Tell us about yourself.
I am a graduate research fellow in the Janelia Graduate Research Fellowship program, currently working with Eric Schreiter and Loren Looger. I am originally from Germany and did my undergraduate studies at the Technical University Munich and completed my master's at the Swiss Federal Institute of Technology (ETH) Zurich. I am originally a biochemist by training, and it was not until my master's thesis when I first got interested in neuroscience. During my Ph.D. studies at ETH, I applied for the Janelia Graduate Research Fellowship, because I wanted to experience the intersection between biochemistry and neuroscience. I have been working with
Eric Schreiter
and
Loren Looger
since I came to Janelia. Besides work, my main hobby is rock climbing – a passion, which was taught to me by my dad when I was a little kid.
2.

What brought you to Janelia?
I came to Janelia because of the diverse environment provided here. There are so many different experts, from biologists to engineers. I was especially excited to work with molecular tool builders and protein engineers.
3.

What research projects are you working on?
Most recently, I have collaboratively been working on taking the state-of-the-art calcium indicators for neuronal activity that were previously developed at Janelia and spectrally shifting them, so they would be available in different colors. The ultimate goal is to make these indicators excitable with inexpensive and powerful industrial lasers for applications in 2-photon microscopy. Since the laser is one of the most expensive parts of such a microscope, cutting its cost significantly decreases the overall cost of the microscope. I have been working with Eric Schreiter for this project, in a strong collaboration with
Kaspar Podgorski
.
4.

Could you tell us a story from your time at Janelia?
One of my favorite memories at Janelia is the time when I found my first climbing partner. I was getting coffee at Bob's on the day after my interviews. I happened to be wearing a climbing related t-shirt that day. Kaspar immediately approached me and asked if I was new at Janelia and if I was a climber. He then offered to take me climbing locally. As soon as I came back to Janelia, we started climbing together – and we still do. We have been good friends ever since.
5.

What advice do you have for someone interested in doing research at Janelia?
I'd say, think crazy and think big. Don't worry about how your idea will materialize, because if it is a good idea, it will get done. There is so much support at Janelia, not just financially, but also intellectually. We have so many experts in so many different fields here, and they are all excited to collaborate to create the final product. You should think about the overall vision of your project rather than about the intricate details of how to achieve the final product, because at Janelia, you will for sure find people who can help you get there.