node_title | node_title
Graduate Research Fellowships
node:field_slogan | entity_field
This program allows exceptional students from the United States and abroad to spend time at Janelia working on all or part of their thesis research.
node_body | node_body
The Janelia Graduate Research Fellowship is a fully-funded, collaborative PhD program for independent, committed graduate students enrolled in a doctoral program in the United States or abroad. Required course work at the student's home university must be completed before joining Janelia. Degrees are granted by the home university.
Graduate students conduct research in the following fields:
Behavioral & Systems Neuroscience
Cellular & Molecular Neuroscience
Evolution & Genetics
Instrumentation & Computational Tool Development
Neuronal Cell Biology
Optical Physics & Imaging
Structural Biology & Biochemistry
Theory & Computational Neuroscience
Students will conduct research at Janelia for a minimum of one year and a maximum of three years and will work with one or more research mentors at Janelia who will provide scientific and career guidance.
Janelia's laboratories are intentionally small, giving graduate students individualized attention from a variety of senior scientists. Each visiting student will be paired with a research mentor.
janelia7_blocks-janelia7_tertiary_menu | block
janelia7_blocks-janelia7_block_right_hand_rail | block
We are now accepting applications. Please submit your materials by July 18, 2018 at 5:00 p.m. EDT.
Jessica Eliason, Graduate Research Fellow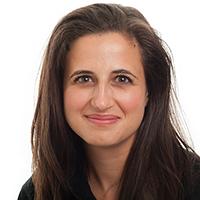 1. Tell us about yourself
I grew up in Lodi, California. Home of the grape festival and the song about getting stuck in Lodi. I was mainly interested in a literature career until I had a series of amazing science undergraduate professors at Brigham Young University and didn't want to stop taking their classes! Now I'm passionate about good science, good books, and good teachers. I'm also an avid runner and love doing anything outdoors (especially if it involves water and/or dogs).

2. What brought you to Janelia?
How I ended up in neuroscience research is still a bit of a mystery, even to me! I'm a geneticist in a neuroscience world. As a graduate student in genetics, I was conducting research related to behavioral neuroscience at Emory University and was often turning to Janelia for resources and for advice. When I found out about the fellowship, I was eager to be a part of this community which has so much expertise and creativity. Being in this supportive and innovative environment has greatly facilitated my research.

3. What research projects are you working on?
In my lab, we are map-makers of the visual system; we want to understand how the circuitry of the brain allows for the complex calculations which make sight possible. For my project, I use the fruit fly, Drosophila melanogaster, to study motion vision. I find neurons that contribute to the detection of and the reaction to movement. I seek to understand what visual features are extracted by each neuron and how that neuron works within a network of other neurons to produce a behavior.

4. What advice do you have for someone interested in doing research at Janelia?
When I was considering a position at Janelia, my mentor told me, "If you have the opportunity to go to Janelia, you go." Janelia has a reputation for excellent and pioneering research. The people here are not only clever, but also friendly and helpful. If you're facing a research roadblock, Janelians can always find a way around it.