node_title | node_title
node_body | node_body
We are now accepting applications. Please submit your materials by July 18, 2018 at 5:00 p.m. EDT.
Application Materials
All candidates submit the following materials:
Applicant contact information
Educational history including name of all colleges and universities attended, dates of attendance, and degree(s) obtained
All undergraduate and graduate transcripts
List of relevant honors, awards, and professional activities
Current funding sources
Research experiences, including dates, project summary, names of scientific/research advisors, and the applicant's role in the project
List of publications, oral presentations and posters, if applicable
A personal statement describing career goals, how a fellowship at Janelia will further those goals, any educational or personal experiences relevant to those goals, as well as any significant (scientific or other) accomplishments
Research proposal (with literature cited). This should be an example of a project the applicant might undertake at Janelia, but not necessarily a commitment to a dissertation project
Three letters of reference (uploaded directly via Janelia's web-based application system). Recommendation letters should be solicited from those who can best assess the applicant's potential as a scientist. Please note that one of the letters should be from the applicant's current mentor.
Selection and Evaluation Process
Fellowships will be awarded based on the candidate's scientific accomplishments and potential. Selection of successful candidates will take into consideration letters of reference; academic records; relevant educational, research and personal experiences; future goals and the impact a fellowship at Janelia would have on those goals; and the merits of the student's proposed research plan.

A group of top candidates will be invited for an interview symposium at Janelia. During this symposium, candidates will give short talks about their research experiences, interests and goals. They will also have the opportunity to meet one-on-one with potential mentors and other group leaders, graduate students, and the fellowship management team. Successful candidates will be selected after the interview and notified soon thereafter.

janelia7_blocks-janelia7_tertiary_menu | block
janelia7_blocks-janelia7_block_right_hand_rail | block
Kelly Seagraves, Former Graduate Scholar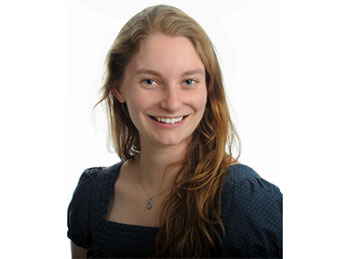 "It's a very independent program and you're treated a lot more like a postdoc than a grad student in many ways. That means that you also get to network with lab heads and postdocs and scientists from all over the world."