general_search_page-panel_pane_1 | views_panes
48 Publications
Showing 11-20 of 48 results
The ability to measure synaptic connectivity and properties is essential for understanding neuronal circuits. However, existing methods that allow such measurements at cellular resolution are laborious and technically demanding. Here, we describe a system that allows such measurements in a high-throughput way by combining two-photon optogenetics and volumetric Ca2+ imaging with whole-cell recording. We reveal a circuit motif for generating fast undulatory locomotion in zebrafish.
View Publication Page
Brains are notoriously hard to understand, and neuroscientists need all the tools they can get their hands on to have a realistic shot at it. Advances in machine learning are proving instrumental, illustrated by their recent use to shed light on navigational strategies implemented by zebrafish brains.
View Publication Page
Medial and lateral hypothalamic loci are known to suppress and enhance appetite, respectively, but the dynamics and functional significance of their interaction have yet to be explored. Here we report that, in larval zebrafish, primarily serotonergic neurons of the ventromedial caudal hypothalamus (cH) become increasingly active during food deprivation, whereas activity in the lateral hypothalamus (LH) is reduced. Exposure to food sensory and consummatory cues reverses the activity patterns of these two nuclei, consistent with their representation of opposing internal hunger states. Baseline activity is restored as food-deprived animals return to satiety via voracious feeding. The antagonistic relationship and functional importance of cH and LH activity patterns were confirmed by targeted stimulation and ablation of cH neurons. Collectively, the data allow us to propose a model in which these hypothalamic nuclei regulate different phases of hunger and satiety and coordinate energy balance via antagonistic control of distinct behavioral outputs.
View Publication Page
Imaging changes in membrane potential using genetically encoded fluorescent voltage indicators (GEVIs) has great potential for monitoring neuronal activity with high spatial and temporal resolution. Brightness and photostability of fluorescent proteins and rhodopsins have limited the utility of existing GEVIs. We engineered a novel GEVI, "Voltron", that utilizes bright and photostable synthetic dyes instead of protein-based fluorophores, extending the combined duration of imaging and number of neurons imaged simultaneously by more than tenfold relative to existing GEVIs. We used Voltron for in vivo voltage imaging in mice, zebrafish, and fruit flies. In mouse cortex, Voltron allowed single-trial recording of spikes and subthreshold voltage signals from dozens of neurons simultaneously, over 15 min of continuous imaging. In larval zebrafish, Voltron enabled the precise correlation of spike timing with behavior.
View Publication Page
Current techniques for monitoring GABA (γ-aminobutyric acid), the primary inhibitory neurotransmitter in vertebrates, cannot follow transients in intact neural circuits. To develop a GABA sensor, we applied the design principles used to create the fluorescent glutamate receptor iGluSnFR. We used a protein derived from a previously unsequenced Pseudomonas fluorescens strain and performed structure-guided mutagenesis and library screening to obtain intensity-based GABA sensing fluorescence reporter (iGABASnFR) variants. iGABASnFR is genetically encoded, detects GABA release evoked by electric stimulation of afferent fibers in acute brain slices and produces readily detectable fluorescence increases in vivo in mice and zebrafish. We applied iGABASnFR to track mitochondrial GABA content and its modulation by an anticonvulsant, swimming-evoked, GABA-mediated transmission in zebrafish cerebellum, GABA release events during interictal spikes and seizures in awake mice, and found that GABA-mediated tone decreases during isoflurane anesthesia.
View Publication Page
When a behavior repeatedly fails to achieve its goal, animals often give up and become passive, which can be strategic for preserving energy or regrouping between attempts. It is unknown how the brain identifies behavioral failures and mediates this behavioral-state switch. In larval zebrafish swimming in virtual reality, visual feedback can be withheld so that swim attempts fail to trigger expected visual flow. After tens of seconds of such motor futility, animals became passive for similar durations. Whole-brain calcium imaging revealed noradrenergic neurons that responded specifically to failed swim attempts and radial astrocytes whose calcium levels accumulated with increasing numbers of failed attempts. Using cell ablation and optogenetic or chemogenetic activation, we found that noradrenergic neurons progressively activated brainstem radial astrocytes, which then suppressed swimming. Thus, radial astrocytes perform a computation critical for behavior: they accumulate evidence that current actions are ineffective and consequently drive changes in behavioral states.
View Publication Page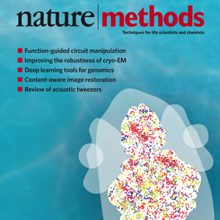 Whole-brain imaging allows for comprehensive functional mapping of distributed neural pathways, but neuronal perturbation experiments are usually limited to targeting predefined regions or genetically identifiable cell types. To complement whole-brain measures of activity with brain-wide manipulations for testing causal interactions, we introduce a system that uses measuredactivity patterns to guide optical perturbations of any subset of neurons in the same fictively behaving larval zebrafish. First, a light-sheet microscope collects whole-brain data that are rapidly analyzed by a distributed computing system to generate functional brain maps. On the basis of these maps, the experimenter can then optically ablate neurons and image activity changes across the brain. We applied this method to characterize contributions of behaviorally tuned populations to the optomotor response. We extended the system to optogenetically stimulate arbitrary subsets of neurons during whole-brain imaging. These open-source methods enable delineating the contributions of neurons to brain-wide circuit dynamics and behavior in individual animals.
View Publication Page
Simultaneous recordings of large populations of neurons in behaving animals allow detailed observation of high-dimensional, complex brain activity. However, experimental approaches often focus on singular behavioral paradigms or brain areas. Here, we recorded whole-brain neuronal activity of larval zebrafish presented with a battery of visual stimuli while recording fictive motor output. We identified neurons tuned to each stimulus type and motor output and discovered groups of neurons in the anterior hindbrain that respond to different stimuli eliciting similar behavioral responses. These convergent sensorimotor representations were only weakly correlated to instantaneous motor activity, suggesting that they critically inform, but do not directly generate, behavioral choices. To catalog brain-wide activity beyond explicit sensorimotor processing, we developed an unsupervised clustering technique that organizes neurons into functional groups. These analyses enabled a broad overview of the functional organization of the brain and revealed numerous brain nuclei whose neurons exhibit concerted activity patterns.
View Publication Page
We developed a new way to engineer complex proteins toward multidimensional specifications using a simple, yet scalable, directed evolution strategy. By robotically picking mammalian cells that were identified, under a microscope, as expressing proteins that simultaneously exhibit several specific properties, we can screen hundreds of thousands of proteins in a library in just a few hours, evaluating each along multiple performance axes. To demonstrate the power of this approach, we created a genetically encoded fluorescent voltage indicator, simultaneously optimizing its brightness and membrane localization using our microscopy-guided cell-picking strategy. We produced the high-performance opsin-based fluorescent voltage reporter Archon1 and demonstrated its utility by imaging spiking and millivolt-scale subthreshold and synaptic activity in acute mouse brain slices and in larval zebrafish in vivo. We also measured postsynaptic responses downstream of optogenetically controlled neurons in C. elegans.
View Publication Page
Due to their small size and transparency, zebrafish larvae are amenable to a range of fluorescence microscopy techniques. With the development of sensitive genetically encoded calcium indicators, this has extended to the whole-brain imaging of neural activity with cellular resolution. This technique has been used to study brain-wide population dynamics accompanying sensory processing and sensorimotor transformations, and has spurred the development of innovative closed-loop behavioral paradigms in which stimulus-response relationships can be studied. More recently, microscopes have been developed that allow whole-brain calcium imaging in freely swimming and behaving larvae. In this review, we highlight the technologies underlying whole-brain functional imaging in zebrafish, provide examples of the sensory and motor processes that have been studied with this technique, and discuss the need to merge data from whole-brain functional imaging studies with neurochemical and anatomical information to develop holistic models of functional neural circuits.
View Publication Page