Main Menu (Mobile)- Block
janelia7_blocks-janelia7_secondary_menu | block
janelia7_blocks-janelia7_fake_breadcrumb | block
janelia7_blocks-janelia7_support_team_header | block
What We Do
World class computational infrastructure for Janelia's science.
The department operates and maintains all of Janelia's storage and associated backup infrastructure, high performance compute cluster, and all Linux systems. The group is also responsible for maintaining Janelia's data center as well as backup and disaster recovery resources located at HHMI's headquarters. In addition, the group works closely with Enterprise Storage and UNIX Systems group at HHMI headquarters to provide support for all of HHMI's storage area network and server, storage, and backup resources supporting business applications.
node:body | entity_field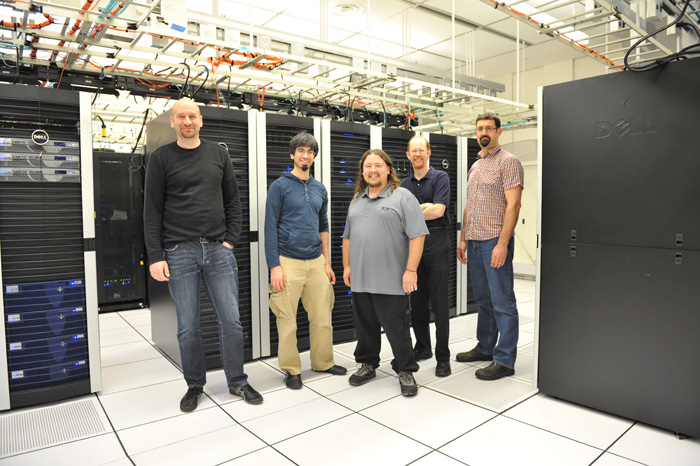 The data production and analysis at Janelia has experienced dramatic growth since the opening of the Institute. The department supports data storage infrastructure for storing and accessing scientific data. The group currently supports over 5 petabytes of scientific data split across various storage tiers. Scientific Computing Systems supports a state of the art storage and compute infrastructure across 2 data centers connected with an optical fiber ring. The department maintains a 4500 sq ft data center capable of providing over 250 watts per square foot of power and cooling capacity of 300 tons. The data center and the building are backed up by three 2000 kW generators.
The mountain of data produced by Janelia's scientists needs to be analyzed and mined for useful information. The department supports a 7000 core Linux compute cluster that can be used for all their computing needs too large for their individual workstations. In addition, the department is responsible for maintaining about 200 Linux servers and workstations as well as close to 250 Linux virtual machines. Almost all of Janelia's data is safely backed up to a secondary data center situated at HHMI's headquarters in Chevy Chase. Every night between 5 and 10 TB of data is transferred between the two sites for backup and disaster recovery purposes.
janelia7_blocks-janelia7_block_right_hand_rail | block