node_title | node_title
node_body | node_body
From gene sequencing to 3D rendering of neural circuits, our operational teams offer technology, advice, collaboration, and services that pave the way for important, sometimes unimagined, discoveries.
Our support teams bring expert, flexible, ever-learning staff – along with state-of-the-art equipment and facilities – that complement and extend what is possible within individual research labs. By sharing resources, we can scale operations. Our goal is to enable scientists to approach research differently, get more done, and accelerate discovery.
The Anatomy and Histology Facility turns tissues and whole organs into sections that are suitable for microscope examination or physiological experiments.
Formerly known as the Connectome Annotation Team (CAT), Annotation & Analytics (A&A) was launched as a new shared resource at Janelia in September 2021. We envision this resource as a core group of highly trained professionals who aim to contribute to any Janelia research with computer-aided data annotation and analytics needs.
The Cell and Tissue Culture Facility provides expert maintenance of cell cultures with a high level of efficiency, competence, and safety for the research campus.
The CryoEM Facility is currently the only research facility in the United States, and also one of a very few facilities in the world, to have two state-of-the-art FEI Titan Krios cryo-electron microscopes.
The Fly Facility provides professional care, maintenance, and organization of Janelia's fly resources.
The Electron Microscopy Facility enables biological research at micro- and nano-scales and provides Janelia researchers a nexus for multidisciplinary collaboration in high-resolution imaging.
From construct design and generation to ES cell targeting, aggregation, and homozygosity testing, the Gene Targeting & Transgenics Facility makes sophisticated gene targeting a turnkey service at a low cost.
Janelia Experimental Technology designs, builds, and tests commercially unavailable instruments, tools, and software.
The Light Microscopy Facility works to advance research by supporting robust solutions for fluorescence and confocal imaging.
The Media Prep Facility feeds Janelia research. Experienced staff provide a consistent supply of quality-assured media, reagents, and fly food products to support laboratories and team projects.
Using a customer-centric approach to scientific support, our Molecular Biology Facility provides reliable services and expert assistance for routine and specialized molecular biology techniques.
The experienced Project Technical Resources staff provides technical support for various Janelia team projects, helps to jump-start new team projects, and makes accrued expertise available to laboratories.
Quantitative Genomics provides expert services for cell isolation, transcriptome and epigenetic profiling, and de novo genome assembly using next generation sequencing technologies from Illumina and Ion Torrent.
Scientific Computing Software works closely with Janelia's labs, project teams, and shared resources. We can help with software engineering and research tasks, providing everything from help with a quick question to full software life cycle support.
Janelia's storage and computational resources require a first-class Data Center. The department maintains 4000 sq. ft. data center capable of providing over 250 watts per square foot of power and cooling.
The Janelia Viral Tools Facility specializes in custom virus production for the manipulation and mapping of neuronal circuits.
The Vivarium enables laboratory animal research by maintaining flexibility and developing unique solutions for emerging technologies and changing researcher needs.
janelia7_blocks-janelia7_block_right_hand_rail | block
Tactical Support for Science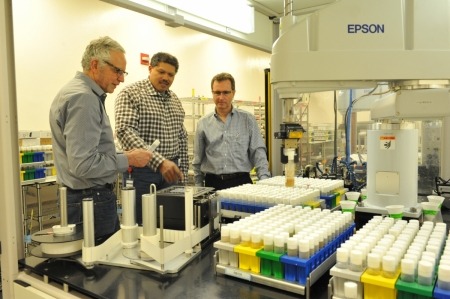 Janelia's support teams and shared resources make it possible for small lab groups to make big progress.