node:field_image_thumbnail | entity_field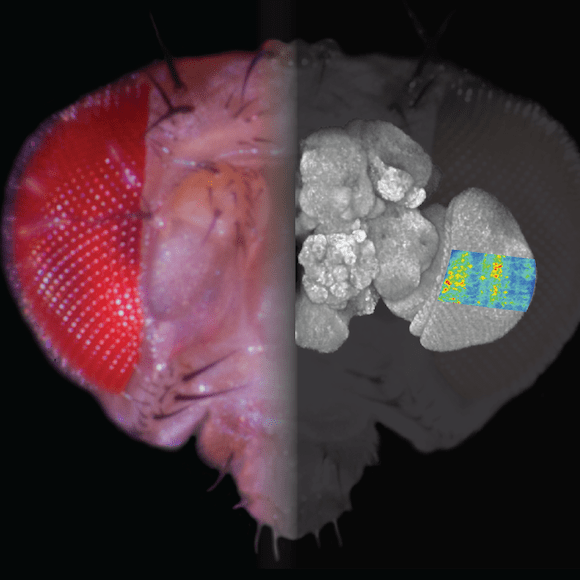 custom_misc-custom_misc_featured_summary | block
Reiser Lab /
We study vision in flies in order to understand where behavior comes from.
custom_misc-custom_misc_lab_updates | block
node:field_content_header | entity_field
node:field_content_summary | entity_field
We seek to understand the transformations of visual information that occur throughout the fly brain.
node:body | entity_field
We are working to link identified visual pathways to specific behavioral programs. We use the modern Drosophila molecular-genetic toolkit along with the unparalleled control over stimuli that is the hallmark of vision science to understand this intricate, but increasingly well described, network. All projects in the lab combine multiple approaches. We explore the rich visual behaviors of walking and flying flies, along with functional investigations of specific cell types using electrophysiology and calcium imaging. All of our work benefits from extensive instrument development efforts and computational methods for data analysis and modeling.

We work closely with several groups within Janelia, especially the labs of Gerry Rubin, Gwyneth Card, Vivek Jayaraman, ​Kristin Branson, and the FlyEM and Fly Olympiad Project teams.
node:field_gallery_title | entity_field
janelia7_blocks-janelia7_media_gallery | block
Fly visual place learning experiment.
Sarcophagus
The chamber we use for tethering flies, a.k.a. a sarcophagus.
Direct Observations
Visualizing fly vision: a composite image of a fly's head, a projection of the brain, and two-photon calcium imaging of stimulus-evoked responses from the visual system. Image by James Strother.
Wide Field
The Lamina Wide Field type 2 neuron, a fascinating feedback cell in the fly visual system. Image by Aljoscha Nern.