general_search_page-panel_pane_1 | views_panes
42 Publications
Showing 31-40 of 42 results
Fluorescent calcium sensors are widely used to image neural activity. Using structure-based mutagenesis and neuron-based screening, we developed a family of ultrasensitive protein calcium sensors (GCaMP6) that outperformed other sensors in cultured neurons and in zebrafish, flies and mice in vivo. In layer 2/3 pyramidal neurons of the mouse visual cortex, GCaMP6 reliably detected single action potentials in neuronal somata and orientation-tuned synaptic calcium transients in individual dendritic spines. The orientation tuning of structurally persistent spines was largely stable over timescales of weeks. Orientation tuning averaged across spine populations predicted the tuning of their parent cell. Although the somata of GABAergic neurons showed little orientation tuning, their dendrites included highly tuned dendritic segments (5–40-µm long). GCaMP6 sensors thus provide new windows into the organization and dynamics of neural circuits over multiple spatial and temporal scales.
View Publication Page
The visual neurons of many animals process sensory input differently depending on the animal's state of locomotion. Now, new work in Drosophila melanogaster shows that neuromodulatory neurons active during flight boost responses of neurons in the visual system.
View Publication Page
Genetically encoded calcium indicators (GECIs) are powerful tools for systems neuroscience. Recent efforts in protein engineering have significantly increased the performance of GECIs. The state-of-the art single-wavelength GECI, GCaMP3, has been deployed in a number of model organisms and can reliably detect three or more action potentials in short bursts in several systems in vivo . Through protein structure determination, targeted mutagenesis, high-throughput screening, and a battery of in vitro assays, we have increased the dynamic range of GCaMP3 by severalfold, creating a family of "GCaMP5" sensors. We tested GCaMP5s in several systems: cultured neurons and astrocytes, mouse retina, and in vivo in Caenorhabditis chemosensory neurons, Drosophila larval neuromuscular junction and adult antennal lobe, zebrafish retina and tectum, and mouse visual cortex. Signal-to-noise ratio was improved by at least 2- to 3-fold. In the visual cortex, two GCaMP5 variants detected twice as many visual stimulus-responsive cells as GCaMP3. By combining in vivo imaging with electrophysiology we show that GCaMP5 fluorescence provides a more reliable measure of neuronal activity than its predecessor GCaMP3.GCaMP5allows more sensitive detection of neural activity in vivo andmayfind widespread applications for cellular imaging in general.
View Publication Page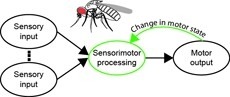 Sensorimotor integration is a field rich in theory backed by a large body of psychophysical evidence. Relating the underlying neural circuitry to these theories has, however, been more challenging. With a wide array of complex behaviors coordinated by their small brains, insects provide powerful model systems to study key features of sensorimotor integration at a mechanistic level. Insect neural circuits perform both hard-wired and learned sensorimotor transformations. They modulate their neural processing based on both internal variables, such as the animal's behavioral state, and external ones, such as the time of day. Here we present some studies using insect model systems that have produced insights, at the level of individual neurons, about sensorimotor integration and the various ways in which it can be modified by context.
View Publication Page
The neural underpinnings of sensorimotor integration are best studied in the context of well-characterized behavior. A rich trove of Drosophila behavioral genetics research offers a variety of well-studied behaviors and candidate brain regions that can form the bases of such studies. The development of tools to perform in vivo physiology from the Drosophila brain has made it possible to monitor activity in defined neurons in response to sensory stimuli. More recently still, it has become possible to perform recordings from identified neurons in the brain of head-fixed flies during walking or flight behaviors. In this chapter, we discuss how experiments that simultaneously monitor behavior and physiology in Drosophila can be combined with other techniques to produce testable models of sensorimotor circuit function.
View Publication Page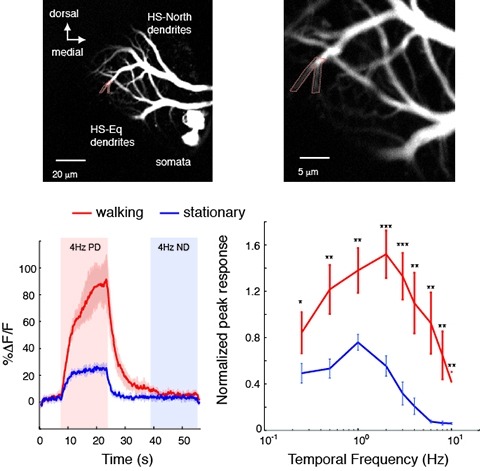 Changes in behavioral state modify neural activity in many systems. In some vertebrates such modulation has been observed and interpreted in the context of attention and sensorimotor coordinate transformations. Here we report state-dependent activity modulations during walking in a visual-motor pathway of Drosophila. We used two-photon imaging to monitor intracellular calcium activity in motion-sensitive lobula plate tangential cells (LPTCs) in head-fixed Drosophila walking on an air-supported ball. Cells of the horizontal system (HS)–a subgroup of LPTCs–showed stronger calcium transients in response to visual motion when flies were walking rather than resting. The amplified responses were also correlated with walking speed. Moreover, HS neurons showed a relatively higher gain in response strength at higher temporal frequencies, and their optimum temporal frequency was shifted toward higher motion speeds. Walking-dependent modulation of HS neurons in the Drosophila visual system may constitute a mechanism to facilitate processing of higher image speeds in behavioral contexts where these speeds of visual motion are relevant for course stabilization.
View Publication Page

Drosophila melanogaster is a model organism rich in genetic tools to manipulate and identify neural circuits involved in specific behaviors. Here we present a technique for two-photon calcium imaging in the central brain of head-fixed Drosophila walking on an air-supported ball. The ball's motion is tracked at high resolution and can be treated as a proxy for the fly's own movements. We used the genetically encoded calcium sensor, GCaMP3.0, to record from important elements of the motion-processing pathway, the horizontal-system lobula plate tangential cells (LPTCs) in the fly optic lobe. We presented motion stimuli to the tethered fly and found that calcium transients in horizontal-system neurons correlated with robust optomotor behavior during walking. Our technique allows both behavior and physiology in identified neurons to be monitored in a genetic model organism with an extensive repertoire of walking behaviors.
View Publication Page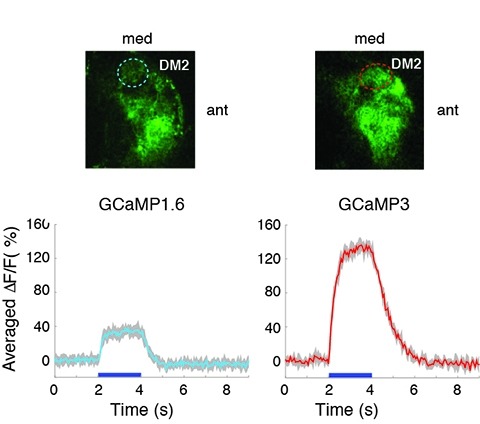 Genetically encoded calcium indicators (GECIs) can be used to image activity in defined neuronal populations. However, current GECIs produce inferior signals compared to synthetic indicators and recording electrodes, precluding detection of low firing rates. We developed a single-wavelength GCaMP2-based GECI (GCaMP3), with increased baseline fluorescence (3-fold), increased dynamic range (3-fold) and higher affinity for calcium (1.3-fold). We detected GCaMP3 fluorescence changes triggered by single action potentials in pyramidal cell dendrites, with signal-to-noise ratio and photostability substantially better than those of GCaMP2, D3cpVenus and TN-XXL. In Caenorhabditis elegans chemosensory neurons and the Drosophila melanogaster antennal lobe, sensory stimulation-evoked fluorescence responses were significantly enhanced with GCaMP3 (4-6-fold). In somatosensory and motor cortical neurons in the intact mouse, GCaMP3 detected calcium transients with amplitudes linearly dependent on action potential number. Long-term imaging in the motor cortex of behaving mice revealed large fluorescence changes in imaged neurons over months.
View Publication Page
Genetically encoded optical indicators hold the promise of enabling non-invasive monitoring of activity in identified neurons in behaving organisms. However, the interpretation of images of brain activity produced using such sensors is not straightforward. Several recent studies of sensory coding used G-CaMP 1.3-a calcium sensor-as an indicator of neural activity; some of these studies characterized the imaged neurons as having narrow tuning curves, a conclusion not always supported by parallel electrophysiological studies. To better understand the possible cause of these conflicting results, we performed simultaneous in vivo 2-photon imaging and electrophysiological recording of G-CaMP 1.3 expressing neurons in the antennal lobe (AL) of intact fruitflies. We find that G-CaMP has a relatively high threshold, that its signal often fails to capture spiking response kinetics, and that it can miss even high instantaneous rates of activity if those are not sustained. While G-CaMP can be misleading, it is clearly useful for the identification of promising neural targets: when electrical activity is well above the sensor's detection threshold, its signal is fairly well correlated with mean firing rate and G-CaMP does not appear to alter significantly the responses of neurons that express it. The methods we present should enable any genetically encoded sensor, activator, or silencer to be evaluated in an intact neural circuit in vivo in Drosophila.
View Publication Page