custom | custom
facetapi-Q2b17qCsTdECvJIqZJgYMaGsr8vANl1n | block
facetapi-W9JlIB1X0bjs93n1Alu3wHJQTTgDCBGe | block
facetapi-PV5lg7xuz68EAY8eakJzrcmwtdGEnxR0 | block
facetapi-021SKYQnqXW6ODq5W5dPAFEDBaEJubhN | block
general_search_page-panel_pane_1 | views_panes
18 Publications
Showing 11-18 of 18 results
Previously, in (Hermundstad et al., 2014), we showed that when sampling is limiting, the efficient coding principle leads to a 'variance is salience' hypothesis, and that this hypothesis accounts for visual sensitivity to binary image statistics. Here, using extensive new psychophysical data and image analysis, we show that this hypothesis accounts for visual sensitivity to a large set of grayscale image statistics at a striking level of detail, and also identify the limits of the prediction. We define a 66-dimensional space of local grayscale light-intensity correlations, and measure the relevance of each direction to natural scenes. The 'variance is salience' hypothesis predicts that two-point correlations are most salient, and predicts their relative salience. We tested these predictions in a texture-segregation task using un-natural, synthetic textures. As predicted, correlations beyond second order are not salient, and predicted thresholds for over 300 second-order correlations match psychophysical thresholds closely (median fractional error < 0:13).
View Publication Page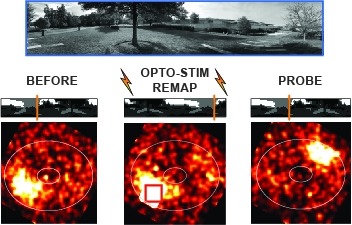 Many animals rely on an internal heading representation when navigating in varied environments. How this representation is linked to the sensory cues that define different surroundings is unclear. In the fly brain, heading is represented by 'compass' neurons that innervate a ring-shaped structure known as the ellipsoid body. Each compass neuron receives inputs from 'ring' neurons that are selective for particular visual features; this combination provides an ideal substrate for the extraction of directional information from a visual scene. Here we combine two-photon calcium imaging and optogenetics in tethered flying flies with circuit modelling, and show how the correlated activity of compass and visual neurons drives plasticity, which flexibly transforms two-dimensional visual cues into a stable heading representation. We also describe how this plasticity enables the fly to convert a partial heading representation, established from orienting within part of a novel setting, into a complete heading representation. Our results provide mechanistic insight into the memory-related computations that are essential for flexible navigation in varied surroundings.
View Publication Page
Behavior relies on the ability of sensory systems to infer properties of the environment from incoming stimuli. The accuracy of inference depends on the fidelity with which behaviorally relevant properties of stimuli are encoded in neural responses. High-fidelity encodings can be metabolically costly, but low-fidelity encodings can cause errors in inference. Here, we discuss general principles that underlie the tradeoff between encoding cost and inference error. We then derive adaptive encoding schemes that dynamically navigate this tradeoff. These optimal encodings tend to increase the fidelity of the neural representation following a change in the stimulus distribution, and reduce fidelity for stimuli that originate from a known distribution. We predict dynamical signatures of such encoding schemes and demonstrate how known phenomena, such as burst coding and firing rate adaptation, can be understood as hallmarks of optimal coding for accurate inference.
View Publication Page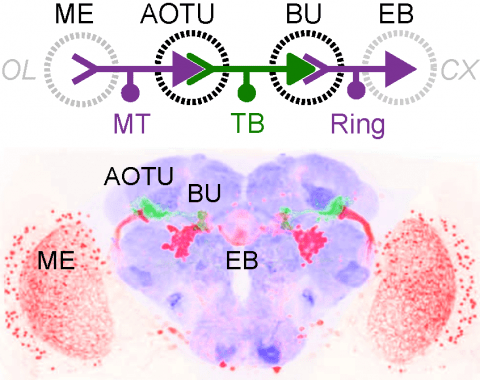 Many animals orient using visual cues, but how a single cue is selected from among many is poorly understood. Here we show that Drosophila ring neurons—central brain neurons implicated in navigation—display visual stimulus selection. Using in vivo two-color two-photon imaging with genetically encoded calcium indicators, we demonstrate that individual ring neurons inherit simple-cell-like receptive fields from their upstream partners. Stimuli in the contralateral visual field suppressed responses to ipsilateral stimuli in both populations. Suppression strength depended on when and where the contralateral stimulus was presented, an effect stronger in ring neurons than in their upstream inputs. This history-dependent effect on the temporal structure of visual responses, which was well modeled by a simple biphasic filter, may determine how visual references are selected for the fly's internal compass. Our approach highlights how two-color calcium imaging can help identify and localize the origins of sensory transformations across synaptically connected neural populations.
View Publication Page
Information processing in the sensory periphery is shaped by natural stimulus statistics. In the periphery, a transmission bottleneck constrains performance; thus efficient coding implies that natural signal components with a predictably wider range should be compressed. In a different regime--when sampling limitations constrain performance--efficient coding implies that more resources should be allocated to informative features that are more variable. We propose that this regime is relevant for sensory cortex when it extracts complex features from limited numbers of sensory samples. To test this prediction, we use central visual processing as a model: we show that visual sensitivity for local multi-point spatial correlations, described by dozens of independently-measured parameters, can be quantitatively predicted from the structure of natural images. This suggests that efficient coding applies centrally, where it extends to higher-order sensory features and operates in a regime in which sensitivity increases with feature variability.
View Publication Page
The anatomical connectivity of the human brain supports diverse patterns of correlated neural activity that are thought to underlie cognitive function. In a manner sensitive to underlying structural brain architecture, we examine the extent to which such patterns of correlated activity systematically vary across cognitive states. Anatomical white matter connectivity is compared with functional correlations in neural activity measured via blood oxygen level dependent (BOLD) signals. Functional connectivity is separately measured at rest, during an attention task, and during a memory task. We assess these structural and functional measures within previously-identified resting-state functional networks, denoted task-positive and task-negative networks, that have been independently shown to be strongly anticorrelated at rest but also involve regions of the brain that routinely increase and decrease in activity during task-driven processes. We find that the density of anatomical connections within and between task-positive and task-negative networks is differentially related to strong, task-dependent correlations in neural activity. The space mapped out by the observed structure-function relationships is used to define a quantitative measure of separation between resting, attention, and memory states. We find that the degree of separation between states is related to both general measures of behavioral performance and relative differences in task-specific measures of attention versus memory performance. These findings suggest that the observed separation between cognitive states reflects underlying organizational principles of human brain structure and function.
View Publication Page
Magnetic resonance imaging enables the noninvasive mapping of both anatomical white matter connectivity and dynamic patterns of neural activity in the human brain. We examine the relationship between the structural properties of white matter streamlines (structural connectivity) and the functional properties of correlations in neural activity (functional connectivity) within 84 healthy human subjects both at rest and during the performance of attention- and memory-demanding tasks. We show that structural properties, including the length, number, and spatial location of white matter streamlines, are indicative of and can be inferred from the strength of resting-state and task-based functional correlations between brain regions. These results, which are both representative of the entire set of subjects and consistently observed within individual subjects, uncover robust links between structural and functional connectivity in the human brain.
View Publication Page
The performance of information processing systems, from artificial neural networks to natural neuronal ensembles, depends heavily on the underlying system architecture. In this study, we compare the performance of parallel and layered network architectures during sequential tasks that require both acquisition and retention of information, thereby identifying tradeoffs between learning and memory processes. During the task of supervised, sequential function approximation, networks produce and adapt representations of external information. Performance is evaluated by statistically analyzing the error in these representations while varying the initial network state, the structure of the external information, and the time given to learn the information. We link performance to complexity in network architecture by characterizing local error landscape curvature. We find that variations in error landscape structure give rise to tradeoffs in performance; these include the ability of the network to maximize accuracy versus minimize inaccuracy and produce specific versus generalizable representations of information. Parallel networks generate smooth error landscapes with deep, narrow minima, enabling them to find highly specific representations given sufficient time. While accurate, however, these representations are difficult to generalize. In contrast, layered networks generate rough error landscapes with a variety of local minima, allowing them to quickly find coarse representations. Although less accurate, these representations are easily adaptable. The presence of measurable performance tradeoffs in both layered and parallel networks has implications for understanding the behavior of a wide variety of natural and artificial learning systems.
View Publication Page