general_search_page-panel_pane_1 | views_panes
48 Publications
Showing 41-48 of 48 results
Animal behaviour arises from computations in neuronal circuits, but our understanding of these computations has been frustrated by the lack of detailed synaptic connection maps, or connectomes. For example, despite intensive investigations over half a century, the neuronal implementation of local motion detection in the insect visual system remains elusive. Here we develop a semi-automated pipeline using electron microscopy to reconstruct a connectome, containing 379 neurons and 8,637 chemical synaptic contacts, within the Drosophila optic medulla. By matching reconstructed neurons to examples from light microscopy, we assigned neurons to cell types and assembled a connectome of the repeating module of the medulla. Within this module, we identified cell types constituting a motion detection circuit, and showed that the connections onto individual motion-sensitive neurons in this circuit were consistent with their direction selectivity. Our results identify cellular targets for future functional investigations, and demonstrate that connectomes can provide key insights into neuronal computations.
View Publication Page
The most established method of reconstructing neural circuits from animals involves slicing tissue very thin, then taking mosaics of electron microscope (EM) images. To trace neurons across different images and through different sections, these images must be accurately aligned, both with the others in the same section and to the sections above and below. Unfortunately, sectioning and imaging are not ideal processes - some of the problems that make alignment difficult include lens distortion, tissue shrinkage during imaging, tears and folds in the sectioned tissue, and dust and other artifacts. In addition the data sets are large (hundreds of thousands of images) and each image must be aligned with many neighbors, so the process must be automated and reliable. This paper discusses methods of dealing with these problems, with numeric results describing the accuracy of the resulting alignments.
View Publication Page
The ability to automatically segment an image into distinct regions is a critical aspect in many visual processing applications. Because inaccuracies often exist in automatic segmentation, manual segmentation is necessary in some application domains to correct mistakes, such as required in the reconstruction of neuronal processes from microscopic images. The goal of the automated segmentation tool is traditionally to produce the highest-quality segmentation, where quality is measured by the similarity to actual ground truth, so as to minimize the volume of manual correction necessary. Manual correction is generally orders-of-magnitude more time consuming than automated segmentation, often making handling large images intractable. Therefore, we propose a more relevant goal: minimizing the turn-around time of automated/manual segmentation while attaining a level of similarity with ground truth. It is not always necessary to inspect every aspect of an image to generate a useful segmentation. As such, we propose a strategy to guide manual segmentation to the most uncertain parts of segmentation. Our contributions include 1) a probabilistic measure that evaluates segmentation without ground truth and 2) a methodology that leverages these probabilistic measures to significantly reduce manual correction while maintaining segmentation quality.
View Publication Page
A central problem in neuroscience is reconstructing neuronal circuits on the synapse level. Due to a wide range of scales in brain architecture such reconstruction requires imaging that is both high-resolution and high-throughput. Existing electron microscopy (EM) techniques possess required resolution in the lateral plane and either high-throughput or high depth resolution but not both. Here, we exploit recent advances in unsupervised learning and signal processing to obtain high depth-resolution EM images computationally without sacrificing throughput. First, we show that the brain tissue can be represented as a sparse linear combination of localized basis functions that are learned using high-resolution datasets. We then develop compressive sensing-inspired techniques that can reconstruct the brain tissue from very few (typically 5) tomographic views of each section. This enables tracing of neuronal processes and, hence, high throughput reconstruction of neural circuits on the level of individual synapses.
View Publication Page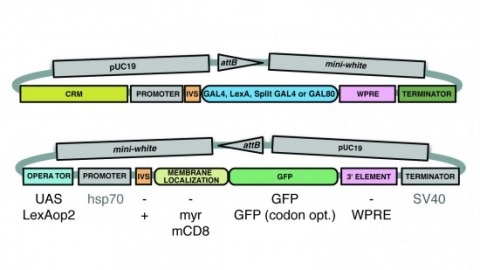 A wide variety of biological experiments rely on the ability to express an exogenous gene in a transgenic animal at a defined level and in a spatially and temporally controlled pattern. We describe major improvements of the methods available for achieving this objective in Drosophila melanogaster. We have systematically varied core promoters, UTRs, operator sequences, and transcriptional activating domains used to direct gene expression with the GAL4, LexA, and Split GAL4 transcription factors and the GAL80 transcriptional repressor. The use of site-specific integration allowed us to make quantitative comparisons between different constructs inserted at the same genomic location. We also characterized a set of PhiC31 integration sites for their ability to support transgene expression of both drivers and responders in the nervous system. The increased strength and reliability of these optimized reagents overcome many of the previous limitations of these methods and will facilitate genetic manipulations of greater complexity and sophistication.
View Publication Page
Reconstructing neuronal circuits at the level of synapses is a central problem in neuroscience, and the focus of the nascent field of connectomics. Previously used to reconstruct the C. elegans wiring diagram, serial-section transmission electron microscopy (ssTEM) is a proven technique for the task. However, to reconstruct more complex circuits, ssTEM will require the automation of image processing. We review progress in the processing of electron microscopy images and, in particular, a semi-automated reconstruction pipeline deployed at Janelia. Drosophila circuits underlying identified behaviors are being reconstructed in the pipeline with the goal of generating a complete Drosophila connectome.
View Publication Page