node:body | entity_field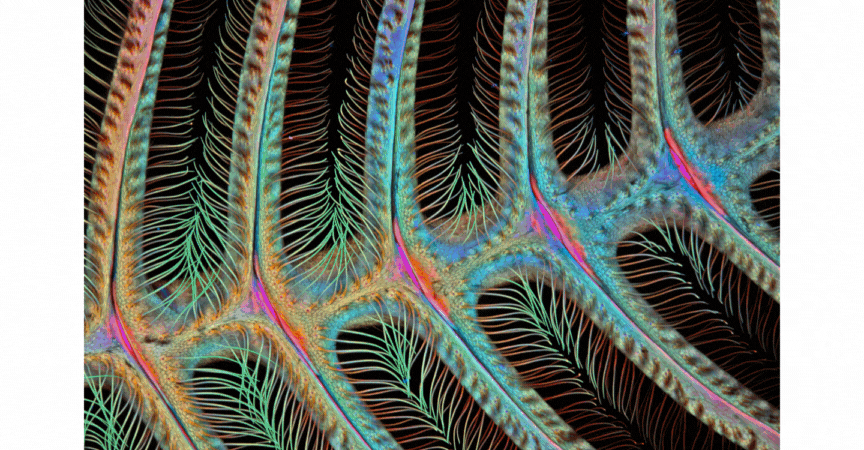 It's not often that a neurobiologist ends up at the United States' biggest stamp convention, but that's where Igor Siwanowicz found himself in mid-August, alongside the mayor of Cleveland and officials from the US Postal Service and the American Philatelic Society.
Siwanowicz, a research scientist in the Stern Lab at Janelia, was on hand at the 2023 Great American Stamp Show to help release the US Postal Service's Life Magnified stamps. The 20 forever stamps issued August 10 feature images of the microscopic world and include five micrographs taken by Siwanowicz, whose confocal microscopy images of natural forms have placed more than 20 times in the Nikon Small World and Olympus BioScapes competitions.
Siwanowicz's confocal images of the front foot of a diving beetle, freshwater protozoans, a moth antenna, the tongue of a freshwater snail, and the legs of a barnacle will now grace the envelopes of millions of birthday cards, letters, and bills sent through the US mail.
"It was definitely a once-in-a-lifetime situation," Siwanowicz says. "It is a huge honor and a privilege."
In addressing the crowd of stamp collectors gathered for the release ceremony, Siwanowicz said he hopes his images inspire wonder, curiosity, and investigations into the natural world – just as biological images did for him as a young child. Growing up in Poland with two biologists as parents, Siwanowicz was surrounded by biology textbooks and captivated by the pictures inside them even before he could read.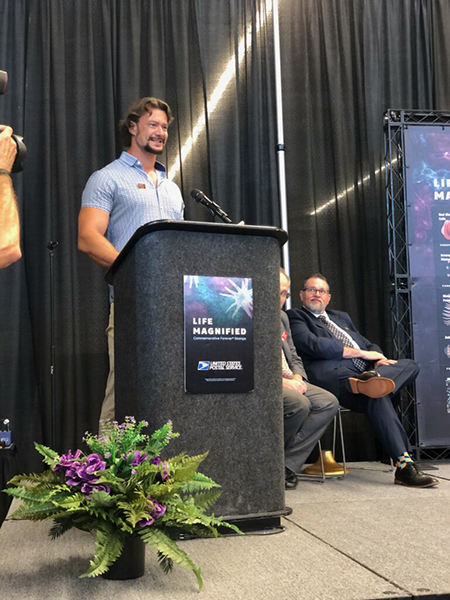 "I've been into this stuff from before I can remember," he says.
Siwanowicz's interest in science led him to study molecular biology and biochemistry, and his love of the natural world inspired him to start taking close-up pictures of insects and reptiles with a digital camera as a serious hobbyist more than 20 years ago. Siwanowicz's unique images, which he credits to his early exposure to visual information, soon developed a following.
"I have my own vision about how I want to portray insects, reptiles and amphibians, which is from their own perspective, using the same techniques as a portrait photographer," Siwanowicz says. "It makes my 'models' way more approachable to the viewer because you see them on your level and immediately you can see its charisma, its personality, and it makes it easier for people to relate to them."
Siwanowicz's life-long love of animals also influenced him to switch his career focus to neurobiology, where he discovered confocal microscopy -- a perfect complement to his serious hobby of macro photography. From there, Siwanowicz's career and hobby began to converge.
"Macro photography of insects and invertebrates gave me some basic understanding of insect morphology and anatomy, at least from the outside, and it was just a logical step to start focusing on how they looked on the inside," he says.
In 2012, Siwanowicz came to Janelia to work with Anthony Leonardo, a former group leader investigating neural information processing in salamanders and dragonflies. Siwanowicz studied the neuronal pathways that convey visual input to the dragonfly's flight muscles. Over the years, Siwanowicz has collaborated with labs inside and outside of Janelia to study the neuroanatomy and neurocircuitry of insects and invertebrates, and he is currently working with collaborators to develop a unified musculoskeletal model of the fruit fly.
Siwanowicz says because he is not formally trained in photography or neurobiology, he doesn't have any preconceptions, leading him to experiment with different methods outside and inside the lab.
"I am not limited to what I know, so I just improvise and most of those things work," he says. "Lots of the techniques that I developed for my 'fun' imaging, I absolutely use in my research."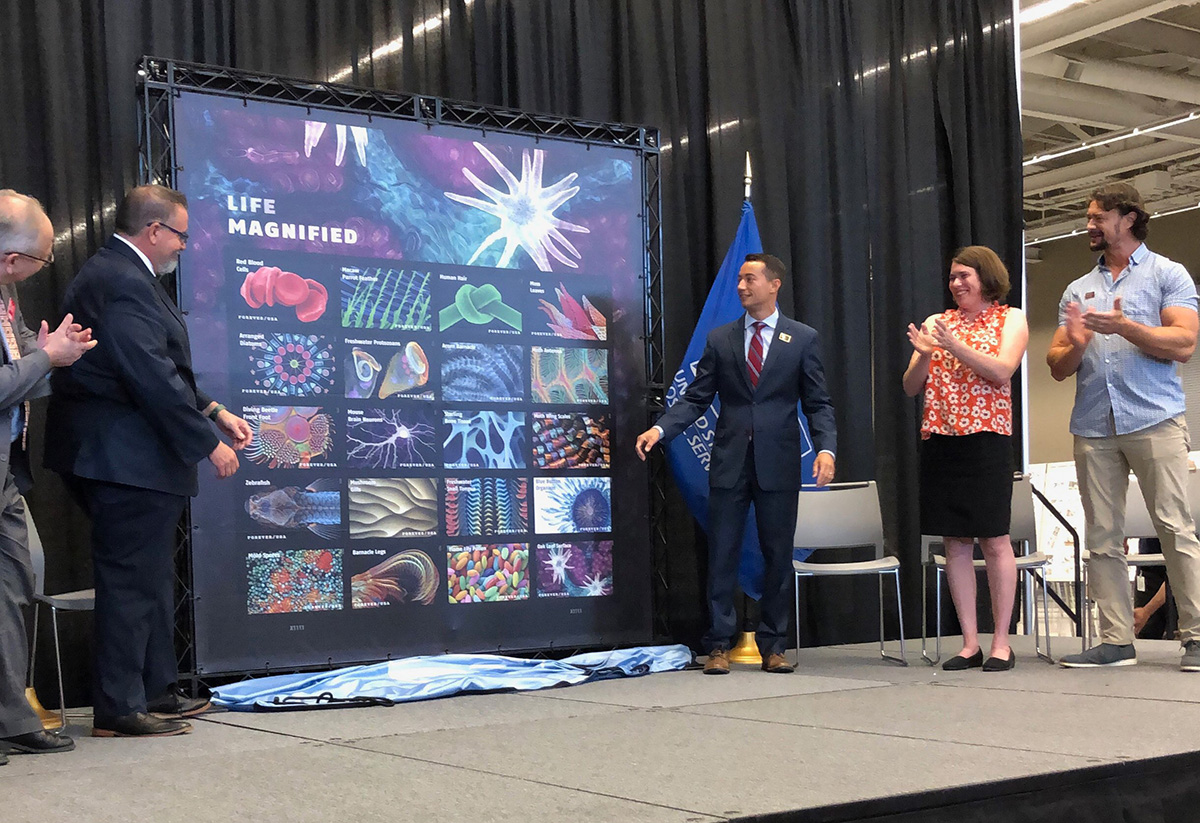 Not only has working at Janelia allowed Siwanowicz to combine his hobby and his career, but it has also provided him with his subjects. The close-up image of the front foot of a diving beetle came from an animal he found in a pond on campus. A Janelian's aquarium provided the snail in the snail tongue photograph, and the protozoan was left behind by a scientist visiting Janelia's Advanced Imaging Center.
Siwanowicz's portrayals of insects, reptiles and invertebrates – which are displayed around Janelia's campus – have captivated scientists and photographers for years. They have earned Siwanowicz an award from the Royal Photographic Society for scientific imaging, the opportunity to judge this year's Nikon Small World Competition, and led to scientific collaborations with researchers worldwide. Now, with the release of the Life Magnified stamps, millions more will be exposed to the natural world captured by Siwanowicz's eye.
"I am confident that microscopy can awaken viewers to the beauty of natural forms and the many facets of design that can be found in nature," Siwanowicz told the crowd during the ceremony in Cleveland. "I hope 'Life Magnified' will be received with a lot of interest and curiosity and motivate some passionate investigations into the natural world."
You can purchase the Life Magnified stamps on the USPS website.
addtoany-addtoany_button | block
janelia7_blocks-janelia7_biblio_authors | block