people_blocks-people_blocks_name_and_labs | block
people_blocks-people_blocks_action_picture | block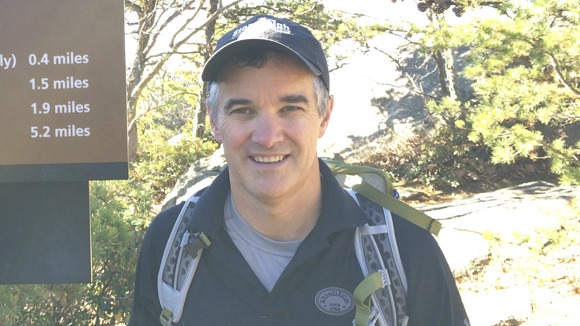 people_blocks-people_blocks_bio_summary | block
Scientific Program Director and Laboratory Head
people_blocks-people_blocks_biography | block
Biography
I grew up near Vancouver, in Richmond, British Columbia, Canada. I was fortunate that my parents didn't pressure me to pursue any particular career path, so I had the freedom to explore a variety of things before finally deciding to become a neuroscientist. Along the way, I got a great education (see sidebar) and I have been positively influenced by some fantastic mentors and colleagues (see the gallery on our Research Interests page).
I moved to Janelia in 2011 after spending the first 16 years of my academic career in the Neurobiology department at Northwestern University. The environment in that department was outstanding, but I was attracted to Janelia by its unique research environment and the opportunity to contribute to further development of Janelia as a Scientific Program Director, by recruiting new scientific talent, mentoring exceptional young scientists, and catalyzing team projects.
In my lab, we want to understand how the properties of individual neurons contribute to the computational performance of neural circuits controlling cognition and behavior. Most of this computation occurs in dendrites, so much of our work has focused on how structurally and molecularly sophisticated dendritic trees integrate thousands of synaptic inputs to generate action potential firing in the axon. My lab has studied how dendritic excitability is determined by the interactions between dendritic branching and the properties and distributions of dendritic ion channels and synapses, leading to insight concerning the role of backpropagating action potentials and dendritic spikes in synaptic integration and plasticity. We also made the surprising discovery that axons can perform sophisticated integrative functions.
At Janelia, we are continuing this line of work, extending it to examine the integrative function of a variety of genetically defined cell types in the hippocampus. You can learn more at the Spruston Lab website.
The gallery below shows me taking some time out from work to have some fun with my lab members and other colleagues at Janelia.
node:field_education | entity_field
Education
BS, Physiology, University of British Columbia
PhD, Neuroscience, Baylor College of Medicine
node:field_award | entity_field
Awards
NARSAD Distinguished Investigator Award, Brain and Behavior Foundation
National Science Foundation Career Award
Cajal Club
Klingenstein Fellowship Award in the Neurosciences
node:field_membership | entity_field
Memberships
American Association for the Advancement of Science (Fellow)
Society for Neuroscience
American Physiological Society
janelia7_blocks-janelia7_featured_blocks | block
node:field_gallery_title | entity_field
Having fun with lab members and others colleagues
janelia7_blocks-janelia7_media_gallery | block
With Albert Lee
Daegu, Korea
May 2012
Tough Mudder
Frederick, Maryland
September 2012
Janelia Mod Party
With my wife, Danette
December 2012
With Karel Svoboda
Great Wall of China
May 2013
Tough Mudder
West Virginia
May 2013
HIIT workout group
Janelia Gym
July 2013
With Alan Alda
...and Brett Mensh
​Janelia
January 2014
With Karel Svoboda
Janelia Gym
July 2014
Live music at the Horseshoe Curve, Bluemont, Virginia
Jeff Magee, Rhonda Magee, Joel Luethi (back), David Hunt
September 2014
Horseshoe Curve
Spruston lab with the band (Shortness of Breath)
September 2014
Janelia Rodeo party
With my wife, Danette
December 2014