people_blocks-people_blocks_name_and_labs | block
people_blocks-people_blocks_action_picture | block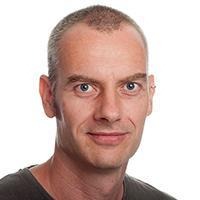 people_blocks-people_blocks_bio_summary | block
Group Leader and Head of Computation & Theory
people_blocks-people_blocks_biography | block
Biography
Stephan Saalfeld is a Group Leader at HHMI's Janelia Research Campus since December 2013. Stephan's current research in image registration and interpretation aims at generating the highest quality reconstructions of biological nervous systems such as that of Drosophila melanogaster, coping with compromised data from complementary imaging modalities. To this end he collaborates, among many others, with the labs of Davi Bock, Richard Fetter, Albert Cardona, Harald Hess, Pavel Tomančák, and Gene Myers.
Before joining Janelia, he worked as a postdoctoral fellow with Pavel Tomančák at the Max Planck Institute of Molecular Cell Biology and Genetics, Dresden, Germany. Stephan holds a Ph.D. in Computer Science (Technische Universität Dresden and International Max Planck Research School for
Cell, Developmental and Systems Biology, 2013), and a Diploma (German M.Sc. equivalent) in Computer Science and Media (Technische Universität Dresden, 2008).
Stephan is an experienced software designer and developer with particular focus on image analysis and web-applications. He contributes to the open source projects ImgLib2, CATMAID, Fiji, and TrakEM2. From 2002–2008, he was co-founder and member of the free-lance developer network phenomene.de, where he developed commercial web-applications.
node:field_education | entity_field
Education
PhD, Computer science, Technische Universität Dresden Germany and Max Planck Research School for Cell Developmental and Systems Biology
Diplom (M. Sc.), Media Computer Science, Technische Universität Dresden Germany
janelia7_blocks-janelia7_featured_blocks | block
Left: Convolution of our predictions (FAFB) with a smooth PSF reproduces synaptic densities as visualized by fluorescent microscopy with the the nc82 antibody (JFRC2 template brain), scale bar 50um. Right: Examplary zoom-series into our synaptic cleft predictions overlayed over the FAFB volume.
Left: Two FIB-SEM xy-section scans showing Drosophila melanogaster neural tissue overlaid with color-coded local z-spacing, serial index top left. Color overlay was chosen arbitrarily to visualize the wave-like evolution of height variance. Scale bar 1um. Right: Magnified crop of an xz-cross-section of the original (top) and corrected (bottom) series, z-compression by the 'wave' is completely removed. Scale bar 250nm.