filters_region_cap | custom
facetapi-Q2b17qCsTdECvJIqZJgYMaGsr8vANl1n | block
facetapi-PV5lg7xuz68EAY8eakJzrcmwtdGEnxR0 | block
general_search_page-panel_pane_1 | views_panes
3 Janelia Publications
Showing 1-3 of 3 results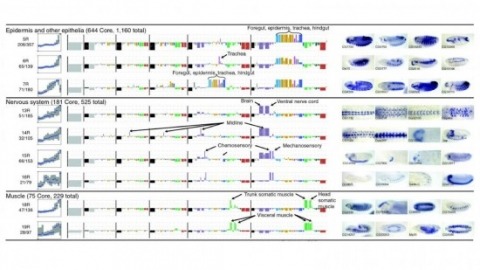 Cell and tissue specific gene expression is a defining feature of embryonic development in multi-cellular organisms. However, the range of gene expression patterns, the extent of the correlation of expression with function, and the classes of genes whose spatial expression are tightly regulated have been unclear due to the lack of an unbiased, genome-wide survey of gene expression patterns.
View Publication Page
Staining the mRNA of a gene via in situ hybridization (ISH) during the development of a D. melanogaster embryo delivers the detailed spatio-temporal pattern of expression of the gene. Many biological problems such as the detection of co-expressed genes, co-regulated genes, and transcription factor binding motifs rely heavily on the analyses of these image patterns. The increasing availability of ISH image data motivates the development of automated computational approaches to the analysis of gene expression patterns.
View Publication Page
Cortical maps, consisting of orderly arrangements of functional columns, are a hallmark of the organization of the cerebral cortex. However, the microorganization of cortical maps at the level of single neurons is not known, mainly because of the limitations of available mapping techniques. Here, we used bulk loading of Ca(2+) indicators combined with two-photon microscopy to image the activity of multiple single neurons in layer (L) 2/3 of the mouse barrel cortex in vivo. We developed methods that reliably detect single action potentials in approximately half of the imaged neurons in L2/3. This allowed us to measure the spiking probability following whisker deflection and thus map the whisker selectivity for multiple neurons with known spatial relationships. At the level of neuronal populations, the whisker map varied smoothly across the surface of the cortex, within and between the barrels. However, the whisker selectivity of individual neurons recorded simultaneously differed greatly, even for nearest neighbors. Trial-to-trial correlations between pairs of neurons were high over distances spanning multiple cortical columns. Our data suggest that the response properties of individual neurons are shaped by highly specific subcolumnar circuits and the momentary intrinsic state of the neocortex.
View Publication Page