filters_region_cap | custom
facetapi-Q2b17qCsTdECvJIqZJgYMaGsr8vANl1n | block
facetapi-W9JlIB1X0bjs93n1Alu3wHJQTTgDCBGe | block
facetapi-61yz1V0li8B1bixrCWxdAe2aYiEXdhd0 | block
facetapi-PV5lg7xuz68EAY8eakJzrcmwtdGEnxR0 | block
facetapi-aK0bSsPXQOqhYQEgonL2xGNrv4SPvFLb | block
general_search_page-panel_pane_1 | views_panes
2 Janelia Publications
Showing 1-2 of 2 results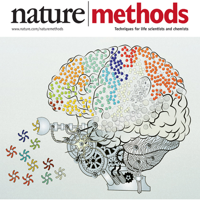 Pushing the frontier of fluorescence microscopy requires the design of enhanced fluorophores with finely tuned properties. We recently discovered that incorporation of four-membered azetidine rings into classic fluorophore structures elicits substantial increases in brightness and photostability, resulting in the Janelia Fluor (JF) series of dyes. We refined and extended this strategy, finding that incorporation of 3-substituted azetidine groups allows rational tuning of the spectral and chemical properties of rhodamine dyes with unprecedented precision. This strategy allowed us to establish principles for fine-tuning the properties of fluorophores and to develop a palette of new fluorescent and fluorogenic labels with excitation ranging from blue to the far-red. Our results demonstrate the versatility of these new dyes in cells, tissues and animals.
View Publication Page
The most sophisticated existing methods to generate 3D isotropic super-resolution (SR) from non-isotropic electron microscopy (EM) are based on learned dictionaries. Unfortunately, none of the existing methods generate practically satisfying results. For 2D natural images, recently developed super-resolution methods that use deep learning have been shown to significantly outperform the previous state of the art. We have adapted one of the most successful architectures (FSRCNN) for 3D super-resolution, and compared its performance to a 3D U-Net architecture that has not been used previously to generate super-resolution. We trained both architectures on artificially downscaled isotropic ground truth from focused ion beam milling scanning EM (FIB-SEM) and tested the performance for various hyperparameter settings.
Our results indicate that both architectures can successfully generate 3D isotropic super-resolution from non-isotropic EM, with the U-Net performing consistently better. We propose several promising directions for practical application.
View Publication Page