filters_region_cap | custom
facetapi-Q2b17qCsTdECvJIqZJgYMaGsr8vANl1n | block
facetapi-W9JlIB1X0bjs93n1Alu3wHJQTTgDCBGe | block
facetapi-PV5lg7xuz68EAY8eakJzrcmwtdGEnxR0 | block
general_search_page-panel_pane_1 | views_panes
4 Janelia Publications
Showing 1-4 of 4 results
To ensure disjunction to opposite poles during anaphase, sister chromatids must be held together following DNA replication. This is mediated by cohesin, which is thought to entrap sister DNAs inside a tripartite ring composed of its Smc and kleisin (Scc1) subunits. How such structures are created during S phase is poorly understood, in particular whether they are derived from complexes that had entrapped DNAs prior to replication. To address this, we used selective photobleaching to determine whether cohesin associated with chromatin in G1 persists in situ after replication. We developed a non-fluorescent HaloTag ligand to discriminate the fluorescence recovery signal from labeling of newly synthesized Halo-tagged Scc1 protein (pulse-chase or pcFRAP). In cells where cohesin turnover is inactivated by deletion of WAPL, Scc1 can remain associated with chromatin throughout S phase. These findings suggest that cohesion might be generated by cohesin that is already bound to un-replicated DNA.
View Publication Page
The development of genetically encoded self-labeling protein tags such as the HaloTag and SNAP-tag has expanded the utility of chemical dyes in microscopy. Intracellular labeling using these systems requires small, cell-permeable dyes with high brightness and photostability. We recently discovered a general method to improve the properties of classic fluorophores by replacing N,N-dimethylamino groups with four-membered azetidine rings to create the "Janelia Fluor" dyes. Here, we describe the synthesis of the HaloTag and SNAP-tag ligands of Janelia Fluor 549 and Janelia Fluor 646 as well as standard labeling protocols for use in ensemble and single-molecule cellular imaging.
View Publication Page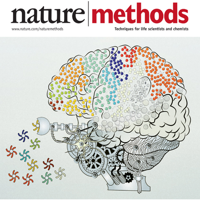 Pushing the frontier of fluorescence microscopy requires the design of enhanced fluorophores with finely tuned properties. We recently discovered that incorporation of four-membered azetidine rings into classic fluorophore structures elicits substantial increases in brightness and photostability, resulting in the Janelia Fluor (JF) series of dyes. We refined and extended this strategy, finding that incorporation of 3-substituted azetidine groups allows rational tuning of the spectral and chemical properties of rhodamine dyes with unprecedented precision. This strategy allowed us to establish principles for fine-tuning the properties of fluorophores and to develop a palette of new fluorescent and fluorogenic labels with excitation ranging from blue to the far-red. Our results demonstrate the versatility of these new dyes in cells, tissues and animals.
View Publication Page
Transcription factor (TF)-directed enhanceosome assembly constitutes a fundamental regulatory mechanism driving spatiotemporal gene expression programs during animal development. Despite decades of study, we know little about the dynamics or order of events animating TF assembly at cis-regulatory elements in living cells and the long-range molecular "dialog" between enhancers and promoters. Here, combining genetic, genomic, and imaging approaches, we characterize a complex long-range enhancer cluster governing Krüppel-like factor 4 (Klf4) expression in naïve pluripotency. Genome editing by CRISPR/Cas9 revealed that OCT4 and SOX2 safeguard an accessible chromatin neighborhood to assist the binding of other TFs/cofactors to the enhancer. Single-molecule live-cell imaging uncovered that two naïve pluripotency TFs, STAT3 and ESRRB, interrogate chromatin in a highly dynamic manner, in which SOX2 promotes ESRRB target search and chromatin-binding dynamics through a direct protein-tethering mechanism. Together, our results support a highly dynamic yet intrinsically ordered enhanceosome assembly to maintain the finely balanced transcription program underlying naïve pluripotency.
View Publication Page