general_search_page-panel_pane_1 | views_panes
14 Janelia Publications
Showing 11-14 of 14 results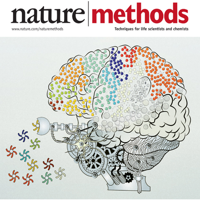 Pushing the frontier of fluorescence microscopy requires the design of enhanced fluorophores with finely tuned properties. We recently discovered that incorporation of four-membered azetidine rings into classic fluorophore structures elicits substantial increases in brightness and photostability, resulting in the Janelia Fluor (JF) series of dyes. We refined and extended this strategy, finding that incorporation of 3-substituted azetidine groups allows rational tuning of the spectral and chemical properties of rhodamine dyes with unprecedented precision. This strategy allowed us to establish principles for fine-tuning the properties of fluorophores and to develop a palette of new fluorescent and fluorogenic labels with excitation ranging from blue to the far-red. Our results demonstrate the versatility of these new dyes in cells, tissues and animals.
View Publication Page
In their classic experiments, Olds and Milner showed that rats learn to lever press to receive an electric stimulus in specific brain regions. This led to the identification of mammalian reward centers. Our interest in defining the neuronal substrates of reward perception in the fruit fly Drosophila melanogaster prompted us to develop a simpler experimental approach wherein flies could implement behavior that induces self-stimulation of specific neurons in their brains. The high-throughput assay employs optogenetic activation of neurons when the fly occupies a specific area of a behavioral chamber, and the flies' preferential occupation of this area reflects their choosing to experience optogenetic stimulation. Flies in which neuropeptide F (NPF) neurons are activated display preference for the illuminated side of the chamber. We show that optogenetic activation of NPF neuron is rewarding in olfactory conditioning experiments and that the preference for NPF neuron activation is dependent on NPF signaling. Finally, we identify a small subset of NPF-expressing neurons located in the dorsomedial posterior brain that are sufficient to elicit preference in our assay. This assay provides the means for carrying out unbiased screens to map reward neurons in flies.
View Publication Page
The most sophisticated existing methods to generate 3D isotropic super-resolution (SR) from non-isotropic electron microscopy (EM) are based on learned dictionaries. Unfortunately, none of the existing methods generate practically satisfying results. For 2D natural images, recently developed super-resolution methods that use deep learning have been shown to significantly outperform the previous state of the art. We have adapted one of the most successful architectures (FSRCNN) for 3D super-resolution, and compared its performance to a 3D U-Net architecture that has not been used previously to generate super-resolution. We trained both architectures on artificially downscaled isotropic ground truth from focused ion beam milling scanning EM (FIB-SEM) and tested the performance for various hyperparameter settings.
Our results indicate that both architectures can successfully generate 3D isotropic super-resolution from non-isotropic EM, with the U-Net performing consistently better. We propose several promising directions for practical application.
View Publication Page
Transcription factor (TF)-directed enhanceosome assembly constitutes a fundamental regulatory mechanism driving spatiotemporal gene expression programs during animal development. Despite decades of study, we know little about the dynamics or order of events animating TF assembly at cis-regulatory elements in living cells and the long-range molecular "dialog" between enhancers and promoters. Here, combining genetic, genomic, and imaging approaches, we characterize a complex long-range enhancer cluster governing Krüppel-like factor 4 (Klf4) expression in naïve pluripotency. Genome editing by CRISPR/Cas9 revealed that OCT4 and SOX2 safeguard an accessible chromatin neighborhood to assist the binding of other TFs/cofactors to the enhancer. Single-molecule live-cell imaging uncovered that two naïve pluripotency TFs, STAT3 and ESRRB, interrogate chromatin in a highly dynamic manner, in which SOX2 promotes ESRRB target search and chromatin-binding dynamics through a direct protein-tethering mechanism. Together, our results support a highly dynamic yet intrinsically ordered enhanceosome assembly to maintain the finely balanced transcription program underlying naïve pluripotency.
View Publication Page