filters_region_cap | custom
facetapi-Q2b17qCsTdECvJIqZJgYMaGsr8vANl1n | block
facetapi-W9JlIB1X0bjs93n1Alu3wHJQTTgDCBGe | block
facetapi-PV5lg7xuz68EAY8eakJzrcmwtdGEnxR0 | block
general_search_page-panel_pane_1 | views_panes
3 Janelia Publications
Showing 1-3 of 3 results
From patch-clamp techniques to recombinant DNA technologies, three-dimensional protein modeling, and optogenetics, diverse and sophisticated methods have been used to study ion channels and how they determine the electrical properties of cells.
View Publication Page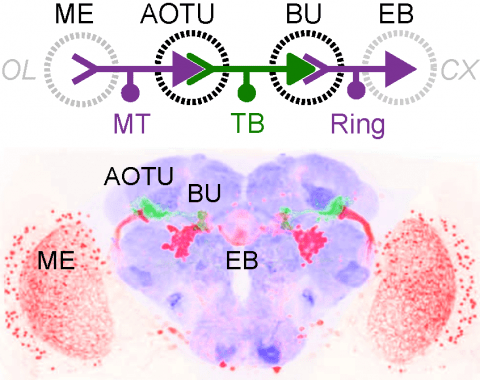 Many animals orient using visual cues, but how a single cue is selected from among many is poorly understood. Here we show that Drosophila ring neurons—central brain neurons implicated in navigation—display visual stimulus selection. Using in vivo two-color two-photon imaging with genetically encoded calcium indicators, we demonstrate that individual ring neurons inherit simple-cell-like receptive fields from their upstream partners. Stimuli in the contralateral visual field suppressed responses to ipsilateral stimuli in both populations. Suppression strength depended on when and where the contralateral stimulus was presented, an effect stronger in ring neurons than in their upstream inputs. This history-dependent effect on the temporal structure of visual responses, which was well modeled by a simple biphasic filter, may determine how visual references are selected for the fly's internal compass. Our approach highlights how two-color calcium imaging can help identify and localize the origins of sensory transformations across synaptically connected neural populations.
View Publication Page
Although the endoplasmic reticulum (ER) extends throughout axons and axonal ER dysfunction is implicated in numerous neurological diseases, its role at nerve terminals is poorly understood. We developed novel genetically encoded ER-targeted low-affinity Ca(2+) indicators optimized for examining axonal ER Ca(2+). Our experiments revealed that presynaptic function is tightly controlled by ER Ca(2+) content. We found that neuronal activity drives net Ca(2+) uptake into presynaptic ER although this activity does not contribute significantly to shaping cytosolic Ca(2+) except during prolonged repetitive firing. In contrast, we found that axonal ER acts as an actuator of plasma membrane (PM) function: [Ca(2+)]ER controls STIM1 activation in presynaptic terminals, which results in the local modulation of presynaptic function, impacting activity-driven Ca(2+) entry and release probability. These experiments reveal a critical role of presynaptic ER in the control of neurotransmitter release and will help frame future investigations into the molecular basis of ER-driven neuronal disease states.
View Publication Page