general_search_page-panel_pane_1 | views_panes
88 Janelia Publications
Showing 1-10 of 88 results
Single-wavelength fluorescent reporters allow visualization of specific neurotransmitters with high spatial and temporal resolution. We report variants of intensity-based glutamate-sensing fluorescent reporter (iGluSnFR) that are functionally brighter; detect submicromolar to millimolar amounts of glutamate; and have blue, cyan, green, or yellow emission profiles. These variants could be imaged in vivo in cases where original iGluSnFR was too dim, resolved glutamate transients in dendritic spines and axonal boutons, and allowed imaging at kilohertz rates.
View Publication Page
Activity in the motor cortex predicts movements, seconds before they are initiated. This preparatory activity has been observed across cortical layers, including in descending pyramidal tract neurons in layer 5. A key question is how preparatory activity is maintained without causing movement, and is ultimately converted to a motor command to trigger appropriate movements. Here, using single-cell transcriptional profiling and axonal reconstructions, we identify two types of pyramidal tract neuron. Both types project to several targets in the basal ganglia and brainstem. One type projects to thalamic regions that connect back to motor cortex; populations of these neurons produced early preparatory activity that persisted until the movement was initiated. The second type projects to motor centres in the medulla and mainly produced late preparatory activity and motor commands. These results indicate that two types of motor cortex output neurons have specialized roles in motor control.
View Publication Page
The neocortex contains a multitude of cell types that are segregated into layers and functionally distinct areas. To investigate the diversity of cell types across the mouse neocortex, here we analysed 23,822 cells from two areas at distant poles of the mouse neocortex: the primary visual cortex and the anterior lateral motor cortex. We define 133 transcriptomic cell types by deep, single-cell RNA sequencing. Nearly all types of GABA (γ-aminobutyric acid)-containing neurons are shared across both areas, whereas most types of glutamatergic neurons were found in one of the two areas. By combining single-cell RNA sequencing and retrograde labelling, we match transcriptomic types of glutamatergic neurons to their long-range projection specificity. Our study establishes a combined transcriptomic and projectional taxonomy of cortical cell types from functionally distinct areas of the adult mouse cortex.
View Publication Page
Down syndrome (DS) is a genetic disorder that causes cognitive impairment. The staggering effects associated with an extra copy of human chromosome 21 (HSA21) complicates mechanistic understanding of DS pathophysiology. We examined the neuron-astrocyte interplay in a fully recapitulated HSA21 trisomy cellular model differentiated from DS-patient-derived induced pluripotent stem cells (iPSCs). By combining calcium imaging with genetic approaches, we discovered the functional defects of DS astroglia and their effects on neuronal excitability. Compared with control isogenic astroglia, DS astroglia exhibited more-frequent spontaneous calcium fluctuations, which reduced the excitability of co-cultured neurons. Furthermore, suppressed neuronal activity could be rescued by abolishing astrocytic spontaneous calcium activity either chemically by blocking adenosine-mediated signaling or genetically by knockdown of inositol triphosphate (IP3) receptors or S100B, a calcium binding protein coded on HSA21. Our results suggest a mechanism by which DS alters the function of astrocytes, which subsequently disturbs neuronal excitability.
View Publication Page
Point-scanning two-photon microscopy enables high-resolution imaging within scattering specimens such as the mammalian brain, but sequential acquisition of voxels fundamentally limits imaging speed. We developed a two-photon imaging technique that scans lines of excitation across a focal plane at multiple angles and uses prior information to recover high-resolution images at over 1.4 billion voxels per second. Using a structural image as a prior for recording neural activity, we imaged visually-evoked and spontaneous glutamate release across hundreds of dendritic spines in mice at depths over 250 microns and frame-rates over 1 kHz. Dendritic glutamate transients in anaesthetized mice are synchronized within spatially-contiguous domains spanning tens of microns at frequencies ranging from 1-100 Hz. We demonstrate high-speed recording of acetylcholine and calcium sensors, 3D single-particle tracking, and imaging in densely-labeled cortex. Our method surpasses limits on the speed of raster-scanned imaging imposed by fluorescence lifetime.
View Publication Page
A central tenet of biology is that globular proteins have a unique 3D structure under physiological conditions. Recent work has challenged this notion by demonstrating that some proteins switch folds, a process that involves remodeling of secondary structure in response to a few mutations (evolved fold switchers) or cellular stimuli (extant fold switchers). To date, extant fold switchers have been viewed as rare byproducts of evolution, but their frequency has been neither quantified nor estimated. By systematically and exhaustively searching the Protein Data Bank (PDB), we found ∼100 extant fold-switching proteins. Furthermore, we gathered multiple lines of evidence suggesting that these proteins are widespread in nature. Based on these lines of evidence, we hypothesized that the frequency of extant fold-switching proteins may be underrepresented by the structures in the PDB. Thus, we sought to identify other putative extant fold switchers with only one solved conformation. To do this, we identified two characteristic features of our ∼100 extant fold-switching proteins, incorrect secondary structure predictions and likely independent folding cooperativity, and searched the PDB for other proteins with similar features. Reassuringly, this method identified dozens of other proteins in the literature with indication of a structural change but only one solved conformation in the PDB. Thus, we used it to estimate that 0.5-4% of PDB proteins switch folds. These results demonstrate that extant fold-switching proteins are likely more common than the PDB reflects, which has implications for cell biology, genomics, and human health.
View Publication Page
Understanding how activity patterns in specific neural circuits coordinate an animal's behavior remains a key area of neuroscience research. Genetic tools and a brain of tractable complexity make a premier model organism for these studies. Here, we review the wealth of reagents available to map and manipulate neuronal activity with light.
View Publication Page
The present disclosure provides, inter alia, genetically encoded recombinant peptide biosensors comprising analyte-binding framework portions and signaling portions, wherein the signaling portions are present within the framework portions at sites or amino acid positions that undergo a conformational change upon interaction of the framework portion with an analyte.
View Publication Page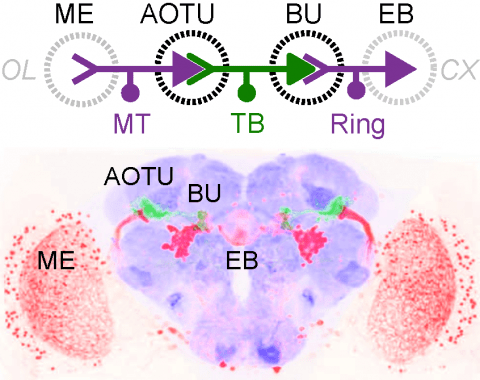 Many animals orient using visual cues, but how a single cue is selected from among many is poorly understood. Here we show that Drosophila ring neurons—central brain neurons implicated in navigation—display visual stimulus selection. Using in vivo two-color two-photon imaging with genetically encoded calcium indicators, we demonstrate that individual ring neurons inherit simple-cell-like receptive fields from their upstream partners. Stimuli in the contralateral visual field suppressed responses to ipsilateral stimuli in both populations. Suppression strength depended on when and where the contralateral stimulus was presented, an effect stronger in ring neurons than in their upstream inputs. This history-dependent effect on the temporal structure of visual responses, which was well modeled by a simple biphasic filter, may determine how visual references are selected for the fly's internal compass. Our approach highlights how two-color calcium imaging can help identify and localize the origins of sensory transformations across synaptically connected neural populations.
View Publication Page
Our groups have recently developed related approaches for sample preparation for super-resolution imaging within endogenous cellular environments using correlative light and electron microscopy (CLEM). Four distinct techniques for preparing and acquiring super-resolution CLEM data sets for aldehyde-fixed specimens are provided, including Tokuyasu cryosectioning, whole-cell mount, cell unroofing and platinum replication, and resin embedding and sectioning. The choice of the best protocol for a given application depends on a number of criteria that are discussed in detail. Tokuyasu cryosectioning is relatively rapid but is limited to small, delicate specimens. Whole-cell mount has the simplest sample preparation but is restricted to surface structures. Cell unroofing and platinum replication creates high-contrast, 3D images of the cytoplasmic surface of the plasma membrane but is more challenging than whole-cell mount. Resin embedding permits serial sectioning of large samples but is limited to osmium-resistant probes, and is technically difficult. Expected results from these protocols include super-resolution localization (∼10-50 nm) of fluorescent targets within the context of electron microscopy ultrastructure, which can help address cell biological questions. These protocols can be completed in 2-7 d, are compatible with a number of super-resolution imaging protocols, and are broadly applicable across biology.
View Publication Page