node_title | node_title
Control of Neuronal Identity II
addthis-addthis_block | block
custom_misc-custom_misc_format_date | block
node:field_content_summary | entity_field
This meeting will cover the molecular bases of neuronal identity and the mechanisms that underlie neuronal diversification. We are particularly interested in how new technologies, such as next-generation sequencing of single cells or identifiable cell types, advance our understandings on neuronal types and cell fate specification.
node_body | node_body
---
Organizers
Chris Doe, HHMI/University of Oregon
Tzumin Lee, Janelia Research Campus/HHMI
Sacha Nelson, Brandeis University
James Truman, University of Washington

Invited Participants
Mattias Alenius, Linköping University
Douglas Allan, University of British Columbia
Paola Arlotta, Harvard University
Andrea Brand, University of Cambridge
Constance Cepko, Harvard Medical School
Claude Desplan, New York University
Fernando Diaz-Benjumea, Autonomous University of Madrid
Gordon Fishell, New York University School of Medicine
Martyn Goulding, Salk Institute for Biological Studies
Su Guo, University of California, San Francisco
Carina Hanashima, RIKEN Center for Developmental Biology
Oliver Hobert, HHMI/Columbia University
Josh Huang, Cold Spring Harbor Laboratory
Denis Jabaudon, University of Geneva
Jane Johnson, University of Texas Southwestern Medical Center
Minoree Kohwi, Columbia University
Arnold Kriegstein, University of California, San Francisco
Soo-Kyung Lee, Oregon Health & Science University
Xin Li, New York University
Stavros Lomvardas, Columbia University
Richard Mann, Columbia University
Cédric Maurange, Developmental Biology Institute of Marseille
Vilas Menon, Janelia Research Campus/HHMI
Javier Morante, Universidad Miguel Hernández de Elche
John Rubenstein, University of California, San Francisco
Songhai Shi, Memorial Sloan-Kettering Cancer Center
Hongjun Song, Johns Hopkins University School of Medicine
Tony Southall, Imperial College London
Nick Spitzer, University of California, San Diego
Stefan Thor, Linköping University
publications_landing_pages | views
Sign up to receive periodic updates and announcements about Janelia's programs and events, including conferences and workshops, public lectures, educational and career opportunities, and more.
janelia7_blocks-janelia7_featured_blocks | block
Conference Travel Scholarships
Available to grad students and postdocs whose labs do not have travel funding and who would otherwise be unable to attend. Interested applicants must register and note their request for travel support on the registration site.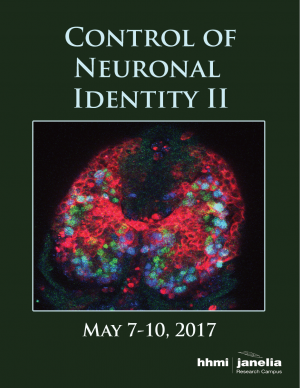 Cover Image: Courtesy of Fernando Diaz-Benjumea (Centro de Biologia Molecular-Severo Ochoa)
addthis-addthis_block | block