node_title | node_title
node:field_slogan | entity_field
With access to the lattice light sheet microscope in Janelia's Advanced Imaging Center, visiting scientists found the view into the mechanics of apoptosis they were seeking.
node_body | node_body
Approximately 100 billion cells in a human body die each day through a controlled process called apoptosis. During apoptosis, the cell's mitochondria – organelles that produce energy – release their DNA into the cytoplasm, which triggers an immune response, as if the cell were infected by a virus. Fortunately, this response is held in check by molecules called caspases.
"That's really important, because you don't want to trigger an immune response every time a cell dies," explains Benjamin Kile, of Australia's Walter and Eliza Hall Institute of Medical Research (WEHI).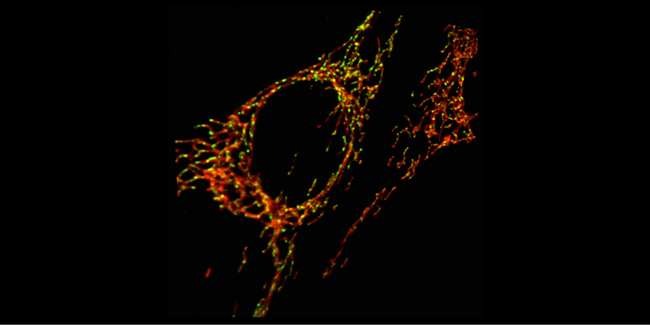 Researchers captured this image of mitochondria in living mouse embryonic fibroblasts using the lattice light sheet microscope. Dyes developed in Luke Lavis's lab at Janelia helped make details such as the outer membrane of the mitochondria (red) and mitochondrial DNA (green) easier to discern. Credit: Kile Lab
Kile and his research team are interested in identifying the molecular events underlying this apoptotic immune response. Kate McArthur, a grad student in Kile's lab, had done genetic and pharmacological studies to understand the process. But that wasn't enough; what she really wanted was to look inside a dying cell. She turned to confocal studies, but the confocal microscope produced only static images. "We wanted to actually see the process happening," she explains.
When Janelia group leader Eric Betzig's Science paper appeared in 2014, McArthur realized that the lattice light sheet microscope at Janelia's Advanced Imaging Center (AIC), with its particularly gentle treatment of live cells, might be exactly what she needed. Kile and McArthur submitted a successful proposal to use the microscope, and McArthur has since visited twice. "The data we got was just incredible," she says. In three weeks, she collected 30 terabytes of data.
"Actually seeing what was going on has transformed my understanding," says Kile. "Seeing it has opened up so many possibilities in terms of new questions and new approaches, and we are totally captivated. It's been an absolute revelation, scientifically."
Serendipitously, Eric Betzig's research group at Janelia was offering a workshop on how to build a lattice light sheet at just at the right time. An associate of Kile and McArthur at WEHI, Lachlan Whitehead, attended the workshop and then afterwards, convinced their institute to build a lattice light sheet of their own in Melbourne. During Kile and McArthur's visit to the AIC, they learned how to use the instrument, and also how to manage a shared-use, multi-user facility. The imaging team from WEHI has since visited Janelia to attend a similar workshop on how to build a lattice light sheet microscope, and Eric Betzig has in turn visited Australia, to assist with the development of their instrument.
"At first it was sort of a pipe dream – like, wouldn't it be cool to build this thing?" says Lachlan Whitehead, an optical physicist at WEHI. "We just didn't know if we had the know-how to do it. But after the workshop, I saw that this was feasible for us." The first challenge in building their own lattice microscope was convincing their colleagues that do-it-yourself was the best way forward. "This kind of ground up approach is not something we have done before", explains Kelly Rogers, head of imaging at WEHI. But Eric Betzig's team "has been so open and so generous," she says, that it's been possible for the WEHI team to take it on. "It's the free dissemination of the technology and the science – that generosity, it just blows me away," says Kile.
Although he wasn't previously "an imaging person," Kile admits, he has now become "a shameless advocate" for imaging. "I've had a conversion and I'm now an apostle of the AIC," he says. Building the lattice represents a "huge step forward" for WEHI, which traditionally hasn't been focused on imaging. "This is part of a deliberate strategy to become not just a place where a little bit of imaging happens on the side, but a place where imaging is embedded in our science. And we're doing cutting-edge experiments," says Kile.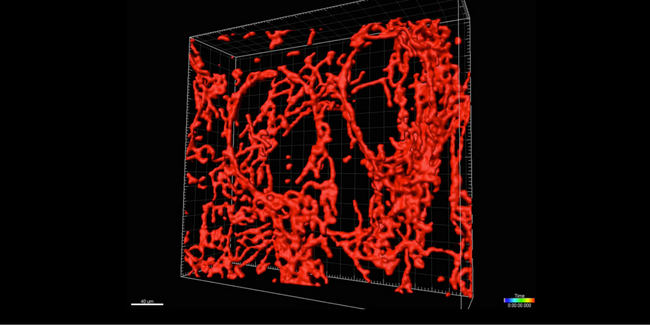 This 3-dimensional representation of mitochondria was reconstructed from stacks of images taken with the lattice light sheet microscope. The researchers used 3-D reconstruction software, called Imaris, to trace the outline of the mitochondria on each image slice, and then connect the slices to form the 3-dimensional structure. Credit: Kile Lab
janelia7_blocks-janelia7_block_right_hand_rail | block
Collaboration between labs, project teams, support teams, and scientists at other institutions is an essential part of the culture and intellectual life at Janelia.