custom | custom
facetapi-Q2b17qCsTdECvJIqZJgYMaGsr8vANl1n | block
facetapi-W9JlIB1X0bjs93n1Alu3wHJQTTgDCBGe | block
facetapi-PV5lg7xuz68EAY8eakJzrcmwtdGEnxR0 | block
facetapi-021SKYQnqXW6ODq5W5dPAFEDBaEJubhN | block
general_search_page-panel_pane_1 | views_panes
3 Publications
Showing 1-3 of 3 results
The ability to measure synaptic connectivity and properties is essential for understanding neuronal circuits. However, existing methods that allow such measurements at cellular resolution are laborious and technically demanding. Here, we describe a system that allows such measurements in a high-throughput way by combining two-photon optogenetics and volumetric Ca2+ imaging with whole-cell recording. We reveal a circuit motif for generating fast undulatory locomotion in zebrafish.
View Publication Page
Imaging changes in membrane potential using genetically encoded fluorescent voltage indicators (GEVIs) has great potential for monitoring neuronal activity with high spatial and temporal resolution. Brightness and photostability of fluorescent proteins and rhodopsins have limited the utility of existing GEVIs. We engineered a novel GEVI, "Voltron", that utilizes bright and photostable synthetic dyes instead of protein-based fluorophores, extending the combined duration of imaging and number of neurons imaged simultaneously by more than tenfold relative to existing GEVIs. We used Voltron for in vivo voltage imaging in mice, zebrafish, and fruit flies. In mouse cortex, Voltron allowed single-trial recording of spikes and subthreshold voltage signals from dozens of neurons simultaneously, over 15 min of continuous imaging. In larval zebrafish, Voltron enabled the precise correlation of spike timing with behavior.
View Publication Page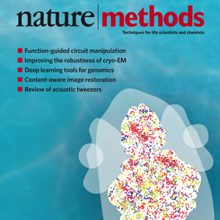 Whole-brain imaging allows for comprehensive functional mapping of distributed neural pathways, but neuronal perturbation experiments are usually limited to targeting predefined regions or genetically identifiable cell types. To complement whole-brain measures of activity with brain-wide manipulations for testing causal interactions, we introduce a system that uses measuredactivity patterns to guide optical perturbations of any subset of neurons in the same fictively behaving larval zebrafish. First, a light-sheet microscope collects whole-brain data that are rapidly analyzed by a distributed computing system to generate functional brain maps. On the basis of these maps, the experimenter can then optically ablate neurons and image activity changes across the brain. We applied this method to characterize contributions of behaviorally tuned populations to the optomotor response. We extended the system to optogenetically stimulate arbitrary subsets of neurons during whole-brain imaging. These open-source methods enable delineating the contributions of neurons to brain-wide circuit dynamics and behavior in individual animals.
View Publication Page