general_search_page-panel_pane_1 | views_panes
49 Publications
Showing 11-20 of 49 results
Drosophila melanogaster has a rich repertoire of innate and learned behaviors. Its 100,000-neuron brain is a large but tractable target for comprehensive neural circuit mapping. Only electron microscopy (EM) enables complete, unbiased mapping of synaptic connectivity; however, the fly brain is too large for conventional EM. We developed a custom high-throughput EM platform and imaged the entire brain of an adult female fly at synaptic resolution. To validate the dataset, we traced brain-spanning circuitry involving the mushroom body (MB), which has been extensively studied for its role in learning. All inputs to Kenyon cells (KCs), the intrinsic neurons of the MB, were mapped, revealing a previously unknown cell type, postsynaptic partners of KC dendrites, and unexpected clustering of olfactory projection neurons. These reconstructions show that this freely available EM volume supports mapping of brain-spanning circuits, which will significantly accelerate Drosophila neuroscience..
View Publication Page
Success in the projects aimed at providing an advanced understanding of the brain is directly predicated on making critical advances in nanotechnology. This Perspective addresses the unique interface of neuroscience and nanomaterials by considering the foundational problem of sensing neuron membrane voltage and offers a potential solution that may be facilitated by a prototypical nanomaterial. Despite substantial improvements, the visualization of instantaneous voltage changes within individual neurons, whether in cell culture or in vivo, at both the single-cell and network level at high speed remains complex and problematic. The unique properties of semiconductor quantum dots (QDs) have made them powerful fluorophores for bioimaging. What is not widely appreciated, however, is that QD photoluminescence is exquisitely sensitive to proximal electric fields. This property should be suitable for sensing voltage changes that occur in the active neuronal membrane. Here, we examine the potential role of QDs in addressing the important challenge of real-time optical voltage imaging.
View Publication Page
CA1 pyramidal neurons are a major output of the hippocampus and encode features of experience that constitute episodic memories. Feature-selective firing of these neurons results from the dendritic integration of inputs from multiple brain regions. While it is known that synchronous activation of spatially clustered inputs can contribute to firing through the generation of dendritic spikes, there is no established mechanism for spatiotemporal synaptic clustering. Here we show that single presynaptic axons form multiple, spatially clustered inputs onto the distal, but not proximal, dendrites of CA1 pyramidal neurons. These compound connections exhibit ultrastructural features indicative of strong synapses and occur much more commonly in entorhinal than in thalamic afferents. Computational simulations revealed that compound connections depolarize dendrites in a biophysically efficient manner, owing to their inherent spatiotemporal clustering. Our results suggest that distinct afferent projections use different connectivity motifs that differentially contribute to dendritic integration.
View Publication Page
Sensory, motor and cognitive operations involve the coordinated action of large neuronal populations across multiple brain regions in both superficial and deep structures. Existing extracellular probes record neural activity with excellent spatial and temporal (sub-millisecond) resolution, but from only a few dozen neurons per shank. Optical Ca(2+) imaging offers more coverage but lacks the temporal resolution needed to distinguish individual spikes reliably and does not measure local field potentials. Until now, no technology compatible with use in unrestrained animals has combined high spatiotemporal resolution with large volume coverage. Here we design, fabricate and test a new silicon probe known as Neuropixels to meet this need. Each probe has 384 recording channels that can programmably address 960 complementary metal-oxide-semiconductor (CMOS) processing-compatible low-impedance TiN sites that tile a single 10-mm long, 70 × 20-μm cross-section shank. The 6 × 9-mm probe base is fabricated with the shank on a single chip. Voltage signals are filtered, amplified, multiplexed and digitized on the base, allowing the direct transmission of noise-free digital data from the probe. The combination of dense recording sites and high channel count yielded well-isolated spiking activity from hundreds of neurons per probe implanted in mice and rats. Using two probes, more than 700 well-isolated single neurons were recorded simultaneously from five brain structures in an awake mouse. The fully integrated functionality and small size of Neuropixels probes allowed large populations of neurons from several brain structures to be recorded in freely moving animals. This combination of high-performance electrode technology and scalable chip fabrication methods opens a path towards recording of brain-wide neural activity during behaviour.
View Publication Page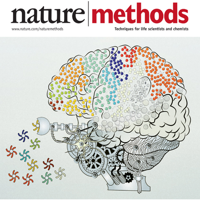 Pushing the frontier of fluorescence microscopy requires the design of enhanced fluorophores with finely tuned properties. We recently discovered that incorporation of four-membered azetidine rings into classic fluorophore structures elicits substantial increases in brightness and photostability, resulting in the Janelia Fluor (JF) series of dyes. We refined and extended this strategy, finding that incorporation of 3-substituted azetidine groups allows rational tuning of the spectral and chemical properties of rhodamine dyes with unprecedented precision. This strategy allowed us to establish principles for fine-tuning the properties of fluorophores and to develop a palette of new fluorescent and fluorogenic labels with excitation ranging from blue to the far-red. Our results demonstrate the versatility of these new dyes in cells, tissues and animals.
View Publication Page
We describe a fluorescence in situ hybridization method that permits detection of the localization and abundance of single mRNAs (smFISH) in cleared whole-mount adult Drosophila brains. The approach is rapid and multiplexable and does not require molecular amplification; it allows facile quantification of mRNA expression with subcellular resolution on a standard confocal microscope. We further demonstrate single-mRNA detection across the entire brain using a custom Bessel beam structured illumination microscope (BB-SIM).
View Publication Page
We describe new detachable floating glass micropipette electrode devices that provide targeted action potential recordings in active moving organs without requiring constant mechanical constraint or pharmacological inhibition of tissue motion. The technology is based on the concept of a glass micropipette electrode that is held firmly during cell targeting and intracellular insertion, after which a 100µg glass microelectrode, a "microdevice", is gently released to remain within the moving organ. The microdevices provide long-term recordings of action potentials, even during millimeter-scale movement of tissue in which the device is embedded. We demonstrate two different glass micropipette electrode holding and detachment designs appropriate for the heart (sharp glass microdevices for cardiac myocytes in rats, guinea pigs and humans) and the brain (patch glass microdevices for neurons in rats). We explain how microdevices enable measurements of multiple cells within a moving organ that are typically difficult with other technologies. Using sharp microdevices, action potential duration (APD) was monitored continuously for 15 minutes in unconstrained perfused hearts during global ischemia-reperfusion, providing beat-to-beat measurements of changes in APD. Action potentials from neurons in the hippocampus of anaesthetized rats were measured with patch microdevices, which provided stable base potentials during long-term recordings. Our results demonstrate that detachable microdevices are an elegant and robust tool to record electrical activity with high temporal resolution and cellular level localization without disturbing the physiological working conditions of the organ.
View Publication Page
Electrical recordings from a large array of electrodes give us access to neural population activity with single-cell, single-spike resolution. These recordings contain extracellular spikes which must be correctly detected and assigned to individual neurons. Despite numerous spike-sorting techniques developed in the past, a lack of high-quality ground-truth datasets hinders the validation of spike-sorting approaches. Furthermore, existing approaches requiring manual corrections are not scalable for hours of recordings exceeding 100 channels. To address these issues, we built a comprehensive spike-sorting pipeline that performs reliably under noise and probe drift by incorporating a channel-covariance feature and a clustering based on fast density-peak finding. We validated performance of our workflow using multiple ground-truth datasets that recently became available. Our software scales linearly and processes a 1000-channel recording in real-time using a single workstation. Accurate, real-time spike sorting from large recording arrays will enable more precise control of closed-loop feedback experiments and brain-computer interfaces.
View Publication Page
PURPOSE: To improve the imaging quality of vessel walls with an endoesophageal Wireless Amplified NMR Detector (WAND).
METHODS: A cylindrically shaped double-frequency resonator has been constructed with a single metal wire that is self-connected by a pair of nonlinear capacitors. The double-frequency resonator can convert wirelessly provided pumping power into amplified MR signals. This compact design makes the detector easily insertable into a rodent esophagus.
RESULTS: The detector has good longitudinal and axial symmetry. Compared to an external surface coil, the WAND can enhance detection sensitivity by at least 5 times, even when the distance separation between the region of interest and the detector's cylindrical surface is twice the detector's own radius. Such detection capability enables us to observe vessel walls near the aortic arch and carotid bifurcation with elevated sensitivity.
CONCLUSION: A cylindrical MRI detector integrated with a wireless-powered amplifier has been developed as an endoesophageal detector to enhance detection sensitivity of vessel walls. This detector can greatly improve the imaging quality for vessel regions that are susceptible to atherosclerotic lesions. Magn Reson Med, 2016. © 2016 International Society for Magnetic Resonance in Medicine.
View Publication Page
We model and analyze the effect of particle shape on the signal amplification in inductive coil magnetic resonance detection using the reversible transverse magnetic susceptibility of oriented magnetic nanostructures. Utilizing the single magnetic domain Stoner-Wohlfarth model of uniform magnetization rotation, we reveal that different ellipsoidal particle shapes can have a pronounced effect on the magnetic flux enhancement in detection configurations typical of magnetic resonance settings. We compare and contrast the prolate ellipsoids, oblate ellipsoids, and exchange-biased spheres and show that the oblate ellipsoids and exchange-biased spheres have a significantly higher flux amplification effect than the prolate ellipsoids considered previously. In addition, oblate ellipsoids have a much broader polarizing magnetic fieldrange over which their transverse flux amplification is significant. We show the dependence of transverse flux amplification on magnetic resonance bias field and discuss the resulting signal-to-noise ratio of inductive magnetic resonance detection due to the magnetic nanoparticle-filled core of the magnetic resonance detection coil.
View Publication Page