general_search_page-panel_pane_1 | views_panes
31 Publications
Showing 11-20 of 31 results
The claustrum is a small subcortical nucleus that has extensive excitatory connections with many cortical areas. While the anatomical connectivity from the claustrum to the cortex has been studied intensively, the physiological effect and underlying circuit mechanisms of claustrocortical communication remain elusive. Here we show that the claustrum provides strong, widespread, and long-lasting feedforward inhibition of the prefrontal cortex (PFC) sufficient to silence ongoing neural activity. This claustrocortical feedforward inhibition was predominantly mediated by interneurons containing neuropeptide Y, and to a lesser extent those containing parvalbumin. Therefore, in contrast to other long-range excitatory inputs to the PFC, the claustrocortical pathway is designed to provide overall inhibition of cortical activity. This unique circuit organization allows the claustrum to rapidly and powerfully suppress cortical networks and suggests a distinct role for the claustrum in regulating cognitive processes in prefrontal circuits.
View Publication Page
Intracellular recording allows measurement and perturbation of the membrane potential of identified neurons with sub-millisecond and sub-millivolt precision. This gives intracellular recordings a unique capacity to provide rich information about individual cells (e.g., high-resolution characterization of inputs, outputs, excitability, and structure). Hence, such recordings can elucidate the mechanisms that underlie fundamental phenomena, such as brain state, sparse coding, gating, gain modulation, and learning. Technical developments have increased the range of behaviors during which intracellular recording methods can be employed, such as in freely moving animals and head-fixed animals actively performing tasks, including in virtual environments. Such advances, and the combination of intracellular recordings with genetic and imaging techniques, have enabled investigation of the mechanisms that underlie neural computations during natural and trained behaviors.
View Publication Page
Sensory, motor and cognitive operations involve the coordinated action of large neuronal populations across multiple brain regions in both superficial and deep structures. Existing extracellular probes record neural activity with excellent spatial and temporal (sub-millisecond) resolution, but from only a few dozen neurons per shank. Optical Ca(2+) imaging offers more coverage but lacks the temporal resolution needed to distinguish individual spikes reliably and does not measure local field potentials. Until now, no technology compatible with use in unrestrained animals has combined high spatiotemporal resolution with large volume coverage. Here we design, fabricate and test a new silicon probe known as Neuropixels to meet this need. Each probe has 384 recording channels that can programmably address 960 complementary metal-oxide-semiconductor (CMOS) processing-compatible low-impedance TiN sites that tile a single 10-mm long, 70 × 20-μm cross-section shank. The 6 × 9-mm probe base is fabricated with the shank on a single chip. Voltage signals are filtered, amplified, multiplexed and digitized on the base, allowing the direct transmission of noise-free digital data from the probe. The combination of dense recording sites and high channel count yielded well-isolated spiking activity from hundreds of neurons per probe implanted in mice and rats. Using two probes, more than 700 well-isolated single neurons were recorded simultaneously from five brain structures in an awake mouse. The fully integrated functionality and small size of Neuropixels probes allowed large populations of neurons from several brain structures to be recorded in freely moving animals. This combination of high-performance electrode technology and scalable chip fabrication methods opens a path towards recording of brain-wide neural activity during behaviour.
View Publication Page
The hippocampus is critical for producing stable representations of familiar spaces. How these representations arise is poorly understood, largely because changes to hippocampal inputs have not been measured during spatial learning. Here, using intracellular recording, we monitored inputs and plasticity-inducing complex spikes (CSs) in CA1 neurons while mice explored novel and familiar virtual environments. Inputs driving place field spiking increased in amplitude - often suddenly - during novel environment exploration. However, these increases were not sustained in familiar environments. Rather, the spatial tuning of inputs became increasingly similar across repeated traversals of the environment with experience - both within fields and throughout the whole environment. In novel environments, CSs were not necessary for place field formation. Our findings support a model in which initial inhomogeneities in inputs are amplified to produce robust place field activity, then plasticity refines this representation into one with less strongly modulated, but more stable, inputs for long-term storage.
View Publication Page
Seconds-scale network states, affecting many neurons within a network, modulate neural activity by complementing fast integration of neuron-specific inputs that arrive in the milliseconds before spiking. Non-rhythmic subthreshold dynamics at intermediate timescales, however, are less well-characterized. We found, using automated whole cell patch clamping in vivo, that spikes recorded in CA1 and barrel cortex in awake mice are often preceded not only by monotonic voltage rises lasting milliseconds, but also by more gradual (lasting 10s-100s of ms) depolarizations. The latter exert a gating function on spiking, in a fashion that depends on the gradual rise duration: the probability of spiking was higher for longer gradual rises, even controlling for the amplitude of the gradual rises. Barrel cortex double-autopatch recordings show that gradual rises are shared across some but not all neurons. The gradual rises may represent a new kind of state, intermediate both in timescale and in proportion of neurons participating, which gates a neuron's ability to respond to subsequent inputs.
View Publication Page
Whole-cell recording is a key technique for investigating synaptic and cellular mechanisms underlying various brain functions. However, because of its high sensitivity to mechanical disturbances, applying the whole-cell recording method to freely moving animals has been challenging. Here, we describe a technique for obtaining such recordings in freely moving, drug-free animals with a high success rate. This technique involves three major steps: obtaining a whole-cell recording from awake head-fixed animals, reliable and efficient stabilization of the pipette with respect to the animal's head using an ultraviolet (UV)-transparent collar and UV-cured adhesive, and rapid release of the animal from head fixation without loss of the recording. This technique has been successfully applied to obtain intracellular recordings from the hippocampus of freely moving rats and mice exploring a spatial environment, and should be generally applicable to other brain areas in animals engaged in a variety of natural behaviors.
View Publication Page
Whole-cell recording has been used to measure and manipulate a neuron's spiking and subthreshold membrane potential, allowing assessment of the cell's inputs and outputs as well as its intrinsic membrane properties. This technique has also been combined with pharmacology and optogenetics as well as morphological reconstruction to address critical questions concerning neuronal integration, plasticity, and connectivity. This protocol describes a technique for obtaining whole-cell recordings in awake head-fixed animals, allowing such questions to be investigated within the context of an intact network and natural behavioral states. First, animals are habituated to sit quietly with their heads fixed in place. Then, a whole-cell recording is obtained using an efficient, blind patching protocol. We have successfully applied this technique to rats and mice.
View Publication Page
Intracellular recording is an essential technique for investigating cellular mechanisms underlying complex brain functions. Despite the high sensitivity of the technique to mechanical disturbances, intracellular recording has been applied to awake, behaving, and even freely moving, animals. Here we summarize recent advances in these methods and their application to the measurement and manipulation of membrane potential dynamics for understanding neuronal computations in behaving animals.
View Publication Page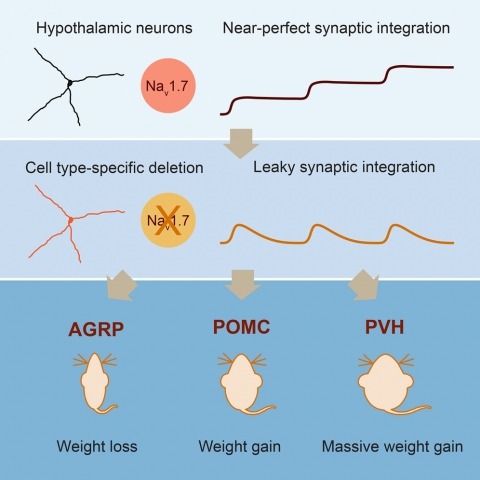 Neurons are well suited for computations on millisecond timescales, but some neuronal circuits set behavioral states over long time periods, such as those involved in energy homeostasis. We found that multiple types of hypothalamic neurons, including those that oppositely regulate body weight, are specialized as near-perfect synaptic integrators that summate inputs over extended timescales. Excitatory postsynaptic potentials (EPSPs) are greatly prolonged, outlasting the neuronal membrane time-constant up to 10-fold. This is due to the voltage-gated sodium channel Nav1.7 (Scn9a), previously associated with pain-sensation but not synaptic integration. Scn9a deletion in AGRP, POMC, or paraventricular hypothalamic neurons reduced EPSP duration, synaptic integration, and altered body weight in mice. In vivo whole-cell recordings in the hypothalamus confirmed near-perfect synaptic integration. These experiments show that integration of synaptic inputs over time by Nav1.7 is critical for body weight regulation and reveal a mechanism for synaptic control of circuits regulating long term homeostatic functions.
View Publication Page
Intracellular recording allows precise measurement and manipulation of individual neurons, but it requires stable mechanical contact between the electrode and the cell membrane, and thus it has remained challenging to perform in behaving animals. Whole-cell recordings in freely moving animals can be obtained by rigidly fixing ('anchoring') the pipette electrode to the head; however, previous anchoring procedures were slow and often caused substantial pipette movement, resulting in loss of the recording or of recording quality. We describe a UV-transparent collar and UV-cured adhesive technique that rapidly (within 15 s) anchors pipettes in place with virtually no movement, thus substantially improving the reliability, yield and quality of freely moving whole-cell recordings. Recordings are first obtained from anesthetized or awake head-fixed rats. UV light cures the thin adhesive layers linking pipette to collar to head. Then, the animals are rapidly and smoothly released for recording during unrestrained behavior. The anesthetized-patched version can be completed in ∼4-7 h (excluding histology) and the awake-patched version requires ∼1-4 h per day for ∼2 weeks. These advances should greatly facilitate studies of neuronal integration and plasticity in identified cells during natural behaviors.
View Publication Page