custom | custom
facetapi-Q2b17qCsTdECvJIqZJgYMaGsr8vANl1n | block
facetapi-W9JlIB1X0bjs93n1Alu3wHJQTTgDCBGe | block
facetapi-PV5lg7xuz68EAY8eakJzrcmwtdGEnxR0 | block
facetapi-021SKYQnqXW6ODq5W5dPAFEDBaEJubhN | block
general_search_page-panel_pane_1 | views_panes
3 Publications
Showing 1-3 of 3 results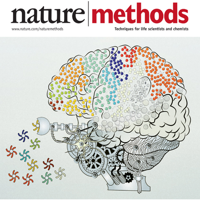 Pushing the frontier of fluorescence microscopy requires the design of enhanced fluorophores with finely tuned properties. We recently discovered that incorporation of four-membered azetidine rings into classic fluorophore structures elicits substantial increases in brightness and photostability, resulting in the Janelia Fluor (JF) series of dyes. We refined and extended this strategy, finding that incorporation of 3-substituted azetidine groups allows rational tuning of the spectral and chemical properties of rhodamine dyes with unprecedented precision. This strategy allowed us to establish principles for fine-tuning the properties of fluorophores and to develop a palette of new fluorescent and fluorogenic labels with excitation ranging from blue to the far-red. Our results demonstrate the versatility of these new dyes in cells, tissues and animals.
View Publication Page
Specific labeling of biomolecules with bright fluorophores is the keystone of fluorescence microscopy. Genetically encoded self-labeling tag proteins can be coupled to synthetic dyes inside living cells, resulting in brighter reporters than fluorescent proteins. Intracellular labeling using these techniques requires cell-permeable fluorescent ligands, however, limiting utility to a small number of classic fluorophores. Here we describe a simple structural modification that improves the brightness and photostability of dyes while preserving spectral properties and cell permeability. Inspired by molecular modeling, we replaced the N,N-dimethylamino substituents in tetramethylrhodamine with four-membered azetidine rings. This addition of two carbon atoms doubles the quantum efficiency and improves the photon yield of the dye in applications ranging from in vitro single-molecule measurements to super-resolution imaging. The novel substitution is generalizable, yielding a palette of chemical dyes with improved quantum efficiencies that spans the UV and visible range.
View Publication Page
Two-photon probe excitation data are commonly presented as absorption cross section or molecular brightness (the detected fluorescence rate per molecule). We report two-photon molecular brightness spectra for a diverse set of organic and genetically encoded probes with an automated spectroscopic system based on fluorescence correlation spectroscopy. The two-photon action cross section can be extracted from molecular brightness measurements at low excitation intensities, while peak molecular brightness (the maximum molecular brightness with increasing excitation intensity) is measured at higher intensities at which probe photophysical effects become significant. The spectral shape of these two parameters was similar across all dye families tested. Peak molecular brightness spectra, which can be obtained rapidly and with reduced experimental complexity, can thus serve as a first-order approximation to cross-section spectra in determining optimal wavelengths for two-photon excitation, while providing additional information pertaining to probe photostability. The data shown should assist in probe choice and experimental design for multiphoton microscopy studies. Further, we show that, by the addition of a passive pulse splitter, nonlinear bleaching can be reduced-resulting in an enhancement of the fluorescence signal in fluorescence correlation spectroscopy by a factor of two. This increase in fluorescence signal, together with the observed resemblance of action cross section and peak brightness spectra, suggests higher-order photobleaching pathways for two-photon excitation.
View Publication Page