people_blocks-people_blocks_name_and_labs | block
people_blocks-people_blocks_action_picture | block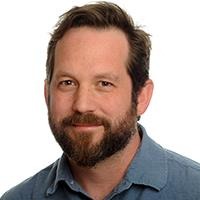 people_blocks-people_blocks_bio_summary | block
people_blocks-people_blocks_biography | block
Biography
Dr. Joshua T. Dudman is a Group Leader at the Janelia Research Campus of the Howard Hughes Medical Institute. His lab focuses on understanding the neural circuits controlling purposive behavior in the mammalian nervous system. Over the past several years his group has combined physiological recordings of brain activity with cell-stype specific perturbation of activity to understand how the basal ganliga control goal-directed, or purposive, actions. To provide neural circuit mechanisms these systems level studies are combined with computational modeling and direct measurement of the functional organization of circuits and cellular plasticity.
Dr. Dudman was an undergraduate at Amherst College, receiving a BA in Neuroscience with distinction. While at Amherst College, Dr. Dudman worked with Steven George making in vivo intracellular recordings from Purkinje cells of the grass frog. In addition, Dr. Dudman did research in the Movement Disorders Clinic at the University of Rochester and at Lab for the Study of Retinal Degeneration at the University of Sydney in Australia. After college, Dr. Dudman went to work with Dr. Christine Konradi at Harvard Medical School. There he studied the molecular signaling underlying dopamine-induced changes in gene transcription in medium spiny neurons of the rat striatum. In September 2001, Dr. Dudman began his graduate studies at Columbia University. As a National Science Foundation graduate fellow, Dr. Dudman studied the role of the hyperpolarization activated cationic channel (HCN) in the physiology of hippocampal neurons and spatial learning with Steven Siegelbaum in collaboration with Eric Kandel's lab. Subsequent studies during his thesis work reported the discovery of a novel form of synaptic plasticity in hippocampal pyramidal neurons. For his dissertation Dr. Dudman received distinction from Columbia University as well as the Dean's Award for Excellence in Research. Dr. Dudman was then a postdoctoral fellow with Drs. Siegelbaum and Kandel where he performed in vivo extracellular recordings from the hippocampus of freely moving, genetically-modified mice.
The Dudman Lab began in 2008 when Dr. Dudman was appointed a Group Leader at the Janelia Research Campus of the Howard Hughes Medical Institute. For more details about our work visit either our Janelia Group site or dudmanlab.org which contains additional links to full-text publications, a longer statement of our research interests, and resources developed (and freely distributed) by our lab.
node:field_education | entity_field
Education
B.A., Neuroscience, Amherst College
Ph.D., Neurobiology and behavior, Columbia University
node:field_membership | entity_field
Memberships
The Society for Neuroscience
janelia7_blocks-janelia7_featured_blocks | block