Main Menu (Mobile)- Block
people_blocks-people_blocks_name_and_labs | block
people_blocks-people_blocks_action_picture | block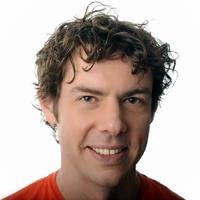 people_blocks-people_blocks_bio_summary | block
Senior Director, Project Teams
people_blocks-people_blocks_biography | block
Biography
Wyatt plays two roles at Janelia. He is the Senior Director of Janelia's Project Teams and works as a program scientist.
Project teams are an important part of science at Janelia. These trans-disciplinary teams work along side lab heads, visitors, and research staff to tackle experimentally challenging, large-scale research programs. Some examples include GENIE, FlyLight, and Descending Interneurons. Wyatt began his career at Janelia working on the The Fly Olympiad Project Team, a large-scale quantitative behavioral screen of Drosophila. In his current role, he is responsible for bringing a collaborative approach to the Project Team leadership. He uses his background in neurobiology, Drosophila behavior, bioengineering and instrumentation to provide scientific and operational direction, fulfilling his life-long goal of enabling collaborative, altruistic science.

Wyatt also runs the bi-annual project team advisory symposium, where world experts in related fields come to Janelia to evaluate and advise on the scientific direction of the project team portfolio.

As a program scientist, Wyatt directs research programs that focus on functionally understanding the role of neurons encoding fruit fly behavior by conducting neurogenic screens.

Wyatt received his Ph.D. in 2005 from the Department of Integrative Biology at the University of California, Berkeley. His NSF-funded research focused on understanding how terrestrial animals move over complex substrates, specifically the biomechanics of lizards running on sand. This work was the catalyst for the co-founding of a field that intersects granular physics and biology. After graduation he moved to the California Institute of Technology for a postdoc in the Department of Bioengineering with Michael Dickinson, where he switched his research focus to using model organisms to understand how the nervous system can control power output in the flight system of Drosophila melanogaster. In the Dickinson lab, Wyatt continued to nurture his innate interest in building novel gadgets to study challenging questions in biology.

Wyatt has taught at the Neural Systems and Behavior class at The MBL in Woods Hole, Friday Harbor Labs at University of Washington and at Berkeley.
His work has been featured in TED talks and in multiple national news outlets.
Wyatt is also an instrument rated private pilot.
janelia7_blocks-janelia7_featured_blocks | block