filters_region_cap | custom
facetapi-Q2b17qCsTdECvJIqZJgYMaGsr8vANl1n | block
facetapi-W9JlIB1X0bjs93n1Alu3wHJQTTgDCBGe | block
facetapi-61yz1V0li8B1bixrCWxdAe2aYiEXdhd0 | block
facetapi-PV5lg7xuz68EAY8eakJzrcmwtdGEnxR0 | block
general_search_page-panel_pane_1 | views_panes
3 Janelia Publications
Showing 1-3 of 3 results
Understanding memory formation, storage and retrieval requires knowledge of the underlying neuronal circuits. In Drosophila, the mushroom body (MB) is the major site of associative learning. We reconstructed the morphologies and synaptic connections of all 983 neurons within the three functional units, or compartments, that compose the adult MB's α lobe, using a dataset of isotropic 8-nm voxels collected by focused ion-beam milling scanning electron microscopy. We found that Kenyon cells (KCs), whose sparse activity encodes sensory information, each make multiple en passant synapses to MB output neurons (MBONs) in each compartment. Some MBONs have inputs from all KCs, while others differentially sample sensory modalities. Only six percent of KC>MBON synapses receive a direct synapse from a dopaminergic neuron (DAN). We identified two unanticipated classes of synapses, KC>DAN and DAN>MBON. DAN activation produces a slow depolarization of the MBON in these DAN>MBON synapses and can weaken memory recall.
View Publication Page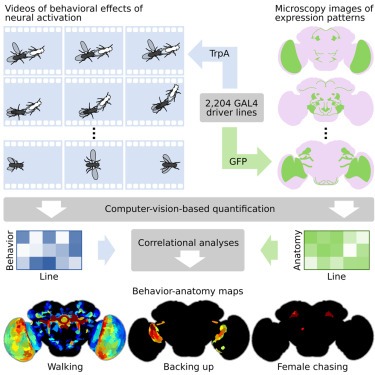 Assigning behavioral functions to neural structures has long been a central goal in neuroscience and is a necessary first step toward a circuit-level understanding of how the brain generates behavior. Here, we map the neural substrates of locomotion and social behaviors for Drosophila melanogaster using automated machine-vision and machine-learning techniques. From videos of 400,000 flies, we quantified the behavioral effects of activating 2,204 genetically targeted populations of neurons. We combined a novel quantification of anatomy with our behavioral analysis to create brain-behavior correlation maps, which are shared as browsable web pages and interactive software. Based on these maps, we generated hypotheses of regions of the brain causally related to sensory processing, locomotor control, courtship, aggression, and sleep. Our maps directly specify genetic tools to target these regions, which we used to identify a small population of neurons with a role in the control of walking.
•We developed machine-vision methods to broadly and precisely quantify fly behavior•We measured effects of activating 2,204 genetically targeted neuronal populations•We created whole-brain maps of neural substrates of locomotor and social behaviors•We created resources for exploring our results and enabling further investigation
Machine-vision analyses of large behavior and neuroanatomy data reveal whole-brain maps of regions associated with numerous complex behaviors.
View Publication Page
Building a sizable, complex brain requires both cellular expansion and diversification. One mechanism to achieve these goals is production of multiple transiently amplifying intermediate neural progenitors (INPs) from a single neural stem cell. Like mammalian neural stem cells, Drosophila type II neuroblasts utilize INPs to produce neurons and glia. Within a given lineage, the consecutively born INPs produce morphologically distinct progeny, presumably due to differential inheritance of temporal factors. To uncover the underlying temporal fating mechanisms, we profiled type II neuroblasts' transcriptome across time. Our results reveal opposing temporal gradients of Imp and Syp RNA-binding proteins (descending and ascending, respectively). Maintaining high Imp throughout serial INP production expands the number of neurons and glia with early temporal fate at the expense of cells with late fate. Conversely, precocious upregulation of Syp reduces the number of cells with early fate. Furthermore, we reveal that the transcription factor Seven-up initiates progression of the Imp/Syp gradients. Interestingly, neuroblasts that maintain initial Imp/Syp levels can still yield progeny with a small range of early fates. We therefore propose that the Seven-up-initiated Imp/Syp gradients create coarse temporal windows within type II neuroblasts to pattern INPs, which subsequently undergo fine-tuned subtemporal patterning.
View Publication Page