filters_region_cap | custom
facetapi-Q2b17qCsTdECvJIqZJgYMaGsr8vANl1n | block
facetapi-PV5lg7xuz68EAY8eakJzrcmwtdGEnxR0 | block
general_search_page-panel_pane_1 | views_panes
2 Janelia Publications
Showing 1-2 of 2 results
Expansion microscopy (ExM) is a physical form of magnification that increases the effective resolving power of any microscope. Here, we describe the fundamental principles of ExM, as well as how recently developed ExM variants build upon and apply those principles. We examine applications of ExM in cell and developmental biology for the study of nanoscale structures as well as ExM's potential for scalable mapping of nanoscale structures across large sample volumes. Finally, we explore how the unique anchoring and hydrogel embedding properties enable postexpansion molecular interrogation in a purified chemical environment. ExM promises to play an important role complementary to emerging live-cell imaging techniques, because of its relative ease of adoption and modification and its compatibility with tissue specimens up to at least 200 μm thick. Expected final online publication date for the , Volume 35 is October 7, 2019. Please see http://www.annualreviews.org/page/journal/pubdates for revised estimates.
View Publication Page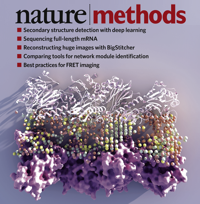 Light-sheet imaging of cleared and expanded samples creates terabyte-sized datasets that consist of many unaligned three-dimensional image tiles, which must be reconstructed before analysis. We developed the BigStitcher software to address this challenge. BigStitcher enables interactive visualization, fast and precise alignment, spatially resolved quality estimation, real-time fusion and deconvolution of dual-illumination, multitile, multiview datasets. The software also compensates for optical effects, thereby improving accuracy and enabling subsequent biological analysis.
View Publication Page