general_search_page-panel_pane_1 | views_panes
34 Janelia Publications
Showing 1-10 of 34 results
The classic approach to measure the spiking response of neurons involves the use of metal electrodes to record extracellular potentials. Starting over 60 years ago with a single recording site, this technology now extends to ever larger numbers and densities of sites. We argue, based on the mechanical and electrical properties of existing materials, estimates of signal-to-noise ratios, assumptions regarding extracellular space in the brain, and estimates of heat generation by the electronic interface, that it should be possible to fabricate rigid electrodes to concurrently record from essentially every neuron in the cortical mantle. This will involve fabrication with existing yet nontraditional materials and procedures. We further emphasize the need to advance materials for improved flexible electrodes as an essential advance to record from neurons in brainstem and spinal cord in moving animals.
View Publication Page
Electrophysiology is the most used approach for the collection of functional data in basic and translational neuroscience, but it is typically limited to either intracellular or extracellular recordings. The integration of multiple physiological modalities for the routine acquisition of multimodal data with microelectrodes could be useful for biomedical applications, yet this has been challenging owing to incompatibilities of fabrication methods. Here, we present a suite of glass pipettes with integrated microelectrodes for the simultaneous acquisition of multimodal intracellular and extracellular information in vivo, electrochemistry assessments, and optogenetic perturbations of neural activity. We used the integrated devices to acquire multimodal signals from the CA1 region of the hippocampus in mice and rats, and show that these data can serve as ground-truth validation for the performance of spike-sorting algorithms. The microdevices are applicable for basic and translational neurobiology, and for the development of next-generation brain-machine interfaces.
View Publication Page
Optical and electron microscopy have made tremendous inroads toward understanding the complexity of the brain. However, optical microscopy offers insufficient resolution to reveal subcellular details, and electron microscopy lacks the throughput and molecular contrast to visualize specific molecular constituents over millimeter-scale or larger dimensions. We combined expansion microscopy and lattice light-sheet microscopy to image the nanoscale spatial relationships between proteins across the thickness of the mouse cortex or the entire Drosophila brain. These included synaptic proteins at dendritic spines, myelination along axons, and presynaptic densities at dopaminergic neurons in every fly brain region. The technology should enable statistically rich, large-scale studies of neural development, sexual dimorphism, degree of stereotypy, and structural correlations to behavior or neural activity, all with molecular contrast.
View Publication Page
PURPOSE: To develop switchable and tunable labels with high contrast ratio for MRI using magnetocaloric materials that have sharp first-order magnetic phase transitions at physiological temperatures and typical MRI magnetic field strengths.
METHODS: A prototypical magnetocaloric material iron-rhodium (FeRh) was prepared by melt mixing, high-temperature annealing, and ice-water quenching. Temperature- and magnetic field-dependent magnetization measurements of wire-cut FeRh samples were performed on a vibrating sample magnetometer. Temperature-dependent MRI of FeRh samples was performed on a 4.7T MRI.
RESULTS: Temperature-dependent MRI clearly demonstrated image contrast changes due to the sharp magnetic state transition of the FeRh samples in the MRI magnetic field (4.7T) and at a physiologically relevant temperature (~37°C).
CONCLUSION: A magnetocaloric material, FeRh, was demonstrated to act as a high contrast ratio switchable MRI contrast agent due to its sharp first-order magnetic phase transition in the DC magnetic field of MRI and at physiologically relevant temperatures. A wide range of magnetocaloric materials are available that can be tuned by materials science techniques to optimize their response under MRI-appropriate conditions and be controllably switched in situ with temperature, magnetic field, or a combination of both.
View Publication Page
The fruit fly Drosophila melanogaster is an important model organism for neuroscience with a wide array of genetic tools that enable the mapping of individuals neurons and neural subtypes. Brain templates are essential for comparative biological studies because they enable analyzing many individuals in a common reference space. Several central brain templates exist for Drosophila, but every one is either biased, uses sub-optimal tissue preparation, is imaged at low resolution, or does not account for artifacts. No publicly available Drosophila ventral nerve cord template currently exists. In this work, we created high-resolution templates of the Drosophila brain and ventral nerve cord using the best-available technologies for imaging, artifact correction, stitching, and template construction using groupwise registration. We evaluated our central brain template against the four most competitive, publicly available brain templates and demonstrate that ours enables more accurate registration with fewer local deformations in shorter time.
View Publication Page
Drosophila melanogaster has a rich repertoire of innate and learned behaviors. Its 100,000-neuron brain is a large but tractable target for comprehensive neural circuit mapping. Only electron microscopy (EM) enables complete, unbiased mapping of synaptic connectivity; however, the fly brain is too large for conventional EM. We developed a custom high-throughput EM platform and imaged the entire brain of an adult female fly at synaptic resolution. To validate the dataset, we traced brain-spanning circuitry involving the mushroom body (MB), which has been extensively studied for its role in learning. All inputs to Kenyon cells (KCs), the intrinsic neurons of the MB, were mapped, revealing a previously unknown cell type, postsynaptic partners of KC dendrites, and unexpected clustering of olfactory projection neurons. These reconstructions show that this freely available EM volume supports mapping of brain-spanning circuits, which will significantly accelerate Drosophila neuroscience..
View Publication Page
Success in the projects aimed at providing an advanced understanding of the brain is directly predicated on making critical advances in nanotechnology. This Perspective addresses the unique interface of neuroscience and nanomaterials by considering the foundational problem of sensing neuron membrane voltage and offers a potential solution that may be facilitated by a prototypical nanomaterial. Despite substantial improvements, the visualization of instantaneous voltage changes within individual neurons, whether in cell culture or in vivo, at both the single-cell and network level at high speed remains complex and problematic. The unique properties of semiconductor quantum dots (QDs) have made them powerful fluorophores for bioimaging. What is not widely appreciated, however, is that QD photoluminescence is exquisitely sensitive to proximal electric fields. This property should be suitable for sensing voltage changes that occur in the active neuronal membrane. Here, we examine the potential role of QDs in addressing the important challenge of real-time optical voltage imaging.
View Publication Page
CA1 pyramidal neurons are a major output of the hippocampus and encode features of experience that constitute episodic memories. Feature-selective firing of these neurons results from the dendritic integration of inputs from multiple brain regions. While it is known that synchronous activation of spatially clustered inputs can contribute to firing through the generation of dendritic spikes, there is no established mechanism for spatiotemporal synaptic clustering. Here we show that single presynaptic axons form multiple, spatially clustered inputs onto the distal, but not proximal, dendrites of CA1 pyramidal neurons. These compound connections exhibit ultrastructural features indicative of strong synapses and occur much more commonly in entorhinal than in thalamic afferents. Computational simulations revealed that compound connections depolarize dendrites in a biophysically efficient manner, owing to their inherent spatiotemporal clustering. Our results suggest that distinct afferent projections use different connectivity motifs that differentially contribute to dendritic integration.
View Publication Page
Sensory, motor and cognitive operations involve the coordinated action of large neuronal populations across multiple brain regions in both superficial and deep structures. Existing extracellular probes record neural activity with excellent spatial and temporal (sub-millisecond) resolution, but from only a few dozen neurons per shank. Optical Ca(2+) imaging offers more coverage but lacks the temporal resolution needed to distinguish individual spikes reliably and does not measure local field potentials. Until now, no technology compatible with use in unrestrained animals has combined high spatiotemporal resolution with large volume coverage. Here we design, fabricate and test a new silicon probe known as Neuropixels to meet this need. Each probe has 384 recording channels that can programmably address 960 complementary metal-oxide-semiconductor (CMOS) processing-compatible low-impedance TiN sites that tile a single 10-mm long, 70 × 20-μm cross-section shank. The 6 × 9-mm probe base is fabricated with the shank on a single chip. Voltage signals are filtered, amplified, multiplexed and digitized on the base, allowing the direct transmission of noise-free digital data from the probe. The combination of dense recording sites and high channel count yielded well-isolated spiking activity from hundreds of neurons per probe implanted in mice and rats. Using two probes, more than 700 well-isolated single neurons were recorded simultaneously from five brain structures in an awake mouse. The fully integrated functionality and small size of Neuropixels probes allowed large populations of neurons from several brain structures to be recorded in freely moving animals. This combination of high-performance electrode technology and scalable chip fabrication methods opens a path towards recording of brain-wide neural activity during behaviour.
View Publication Page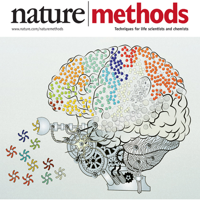 Pushing the frontier of fluorescence microscopy requires the design of enhanced fluorophores with finely tuned properties. We recently discovered that incorporation of four-membered azetidine rings into classic fluorophore structures elicits substantial increases in brightness and photostability, resulting in the Janelia Fluor (JF) series of dyes. We refined and extended this strategy, finding that incorporation of 3-substituted azetidine groups allows rational tuning of the spectral and chemical properties of rhodamine dyes with unprecedented precision. This strategy allowed us to establish principles for fine-tuning the properties of fluorophores and to develop a palette of new fluorescent and fluorogenic labels with excitation ranging from blue to the far-red. Our results demonstrate the versatility of these new dyes in cells, tissues and animals.
View Publication Page