general_search_page-panel_pane_1 | views_panes
9 Janelia Publications
Showing 1-9 of 9 results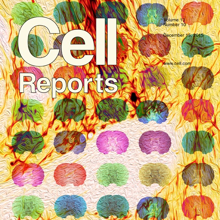 Calcium signaling has long been associated with key events of immunity, including chemotaxis, phagocytosis, and activation. However, imaging and manipulation of calcium flux in motile immune cells in live animals remain challenging. Using light-sheet microscopy for in vivo calcium imaging in zebrafish, we observe characteristic patterns of calcium flux triggered by distinct events, including phagocytosis of pathogenic bacteria and migration of neutrophils toward inflammatory stimuli. In contrast to findings from ex vivo studies, we observe enriched calcium influx at the leading edge of migrating neutrophils. To directly manipulate calcium dynamics in vivo, we have developed transgenic lines with cell-specific expression of the mammalian TRPV1 channel, enabling ligand-gated, reversible, and spatiotemporal control of calcium influx. We find that controlled calcium influx can function to help define the neutrophil's leading edge. Cell-specific TRPV1 expression may have broad utility for precise control of calcium dynamics in other immune cell types and organisms.
View Publication Page
Endoplasmic reticulum calcium homeostasis is critical for cellular functions and is disrupted in diverse pathologies including neurodegeneration and cardiovascular disease. Owing to the high concentration of calcium within the ER, studying this subcellular compartment requires tools that are optimized for these conditions. To develop a single-fluorophore genetically encoded calcium indicator for this organelle, we targeted a low affinity variant of GCaMP3 to the ER lumen (GCaMPer (10.19)). A set of viral vectors was constructed to express GCaMPer in human neuroblastoma cells, rat primary cortical neurons, and human induced pluripotent stem cell-derived cardiomyocytes. We observed dynamic changes in GCaMPer (10.19) fluorescence in response to pharmacologic manipulations of the ER calcium store. Additionally, periodic calcium efflux from the ER was observed during spontaneous beating of cardiomyocytes. GCaMPer (10.19) has utility in imaging ER calcium in living cells and providing insight into luminal calcium dynamics under physiologic and pathologic states.
View Publication Page
Genetically encoded calcium indicators (GECIs) permit imaging intracellular calcium transients. Among GECIs, the GFP-based GCaMPs are the most widely used because of their high sensitivity and rapid response to changes in intracellular calcium concentrations. Here we report that the fluorescence of GCaMPs-including GCaMP3, GCaMP5 and GCaMP6-can be converted from green to red following exposure to blue-green light (450-500 nm). This photoconversion occurs in both insect and mammalian cells and is enhanced in a low oxygen environment. The red fluorescent GCaMPs retained calcium responsiveness, albeit with reduced sensitivity. We identified several amino acid residues in GCaMP important for photoconversion and generated a GCaMP variant with increased photoconversion efficiency in cell culture. This light-induced spectral shift allows the ready labeling of specific, targeted sets of GCaMP-expressing cells for functional imaging in the red channel. Together, these findings indicate the potential for greater utility of existing GCaMP reagents, including transgenic animals.
View Publication Page
07/17/15
|
Ketamine Inside Neurons?
American Journal of Psychiatry
. 2015 Jul 17;172(11):
1064-6
. doi: 10.1176/appi.ajp.2015.14121537
We describe an engineered family of highly antigenic molecules based on GFP-like fluorescent proteins. These molecules contain numerous copies of peptide epitopes and simultaneously bind IgG antibodies at each location. These 'spaghetti monster' fluorescent proteins (smFPs) distributed well in neurons, notably into small dendrites, spines and axons. smFP immunolabeling localized weakly expressed proteins not well resolved with traditional epitope tags. By varying epitope and scaffold, we generated a diverse family of mutually orthogonal antigens. In cultured neurons and mouse and fly brains, smFP probes allowed robust, orthogonal multicolor visualization of proteins, cell populations and neuropil. smFP variants complement existing tracers and greatly increase the number of simultaneous imaging channels, and they performed well in advanced preparations such as array tomography, super-resolution fluorescence imaging and electron microscopy. In living cells, the probes improved single-molecule image tracking and increased yield for RNA-seq. These probes facilitate new experiments in connectomics, transcriptomics and protein localization.
View Publication Page
Cortical spreading depression is a slowly propagating wave of near-complete depolarization of brain cells followed by temporary suppression of neuronal activity. Accumulating evidence indicates that cortical spreading depression underlies the migraine aura and that similar waves promote tissue damage in stroke, trauma, and hemorrhage. Cortical spreading depression is characterized by neuronal swelling, profound elevation of extracellular potassium and glutamate, multiphasic blood flow changes, and drop in tissue oxygen tension. The slow speed of the cortical spreading depression wave implies that it is mediated by diffusion of a chemical substance, yet the identity of this substance and the pathway it follows are unknown. Intercellular spread between gap junction-coupled neurons or glial cells and interstitial diffusion of K(+) or glutamate have been proposed. Here we use extracellular direct current potential recordings, K(+)-sensitive microelectrodes, and 2-photon imaging with ultrasensitive Ca(2+) and glutamate fluorescent probes to elucidate the spatiotemporal dynamics of ionic shifts associated with the propagation of cortical spreading depression in the visual cortex of adult living mice. Our data argue against intercellular spread of Ca(2+) carrying the cortical spreading depression wavefront and are in favor of interstitial K(+) diffusion, rather than glutamate diffusion, as the leading event in cortical spreading depression.
View Publication Page
Fluorescent proteins facilitate a variety of imaging paradigms in live and fixed samples. However, they lose their fluorescence after heavy fixation, hindering applications such as correlative light and electron microscopy (CLEM). Here we report engineered variants of the photoconvertible Eos fluorescent protein that fluoresce and photoconvert normally in heavily fixed (0.5-1% OsO4), plastic resin-embedded samples, enabling correlative super-resolution fluorescence imaging and high-quality electron microscopy.
View Publication Page
To date, it has been difficult to reveal physiological Ca(2+) events occurring within the fine astrocytic processes of mature animals. The objective of the study was to explore whether neuronal activity evokes astrocytic Ca(2+) signals at glutamatergic synapses of adult mice. We stimulated the Schaffer collateral/commissural fibers in acute hippocampal slices from adult mice transduced with the genetically encoded Ca(2+) indicator GCaMP5E driven by the glial fibrillary acidic protein promoter. Two-photon imaging revealed global stimulation-evoked astrocytic Ca(2+) signals with distinct latencies, rise rates, and amplitudes in fine processes and somata. Specifically, the Ca(2+) signals in the processes were faster and of higher amplitude than those in the somata. A combination of P2 purinergic and group I/II metabotropic glutamate receptor (mGluR) antagonists reduced the amplitude of the Ca(2+) transients by 30-40% in both astrocytic compartments. Blockage of the mGluRs alone only modestly reduced the magnitude of the stimulation-evoked Ca(2+) signals in processes and failed to affect the somatic Ca(2+) response. Local application of group I or I/II mGluR agonists or adenosine triphosphate (ATP) elicited global astrocytic Ca(2+) signals that mimicked the stimulation-evoked astrocytic Ca(2+) responses. We conclude that stimulation-evoked Ca(2+) signals in astrocytic processes at CA3-CA1 synapses of adult mice (1) differ from those in astrocytic somata and (2) are modulated by glutamate and ATP.
View Publication Page
The identification of active neurons and circuits in vivo is a fundamental challenge in understanding the neural basis of behavior. Genetically encoded calcium (Ca(2+)) indicators (GECIs) enable quantitative monitoring of cellular-resolution activity during behavior. However, such indicators require online monitoring within a limited field of view. Alternatively, post hoc staining of immediate early genes (IEGs) indicates highly active cells within the entire brain, albeit with poor temporal resolution. We designed a fluorescent sensor, CaMPARI, that combines the genetic targetability and quantitative link to neural activity of GECIs with the permanent, large-scale labeling of IEGs, allowing a temporally precise "activity snapshot" of a large tissue volume. CaMPARI undergoes efficient and irreversible green-to-red conversion only when elevated intracellular Ca(2+) and experimenter-controlled illumination coincide. We demonstrate the utility of CaMPARI in freely moving larvae of zebrafish and flies, and in head-fixed mice and adult flies.
View Publication Page