general_search_page-panel_pane_1 | views_panes
13 Publications
Showing 1-10 of 13 results
The fluorescent glutamate indicator iGluSnFR enables imaging of neurotransmission with genetic and molecular specificity. However, existing iGluSnFR variants exhibit low in vivo signal-to-noise ratios, saturating activation kinetics and exclusion from postsynaptic densities. Using a multiassay screen in bacteria, soluble protein and cultured neurons, we generated variants with improved signal-to-noise ratios and kinetics. We developed surface display constructs that improve iGluSnFR's nanoscopic localization to postsynapses. The resulting indicator iGluSnFR3 exhibits rapid nonsaturating activation kinetics and reports synaptic glutamate release with decreased saturation and increased specificity versus extrasynaptic signals in cultured neurons. Simultaneous imaging and electrophysiology at individual boutons in mouse visual cortex showed that iGluSnFR3 transients report single action potentials with high specificity. In vibrissal sensory cortex layer 4, we used iGluSnFR3 to characterize distinct patterns of touch-evoked feedforward input from thalamocortical boutons and both feedforward and recurrent input onto L4 cortical neuron dendritic spines.
View Publication Page
Calcium imaging with protein-based indicators is widely used to follow neural activity in intact nervous systems, but current protein sensors report neural activity at timescales much slower than electrical signalling and are limited by trade-offs between sensitivity and kinetics. Here we used large-scale screening and structure-guided mutagenesis to develop and optimize several fast and sensitive GCaMP-type indicators. The resulting 'jGCaMP8' sensors, based on the calcium-binding protein calmodulin and a fragment of endothelial nitric oxide synthase, have ultra-fast kinetics (half-rise times of 2 ms) and the highest sensitivity for neural activity reported for a protein-based calcium sensor. jGCaMP8 sensors will allow tracking of large populations of neurons on timescales relevant to neural computation.
View Publication Page
Femtosecond lasers at fixed wavelengths above 1,000 nm are powerful, stable and inexpensive, making them promising sources for two-photon microscopy. Biosensors optimized for these wavelengths are needed for both next-generation microscopes and affordable turn-key systems. Here we report jYCaMP1, a yellow variant of the calcium indicator jGCaMP7 that outperforms its parent in mice and flies at excitation wavelengths above 1,000 nm and enables improved two-color calcium imaging with red fluorescent protein-based indicators.
View Publication Page
Calcium imaging with genetically encoded calcium indicators (GECIs) is routinely used to measure neural activity in intact nervous systems. GECIs are frequently used in one of two different modes: to track activity in large populations of neuronal cell bodies, or to follow dynamics in subcellular compartments such as axons, dendrites and individual synaptic compartments. Despite major advances, calcium imaging is still limited by the biophysical properties of existing GECIs, including affinity, signal-to-noise ratio, rise and decay kinetics, and dynamic range. Using structure-guided mutagenesis and neuron-based screening, we optimized the green fluorescent protein-based GECI GCaMP6 for different modes of in vivo imaging. The jGCaMP7 sensors provide improved detection of individual spikes (jGCaMP7s,f), imaging in neurites and neuropil (jGCaMP7b), and tracking large populations of neurons using 2-photon (jGCaMP7s,f) or wide-field (jGCaMP7c) imaging.
View Publication Page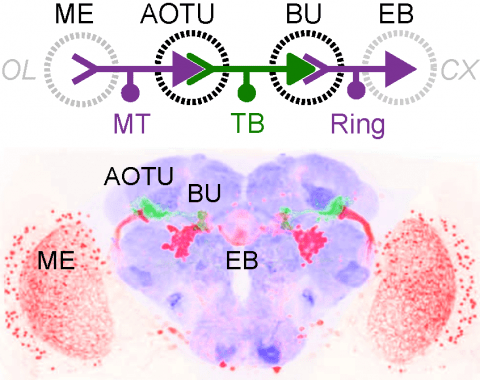 Many animals orient using visual cues, but how a single cue is selected from among many is poorly understood. Here we show that Drosophila ring neurons—central brain neurons implicated in navigation—display visual stimulus selection. Using in vivo two-color two-photon imaging with genetically encoded calcium indicators, we demonstrate that individual ring neurons inherit simple-cell-like receptive fields from their upstream partners. Stimuli in the contralateral visual field suppressed responses to ipsilateral stimuli in both populations. Suppression strength depended on when and where the contralateral stimulus was presented, an effect stronger in ring neurons than in their upstream inputs. This history-dependent effect on the temporal structure of visual responses, which was well modeled by a simple biphasic filter, may determine how visual references are selected for the fly's internal compass. Our approach highlights how two-color calcium imaging can help identify and localize the origins of sensory transformations across synaptically connected neural populations.
View Publication Page
Genetically encoded calcium indicators (GECIs) allow measurement of activity in large populations of neurons and in small neuronal compartments, over times of milliseconds to months. Although GFP-based GECIs are widely used for in vivo neurophysiology, GECIs with red-shifted excitation and emission spectra have advantages for in vivo imaging because of reduced scattering and absorption in tissue, and a consequent reduction in phototoxicity. However, current red GECIs are inferior to the state-of-the-art GFP-based GCaMP6 indicators for detecting and quantifying neural activity. Here we present improved red GECIs based on mRuby (jRCaMP1a, b) and mApple (jRGECO1a), with sensitivity comparable to GCaMP6. We characterized the performance of the new red GECIs in cultured neurons and in mouse, Drosophila, zebrafish and C. elegans in vivo. Red GECIs facilitate deep-tissue imaging, dual-color imaging together with GFP-based reporters, and the use of optogenetics in combination with calcium imaging.
View Publication Page
Endoplasmic reticulum calcium homeostasis is critical for cellular functions and is disrupted in diverse pathologies including neurodegeneration and cardiovascular disease. Owing to the high concentration of calcium within the ER, studying this subcellular compartment requires tools that are optimized for these conditions. To develop a single-fluorophore genetically encoded calcium indicator for this organelle, we targeted a low affinity variant of GCaMP3 to the ER lumen (GCaMPer (10.19)). A set of viral vectors was constructed to express GCaMPer in human neuroblastoma cells, rat primary cortical neurons, and human induced pluripotent stem cell-derived cardiomyocytes. We observed dynamic changes in GCaMPer (10.19) fluorescence in response to pharmacologic manipulations of the ER calcium store. Additionally, periodic calcium efflux from the ER was observed during spontaneous beating of cardiomyocytes. GCaMPer (10.19) has utility in imaging ER calcium in living cells and providing insight into luminal calcium dynamics under physiologic and pathologic states.
View Publication Page
The identification of active neurons and circuits in vivo is a fundamental challenge in understanding the neural basis of behavior. Genetically encoded calcium (Ca(2+)) indicators (GECIs) enable quantitative monitoring of cellular-resolution activity during behavior. However, such indicators require online monitoring within a limited field of view. Alternatively, post hoc staining of immediate early genes (IEGs) indicates highly active cells within the entire brain, albeit with poor temporal resolution. We designed a fluorescent sensor, CaMPARI, that combines the genetic targetability and quantitative link to neural activity of GECIs with the permanent, large-scale labeling of IEGs, allowing a temporally precise "activity snapshot" of a large tissue volume. CaMPARI undergoes efficient and irreversible green-to-red conversion only when elevated intracellular Ca(2+) and experimenter-controlled illumination coincide. We demonstrate the utility of CaMPARI in freely moving larvae of zebrafish and flies, and in head-fixed mice and adult flies.
View Publication Page
Fluorescent protein-based sensors for detecting neuronal activity have been developed largely based on non-neuronal screening systems. However, the dynamics of neuronal state variables (e.g., voltage, calcium, etc.) are typically very rapid compared to those of non-excitable cells. We developed an electrical stimulation and fluorescence imaging platform based on dissociated rat primary neuronal cultures. We describe its use in testing genetically-encoded calcium indicators (GECIs). Efficient neuronal GECI expression was achieved using lentiviruses containing a neuronal-selective gene promoter. Action potentials (APs) and thus neuronal calcium levels were quantitatively controlled by electrical field stimulation, and fluorescence images were recorded. Images were segmented to extract fluorescence signals corresponding to individual GECI-expressing neurons, which improved sensitivity over full-field measurements. We demonstrate the superiority of screening GECIs in neurons compared with solution measurements. Neuronal screening was useful for efficient identification of variants with both improved response kinetics and high signal amplitudes. This platform can be used to screen many types of sensors with cellular resolution under realistic conditions where neuronal state variables are in relevant ranges with respect to timing and amplitude.
View Publication Page
Fluorescent calcium sensors are widely used to image neural activity. Using structure-based mutagenesis and neuron-based screening, we developed a family of ultrasensitive protein calcium sensors (GCaMP6) that outperformed other sensors in cultured neurons and in zebrafish, flies and mice in vivo. In layer 2/3 pyramidal neurons of the mouse visual cortex, GCaMP6 reliably detected single action potentials in neuronal somata and orientation-tuned synaptic calcium transients in individual dendritic spines. The orientation tuning of structurally persistent spines was largely stable over timescales of weeks. Orientation tuning averaged across spine populations predicted the tuning of their parent cell. Although the somata of GABAergic neurons showed little orientation tuning, their dendrites included highly tuned dendritic segments (5–40-µm long). GCaMP6 sensors thus provide new windows into the organization and dynamics of neural circuits over multiple spatial and temporal scales.
View Publication Page