people_blocks-people_blocks_name_and_labs | block
people_blocks-people_blocks_action_picture | block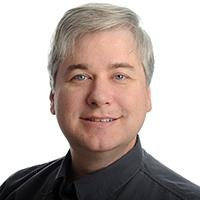 people_blocks-people_blocks_bio_summary | block
Principal Engineer and Project Manager
people_blocks-people_blocks_biography | block
Biography
Rob joined Janelia Research Campus in 2006, and currently manages the Bioinformatics and Team Project Support team within Scientific Computing. He and his team have made key contributions to several Team Projects (including FlyEM, FlyLight, and GENIE), Support Teams (including Drosophila Resources, Molecular Biology, and Project Technical Resources), and individual Labs (including Dickson, Rubin, and Truman). Rob is a key contributor to Confocal Imagery Management and Analysis Tools.
Rob has extensive software development experience in scientific and industrial settings.
Rob was a founding member of Motorola BioChip Systems, where he produced software for multiplex PCR primer design, DNA bioarray design, and SNP/expression analysis. This group later became Motorola Life Sciences, then was sold to Amersham in 2003. In 2004, Amersham was acquired by General Electric. Rob's employer prior to HHMI was GE, where he focused on primer/probe design (for SNP, expression, and electrical detection purposes), and genomic sequence analysis (D. melanogaster, M. musculus, R. norvegicus, H. sapiens, poxvirus, and other agents), annotation, and curation.
Rob started his professional career with Motorola, first in the Paging Division, then with Motorola Manufacturing Systems. Rob specialized in manufacturing systems engineering, and the software he developed found application in the Communications and Semiconductor divisions of Motorola. He developed software for automated shipping, material handling, finite capacity scheduling, routing, tracking, and manufacturing automation. During this time, Rob participated in factory start-ups in Vega Baja, Puerto Rico and Fort Worth, Texas, and a semiconductor fab start-up in Mesa, Arizona.
Starting in 1997, Rob was "loaned" to the Drosophila Genome Center at Lawrence Berkeley National Laboratory, where he focused on genomic sequence analysis and submission. He has been a guest bioinformatician with the Berkeley Drosophila Genome Project since that time. While at BDGP in 2001, he codiscovered a novel non-LTR transposon (Strider, D. melanogaster).
Rob earned a B.S. in Computer Science from Florida Atlantic University, where he also conducted undergraduate research in performance monitoring under the guidance of Dr. Taghi Khoshgoftaar.
node:field_previous_experience | entity_field
Previous Experience
GE Healthcare
Amersham Biosciences
Motorola Life Sciences
Motorola BioChip Systems
Motorola Manufacturing Systems
Motorola Paging Products Group
node:field_award | entity_field
Awards
Newcomb Cleveland Prize, American Association for the Advancement of Science
node:field_membership | entity_field
Memberships
Association for Computing Machinery
Society for Industrial Archeology
janelia7_blocks-janelia7_featured_blocks | block