general_search_page-panel_pane_1 | views_panes
6 Janelia Publications
Showing 1-6 of 6 results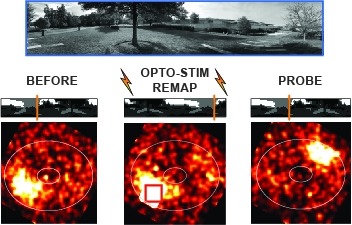 Many animals rely on an internal heading representation when navigating in varied environments. How this representation is linked to the sensory cues that define different surroundings is unclear. In the fly brain, heading is represented by 'compass' neurons that innervate a ring-shaped structure known as the ellipsoid body. Each compass neuron receives inputs from 'ring' neurons that are selective for particular visual features; this combination provides an ideal substrate for the extraction of directional information from a visual scene. Here we combine two-photon calcium imaging and optogenetics in tethered flying flies with circuit modelling, and show how the correlated activity of compass and visual neurons drives plasticity, which flexibly transforms two-dimensional visual cues into a stable heading representation. We also describe how this plasticity enables the fly to convert a partial heading representation, established from orienting within part of a novel setting, into a complete heading representation. Our results provide mechanistic insight into the memory-related computations that are essential for flexible navigation in varied surroundings.
View Publication Page
The palette of tools for stimulation and regulation of neural activity is continually expanding. One of the new methods being introduced is magnetogenetics, where mechano-sensitive and thermo-sensitive ion channels are genetically engineered to be closely coupled to the iron-storage protein ferritin. Such genetic constructs could provide a powerful new way of non-invasively activating ion channels in-vivo using external magnetic fields that easily penetrate biological tissue. Initial reports that introduced this new technology have sparked a vigorous debate on the plausibility of physical mechanisms of ion channel activation by means of external magnetic fields. I argue that the initial criticisms leveled against magnetogenetics as being physically implausible were possibly based on the overly simplistic and unnecessarily pessimistic assumptions about the magnetic spin configurations of iron in ferritin protein. Additionally, all the possible magnetic-field-based mechanisms of ion channel activation in magnetogenetics might not have been fully considered. I present and propose several new magneto-mechanical and magneto-thermal mechanisms of ion channel activation by iron-loaded ferritin protein that may elucidate and clarify some of the mysteries that presently challenge our understanding of the reported biological experiments. Finally, I present some additional puzzles that will require further theoretical and experimental investigation.
View Publication Page
Point-scanning two-photon microscopy enables high-resolution imaging within scattering specimens such as the mammalian brain, but sequential acquisition of voxels fundamentally limits imaging speed. We developed a two-photon imaging technique that scans lines of excitation across a focal plane at multiple angles and uses prior information to recover high-resolution images at over 1.4 billion voxels per second. Using a structural image as a prior for recording neural activity, we imaged visually-evoked and spontaneous glutamate release across hundreds of dendritic spines in mice at depths over 250 microns and frame-rates over 1 kHz. Dendritic glutamate transients in anaesthetized mice are synchronized within spatially-contiguous domains spanning tens of microns at frequencies ranging from 1-100 Hz. We demonstrate high-speed recording of acetylcholine and calcium sensors, 3D single-particle tracking, and imaging in densely-labeled cortex. Our method surpasses limits on the speed of raster-scanned imaging imposed by fluorescence lifetime.
View Publication Page
Female behavior changes profoundly after mating. In Drosophila, the mechanisms underlying the long-term changes led by seminal products have been extensively studied. However, the effect of the sensory component of copulation on the female's internal state and behavior remains elusive. We pursued this question by dissociating the effect of coital sensory inputs from those of male ejaculate. We found that the sensory inputs of copulation cause a reduction of post-coital receptivity in females, referred to as the "copulation effect." We identified three layers of a neural circuit underlying this phenomenon. Abdominal neurons expressing the mechanosensory channel Piezo convey the signal of copulation to female-specific ascending neurons, LSANs, in the ventral nerve cord. LSANs relay this information to neurons expressing myoinhibitory peptides in the brain. We hereby provide a neural mechanism by which the experience of copulation facilitates females encoding their mating status, thus adjusting behavior to optimize reproduction.
View Publication Page
We propose, model, and experimentally demonstrate the enhancement of reversible transverse susceptibility in single domain magnetic nanoparticles through the principle of parametric amplification. It has previously been demonstrated that properly oriented anisotropic single domain magnetic nanoparticles have an appreciable peak in transverse susceptibility at the particle anisotropy field. Here we show theoretically and experimentally that an additional parametric AC magnetic field applied at a proper phase and at twice the frequency (2f) of the transverse field further enhances transverse susceptibility peaks through the process of parametric amplification. We model this effect numerically and describe it through the energy formalism of the single magnetic domain Stoner-Wohlfarth model. The proper phase relationships of the transverse and parametric fields to obtain either parametric amplification or attenuation of the transverse susceptibility signals are also described. We experimentally demonstrate such parametric tuning of transverse susceptibility in single domain magnetic nanoparticles of a commercial audio tape in a prototypical inductive transverse susceptibility set-up.
View Publication Page
Electrophysiology is the most used approach for the collection of functional data in basic and translational neuroscience, but it is typically limited to either intracellular or extracellular recordings. The integration of multiple physiological modalities for the routine acquisition of multimodal data with microelectrodes could be useful for biomedical applications, yet this has been challenging owing to incompatibilities of fabrication methods. Here, we present a suite of glass pipettes with integrated microelectrodes for the simultaneous acquisition of multimodal intracellular and extracellular information in vivo, electrochemistry assessments, and optogenetic perturbations of neural activity. We used the integrated devices to acquire multimodal signals from the CA1 region of the hippocampus in mice and rats, and show that these data can serve as ground-truth validation for the performance of spike-sorting algorithms. The microdevices are applicable for basic and translational neurobiology, and for the development of next-generation brain-machine interfaces.
View Publication Page