filters_region_cap | custom
facetapi-Q2b17qCsTdECvJIqZJgYMaGsr8vANl1n | block
facetapi-W9JlIB1X0bjs93n1Alu3wHJQTTgDCBGe | block
facetapi-61yz1V0li8B1bixrCWxdAe2aYiEXdhd0 | block
facetapi-PV5lg7xuz68EAY8eakJzrcmwtdGEnxR0 | block
general_search_page-panel_pane_1 | views_panes
4 Janelia Publications
Showing 1-4 of 4 results
Aggressive social interactions are used to compete for limited resources and are regulated by complex sensory cues and the organism's internal state. While both sexes exhibit aggression, its neuronal underpinnings are understudied in females. Here, we identify a population of sexually dimorphic aIPg neurons in the adult central brain whose optogenetic activation increased, and genetic inactivation reduced, female aggression. Analysis of GAL4 lines identified in an unbiased screen for increased female chasing behavior revealed the involvement of another sexually dimorphic neuron, pC1d, and implicated aIPg and pC1d neurons as core nodes regulating female aggression. Connectomic analysis demonstrated that aIPg neurons and pC1d are interconnected and suggest that aIPg neurons may exert part of their effect by gating the flow of visual information to descending neurons. Our work reveals important regulatory components of the neuronal circuitry that underlies female aggressive social interactions and provides tools for their manipulation.
View Publication Page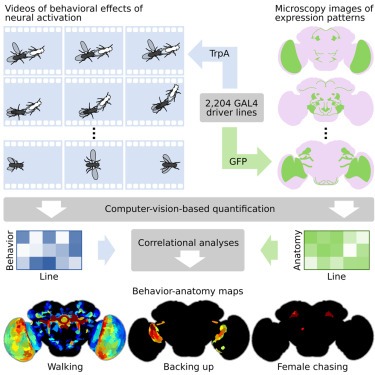 Assigning behavioral functions to neural structures has long been a central goal in neuroscience and is a necessary first step toward a circuit-level understanding of how the brain generates behavior. Here, we map the neural substrates of locomotion and social behaviors for Drosophila melanogaster using automated machine-vision and machine-learning techniques. From videos of 400,000 flies, we quantified the behavioral effects of activating 2,204 genetically targeted populations of neurons. We combined a novel quantification of anatomy with our behavioral analysis to create brain-behavior correlation maps, which are shared as browsable web pages and interactive software. Based on these maps, we generated hypotheses of regions of the brain causally related to sensory processing, locomotor control, courtship, aggression, and sleep. Our maps directly specify genetic tools to target these regions, which we used to identify a small population of neurons with a role in the control of walking.
•We developed machine-vision methods to broadly and precisely quantify fly behavior•We measured effects of activating 2,204 genetically targeted neuronal populations•We created whole-brain maps of neural substrates of locomotor and social behaviors•We created resources for exploring our results and enabling further investigation
Machine-vision analyses of large behavior and neuroanatomy data reveal whole-brain maps of regions associated with numerous complex behaviors.
View Publication Page
Insects, like most animals, tend to steer away from imminent threats [1-7]. Drosophila melanogaster, for example, generally initiate an escape take-off in response to a looming visual stimulus, mimicking a potential predator [8]. The escape response to a visual threat is, however, flexible [9-12] and can alternatively consist of walking backward away from the perceived threat [11], which may be a more effective response to ambush predators such as nymphal praying mantids [7]. Flexibility in escape behavior may also add an element of unpredictability that makes it difficult for predators to anticipate or learn the prey's likely response [3-6]. Whereas the fly's escape jump has been well studied [8, 9, 13-18], the neuronal underpinnings of evasive walking remain largely unexplored. We previously reported the identification of a cluster of descending neurons-the moonwalker descending neurons (MDNs)-the activity of which is necessary and sufficient to trigger backward walking [19], as well as a population of visual projection neurons-the lobula columnar 16 (LC16) cells-that respond to looming visual stimuli and elicit backward walking and turning [11]. Given the similarity of their activation phenotypes, we hypothesized that LC16 neurons induce backward walking via MDNs and that turning while walking backward might reflect asymmetric activation of the left and right MDNs. Here, we present data from functional imaging, behavioral epistasis, and unilateral activation experiments that support these hypotheses. We conclude that LC16 and MDNs are critical components of the neural circuit that transduces threatening visual stimuli into directional locomotor output.
View Publication Page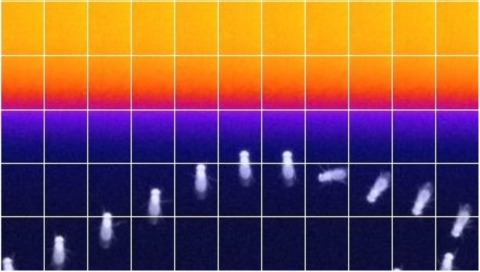 Animals discriminate stimuli, learn their predictive value and use this knowledge to modify their behavior. In Drosophila, the mushroom body (MB) plays a key role in these processes. Sensory stimuli are sparsely represented by ∼2000 Kenyon cells, which converge onto 34 output neurons (MBONs) of 21 types. We studied the role of MBONs in several associative learning tasks and in sleep regulation, revealing the extent to which information flow is segregated into distinct channels and suggesting possible roles for the multi-layered MBON network. We also show that optogenetic activation of MBONs can, depending on cell type, induce repulsion or attraction in flies. The behavioral effects of MBON perturbation are combinatorial, suggesting that the MBON ensemble collectively represents valence. We propose that local, stimulus-specific dopaminergic modulation selectively alters the balance within the MBON network for those stimuli. Our results suggest that valence encoded by the MBON ensemble biases memory-based action selection.
View Publication Page